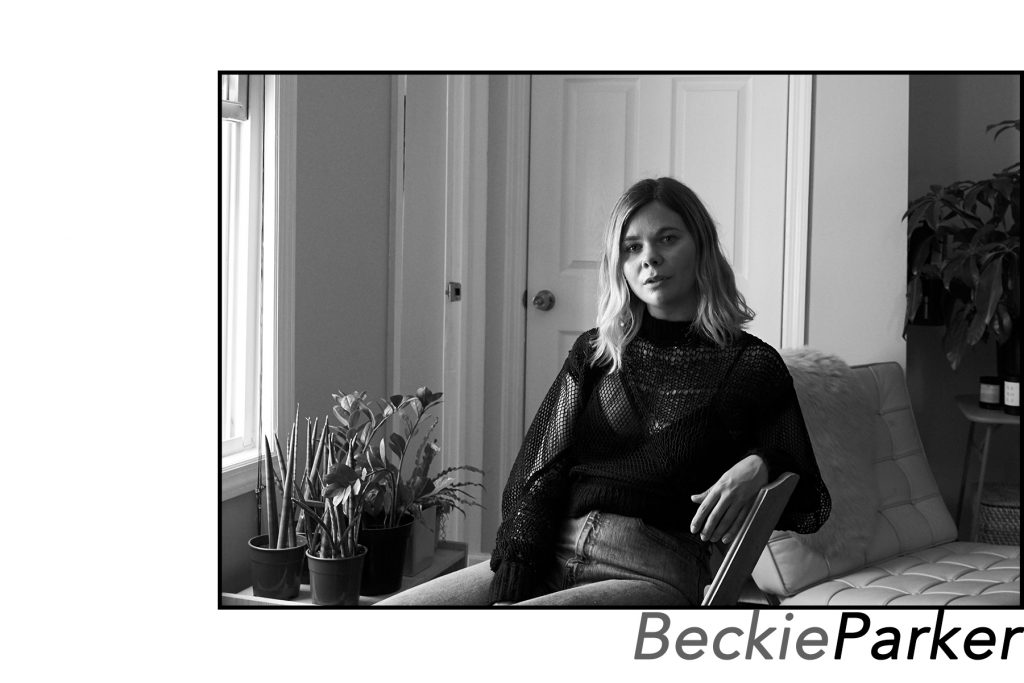 ---
Beckie Parker has at least two great loves. Fashion design (specifically, of the knit variety) and New York City. For most part, they're mutually exclusive.
Like most successful fashion folk, Beckie got her break as a summer intern at DKNY in New York City while on break from studying fashion design at the University of Brighton in the UK, where she grew up. From that point forward, a career in fashion and creating a life in New York was a non-negotiable. She fell hard.
Almost as hard as she did when she picked up her first ball of yarn, and introduced her grandma to knitting, in what she calls a "kinda a role reversal thing!"
Fast-forward to now, and having held top gigs at DKNY, Helmut Lang and currently as sweater designer at New Zealand born, New York based label, Rebecca Taylor, her life is reads like fashion fantasy. She travels to yarn fares in places like Italy and Peru, her work is featured on VOGUE.com each season, and her unique approach to sweater design, which she sees as an art form – likening it to "3-d sculpture" – is embraced by the Rebecca Taylor label and it's customers.  This unique intellectualisation of her craft, that makes her the very best at what she does globally, cascades to other aspects of her life, where everything is considered and thoughtful, in her approach to design, career, interpersonal relationships, and beauty.
Here, she speaks with TB's editor and founder, Chloe Brinklow about all of the things:
---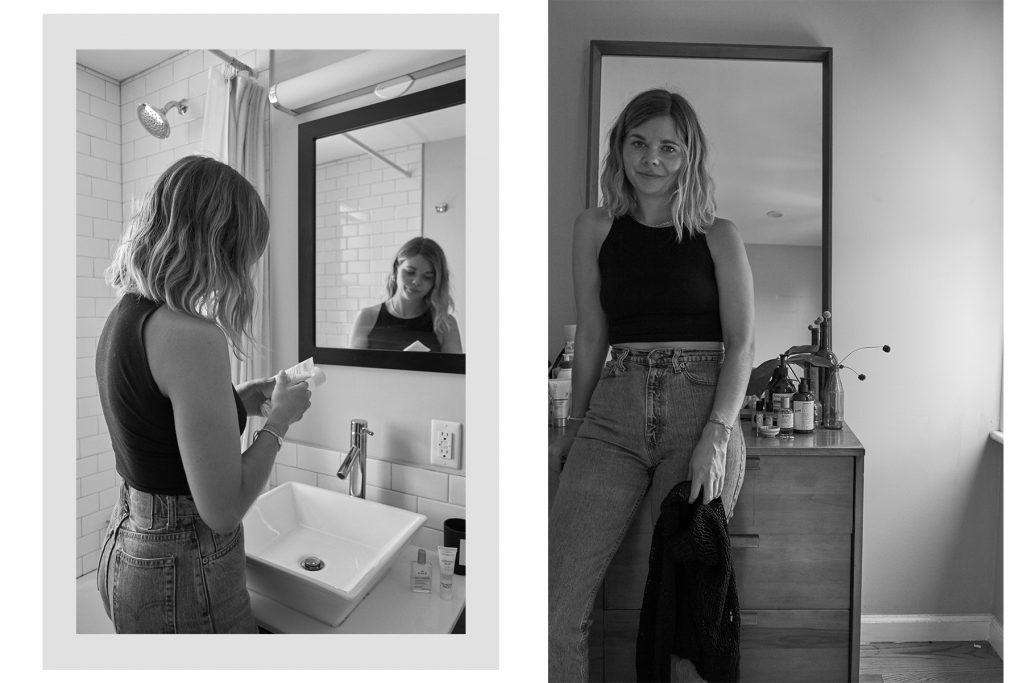 ---
CAREER: 
TB: What's your role @ Rebecca Taylor? Tell me about it?
BP: I'm the sweater designer. I work directly with Rebecca and our VP of Design each season to develop the knitwear side of the collection. Each season I present, concepts, yarn, stitches and sketches. I have a knitting machine in-house which is amazing to develop original designs and stitches on, or I hand knit and crochet swatches. l have always been a very hands-on designer. I knit constantly as find that my brain finds it the best way to work out ideas.
TB: How did you get your start in the industry? 
BP: I'm a yarn-spinning nerd! I started knitting before my grandma ever did, and she picked it up after I started. So kinda a role reversal thing!
I studied knitwear at university, there was something about the more sculptural 3-D aspect of knitwear design that really attracted me. While at university I came to New York to do an internship at DKNY and after graduation was hired as a designer there. I'm forever grateful to that internship and the team there as it led me to New York.
---
NEW YORK: 
TB: How many years have you been in New York?
BP: It will be 6 this January! 
TB: What made you want to live in New York?
BP: I think there's a collective sense of possibility and optimism in New York. It's contagious. I read this book recently called The Odd Woman and the City: A Memoir by Vivian Gornick who articulated the feeling of New York perfectly to me. 
"Most people are in New York because the need evidence—in large quantities—of human expressiveness; and they need it not now and then, but every day."
TB: Best thing about living in New York?
BP: As well as the friendships with the people who live here, it's the city's evolutionary feel. New York constantly renews itself—and you along with it—and it fosters an energising sense of possibility. You can live many lives here, grow and shift with it. 
TB: And the worst?
BP: February—the weather is brutal. No amount of knitwear can cure those winter blues!
Aside from that, my only gripes with New York are the same with any city, and I think it's the best of all the cities. So, until I move to the beach, I'm sticking with it! 
TB: Your experience of New York in a sentence or three words?
BP: Energy, Evolution, Excitement.  
TB: Advice for people who want to break into design?
BP: Just stay interested and curious. I think fashion and other design areas are becoming a lot more collaborative and multi-disciplinary, which is exciting! There's a lot more crossover and so I think it's important to try an implement that into your practice where you can.
 TB: Advice to people wanting to do that in NYC?
BP: Find your people. There are so many talented designers operating at the top of their industry in New York but I think if you can find mentors and co-workers you identify with it's so key. Whether it is the work they are doing, how they are doing it, or even down to similar values that align with yours, you can't go too wrong.
---
WOMAN:  
TB: Best and worst thing about being a woman in 2018?
BP: Best: Progress. Worst: Still dealing with the same shit!
TB: Women you most admire?
BP: Lots and lots! But from a designer/entrepreneur perspective, I'd say Jesse Kamm.—For her thoughtful approach to design and life values. Her "tagline" is "strong clothes for strong women."
…and, she works 9 months of the year in LA, then goes off the grid to a house she built in Panama for 3. In fashion, it's truly admirable when people manage to strike this balance. I just also someday want to build a beach house!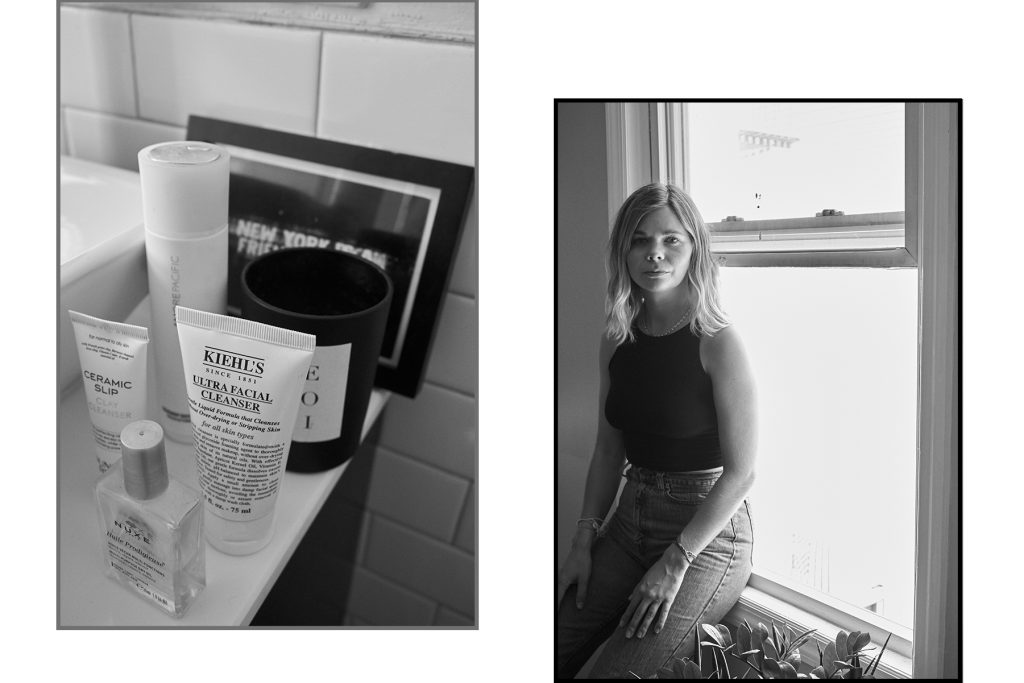 ---
BEAUTY: 
TB: What does beauty mean to you?
BP: I associate beauty with lifestyle and attitude. I think it's an ease that comes with being comfortable with yourself and a lifestyle that makes you happy and keeps you active. 
TB: Earliest beauty memory?
BP: I have a really strong memory of my mum teaching me the classic 3-step. Cleanse, tone and moisturize. I was probably about 12 or so and she gave me the little samples you get.
TB: Your approach to beauty?
BP: I've got a fairly no-fuss approach to makeup, I really try to keep what I use paired back. I stick with basics that I know work. I subscribe more to the skincare as make up approach. I also know I feel my best when I have time to maintain an active lifestyle and just be outside. While I'm usually less is more when it comes to fragrance I'm a bit more of a maximalist. I like to layer scented moisturizers and oils to get the perfect scent
TB: NEW YORK beauty guide: 
BP:
Hair: Jenny at The Paintbox in Greenpoint is great for colour. And, she also makes a pink conditioner I can take home that that allows me to put pink in my hair when I want a bit of a changeup. It washes out in stages and you experience a few shades of pink. Kurt Cobain is def a pink hair icon -he's actually sort of my hair icon he always had a good messy blonde bob.
Nails: Local Honey in Bushwick is a low-key but luxe little neighbourhood spot. They do a jelly pedicure that I like.   
Massage: Aire Day Spa in Tribeca is a real treat, I recently had a four-hand massage there as a gift which was amazing. However, it's NYC and I go in for the Chinatown hidden gems. No frills, but great massages. (Renew Day Spa is my secret spot.)
Yoga: Skyting, they also have an infrared sauna which in the New York winter is just what you need.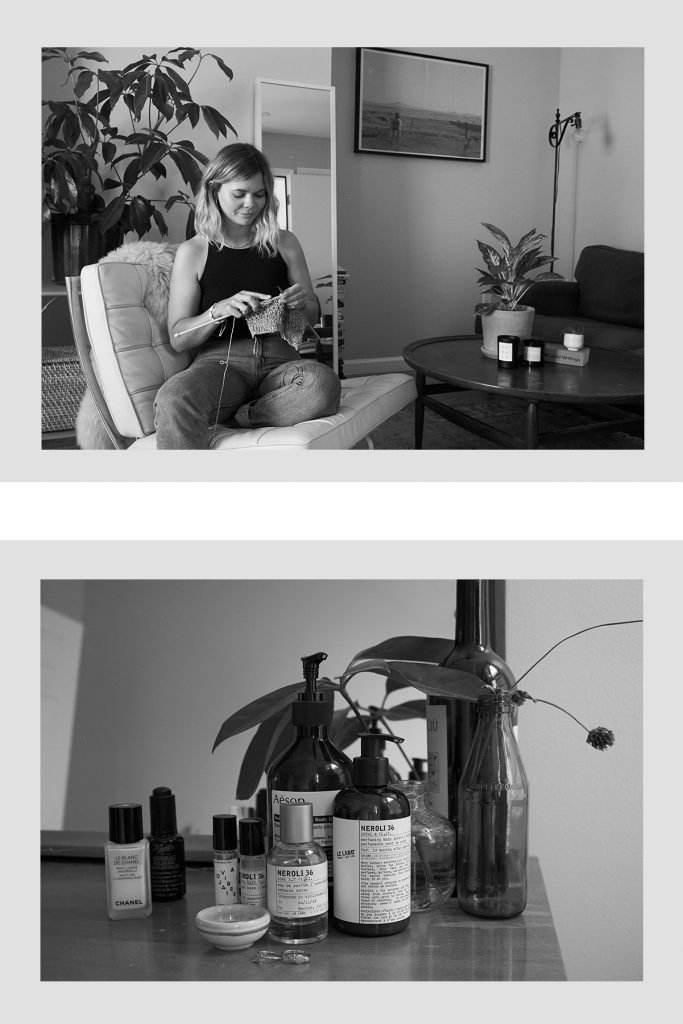 ---
ROUTINE: 
TB: Talk me through your AM / PM routines…
BP:
AM: I'll bike to work so that's indicative of my morning routine. I tend to shower and wash my hair in the morning. I give my hair a quick blast with a hairdryer and let the rest dry naturally. I use the Aesop Shine hair oil and sort of scrunch my hair with my hands and twist it up into little buns that sort of dry by the time I'm in work and can let it down. I recently switched my deodorant to a natural one and I'm a complete convert -it's the first one I've bought that I feel works. The brand is Crystal Essences and it's a mineral deodorant that has a lavender scent.
I love a good cleanser, there are a few I have on rotation but now I'm liking the Sunday Riley Ceramic Slip cleanser and Kiehl's Ultra Facial Cleanser. 
And then I tend to follow that with an SPF moisturizer.  I'll then just apply a tinted moisturizer as a base and blush, I do like the Glossier one, curl my lashes and brush my brows and do the rest of my make up in work. Chanel's mascara I love, and their foundation Vitalumiere Aqua if I want more coverage. That's one product I continually suggest to people. I've gotten everyone from co-workers, friends to my mum on that foundation!
PM: I try and relax a bit more during my nighttime routine, I think its a bit slower and more organic depending on how I feel. A friend recommended the Tatcha Camellia Cleansing Oil which I use in the evening as I think it really gets the city grime off your face (as well as makeup!) I'll then use a rosehip oil, just one from Whole Foods and there's the Trilogy Vital Moisturizing Cream. I think they're New Zealand based but they do this cream that is so moisturizing and smells amazing. 
I also like using an essential oil on my chest and wrists before bed. I change the scent up but find it helps me sleep. I'm definitely one of those people who thinks of everything directly before they're about to go to sleep and so I really make an effort to try and read in bed. I think that's something I've really tried to implement over the last year. It's so easy for your phone to be the last and first thing you look at (I'm definitely guilty of that but trying to break the habit!) 
TB: Do you do anything unexpected in your routine?
BP: Tiger Balm, cures all.
TB: Do you mask? And what do you do when you mask? We call this secret masking behaviour.
BP: Yes! A friend introduced me to the Aztec Clay Mask, I just get mine off Amazon and you can mix it with some apple cider vinegar that gives it an extra oomph.
As for secret mask behaviour -my close friends and I will always send photos of ourselves to each other in whatever mask we're in, I suppose that's collective secret mask behaviour.
---
FASHION: 
TB: How do you describe your personal style?
BP: I like an element of ease. Vintage denim, Doc Martens and a sweater or tee is sort of my go to. But I do like playing dress up with more of an outfit every now and again. I think I absorb a lot of style inspiration through osmosis. Whether it's from design research that I'm doing, films I'm watching, places I'm visiting. And I do notice it always manages to come out in how I dress whether it's through colour or styling.
TB: Does being a sweater designer mean that you knit?
BP: Hell fucking yes, I knit! I've always got a project on the go—I recently crocheted a raffia hat for the beach and made a throw as a gift for a friend. 
I also have a sweater archive, its kind of a collection of knitwear vintage, designer and otherwise. It's more than a regular person would need! But I tend to keep them as I geek out on how they're knitted or what yarn they're made from. 
TB: Do you have a strategy for getting dressed in the morning?
BP: A bit of a grab-and-go attitude. I shop very carefully and will always think of how something can work with what I currently own so everything sort of always stays in sync and works together.
TB: Style muse?
BP: Kelly Mcgillis in Top Gun. She's got the BEST hair and she also does the blue denim; white tee look so well. I have always had such a crush on her in that film.
---
Words and interview: Chloe Brinklow
Photographer: Yolanda Leaney
Art direct: Ella Jane