Hi, I'm Ella and I'm a beauty editor / cynic. I honestly don't believe you can be the former, without the latter.
In the same way a guy or girl on a first date (post-swipe and witty text-banter) will show you all their good bits but none of their flaws, leading a less savvy dater to speed-dial their Mum proclaiming "I've met the one!" A beauty ed's equivalent to this common dating example – is a press release that will promise said editor's skin/lips/hair/lashes/brows/cheeks/legs/underarms the world – in the hope that you make that same call (write the article) and regurgitate the info to your audience – and have them part with their hard earned cash in the hope, that they too have found the holy grail beauty prod. Likely to bring as much joy as a life-long partner. Not today satan. Did I mention, I'm a cynic?
Products that I will spend my money on go through vigorous road-testing, such as ingredient list studying (I know what works for me), of course, actually trialling the damn thing, and an ol' faithful group chat of my Beauty Editor friends. I like to think I have a fair balance of being high/low defined and care less about labels and more about efficacy, like most girls in the group, per example: I'm currently using this $19 cleanser.
I decided to do my daily good deed and enlist a handful of these editors to divulge all of the products they are currently hauling around in their tiny purses, RN and why. So that you too can have a gaggle of beauty cynics at your disposal. And actually find the closest thing to the ONE.
Kelsey Ferencak, Beauty Editor, Body + Soul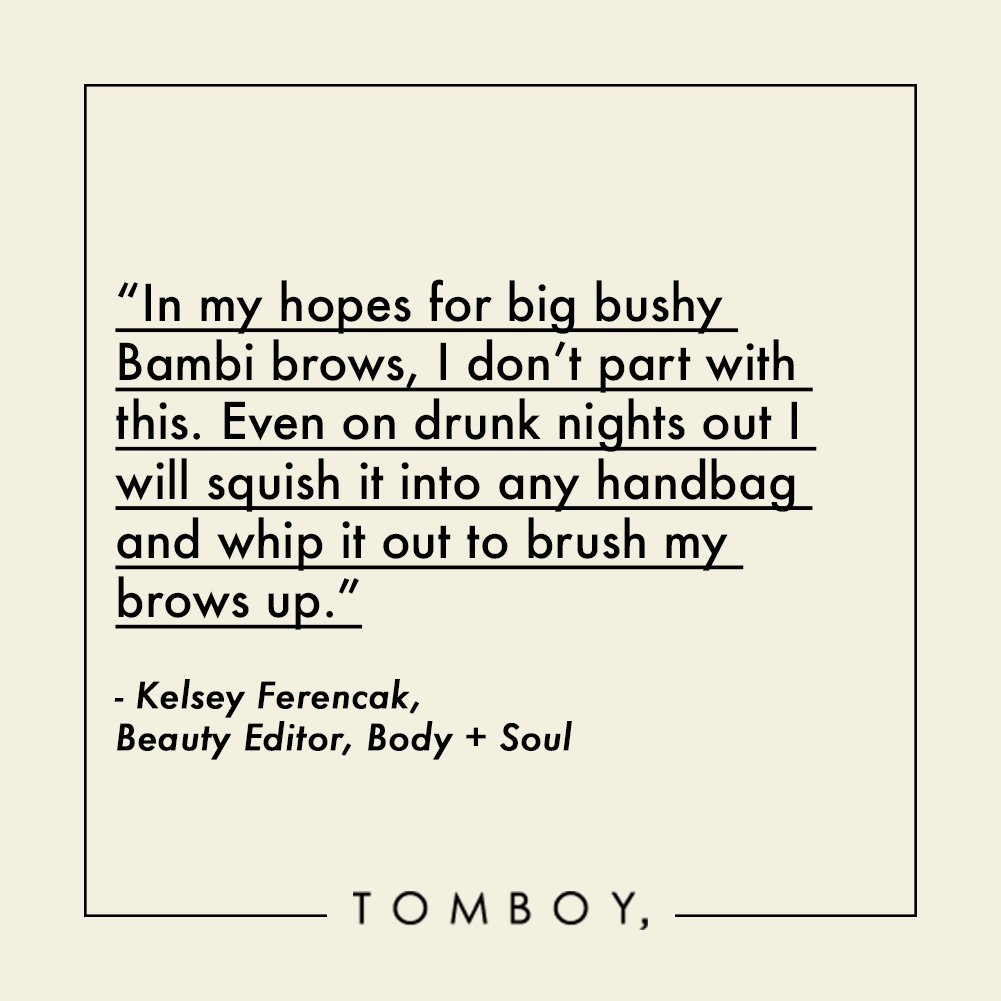 Weleda Skin Food Lip Balm is clean and super hydrating but unlike regular balms, it's glossy – but in a good way. Like your hair won't stick to your lips. A rollerball perfume, either Lumira Cuban Tobacco, Byredo anything, Malin + Goetz Cannabis. Super easy to discreetly whip out and roll on whenever and wherever I am. My ultimate fear is smelling bad or not smelling of anything at all. Benefit 24-hour Brow Setter Gel Clear, In my hopes for big bushy Bambi brows, I don't part with this. Even on drunk nights out I will squish it into any handbag and whip it out to brush my brows up. It's super easy and you don't even need a mirror. Also doubles as a clear mascara. I'm super lazy when It comes to my hair. I barely wash or it wear it down. So R+co Dart Pomade Stick is a godsend for slick hair that looks like I made an effort. I just put my hair in a low bun or play up my part and then roll this over my hair to slick back any flyaways or grey hairs that I've plucked and they're growing back!
Ashleigh Austen, Beauty Editor, Whimn
When it comes to the beauty products I choose to cart around all day every day, I run a pretty tight ship (although sadly I can't say the same for my shower where there's currently six bottles of shampoo languishing.) Sure, I never have a pen or a tampon handy, but these three are rolling around in the bottom of my bag at any one time. Glossier Cloud Paint in Haze is Hands down the most user-friendly cheek colour in existence, a dab of this goes a long way but always gives me the right amount of glow. Bonus points: it can be applied without a mirror (which is good because I never have one handy.) Aveda Stress-Fix Concentrate,I've lost count how many times this rollerball has helped me through an anxiety-ridden Uber ride to a meeting/first date/otherwise or to deal with the fact the person sitting in the car before me had doused themselves in Elizabeth Arden Red Door. MAC Lip Pencil in Spice is the perfect pinky nude, I use it to shape, line and fill in my lips so I can skip the lipstick. I'm yet to find a shade or texture that can top it.
Elle Presbury, Market & Beauty Editor, RUSSH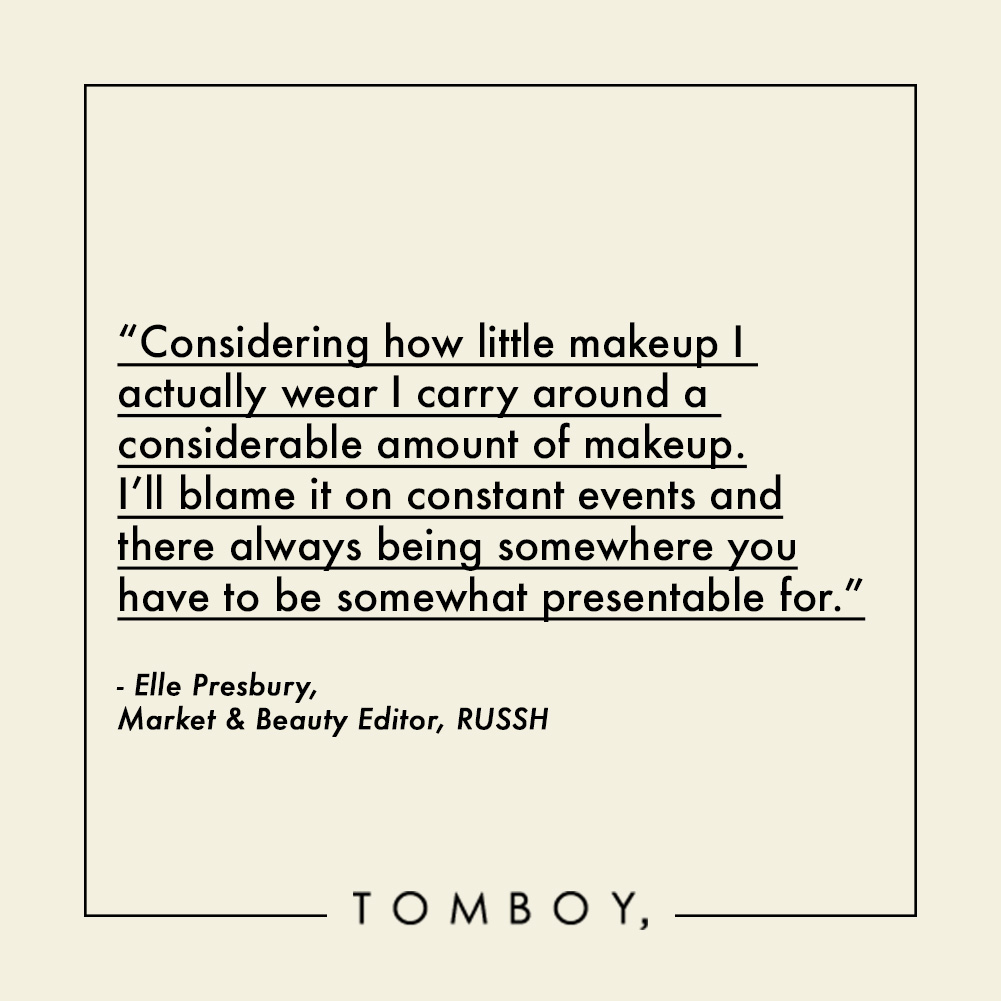 Considering how little makeup I actually wear I carry around a considerable amount of makeup. I'll blame it on constant events and there always being somewhere you have to be somewhat presentable for.La Roche-Posay Barrier Repairing Balm (the best!). RMS Uncover Up (a given). Benefit 24-hour Brow Setter Eyebrow Gel – clear. Anything that'll bring life to my face so Benefit/RMS/Glossier cheek tints/blushes. Perricone MD No Eyeshadow Eyeshadow and Soliel Tan De Chanel bronzer for when I'm feeling fancy. It's a lot seeing as I use it 10% of the time. I know I should have mentioned sunscreen somewhere in there but call me a bad Beauty Editor
Emily Algar, freelance Beauty Editor.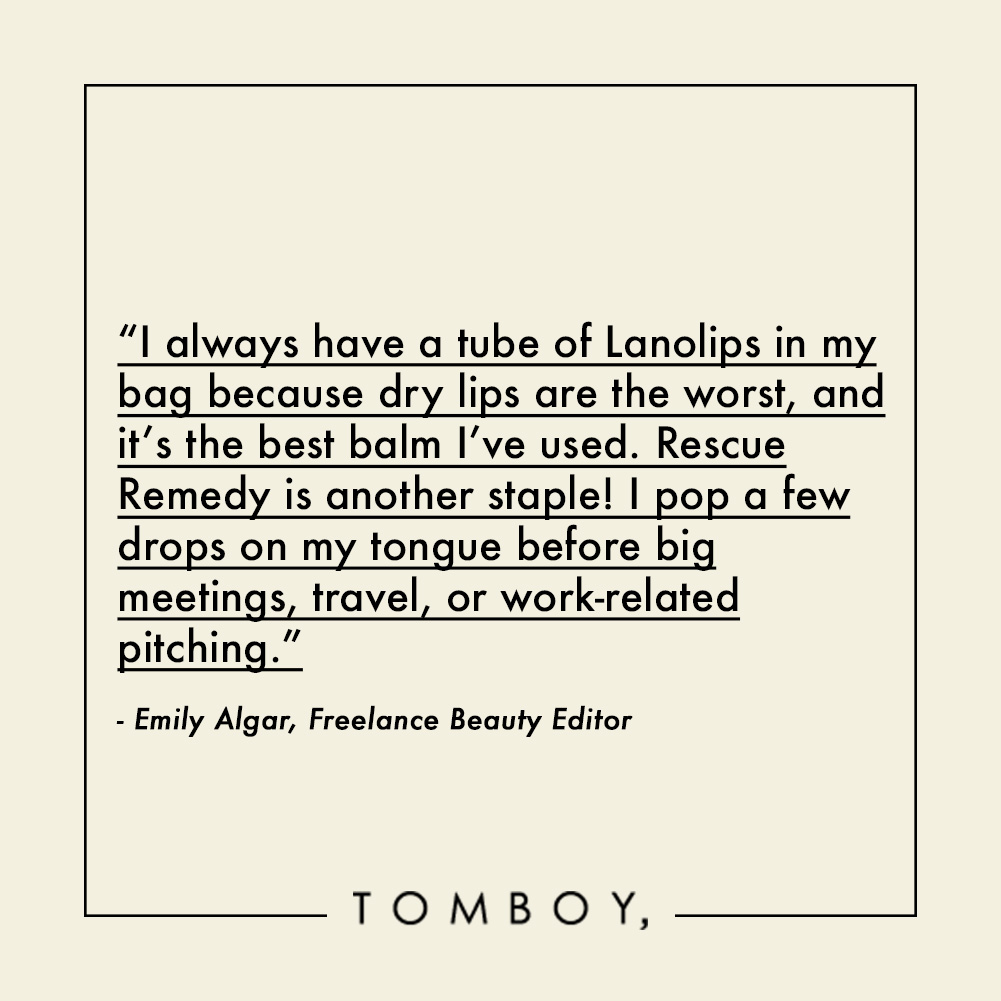 I always have a tube of Lanolips in my bag because dry lips are the worst, and it's the best balm I've used. Rescue Remedy is another staple! I pop a few drops on my tongue before big meetings, travel, or work-related pitching. Venustus Muscle Melting Roll-on as well for my tech neck and hunched, computer shoulders. My current lipstick favourites are Kosas in Stardust, and Chanel Les Beiges Healthy Glow Lip Balm in deep.
Carli Alman, Editor, BEAUTYCrew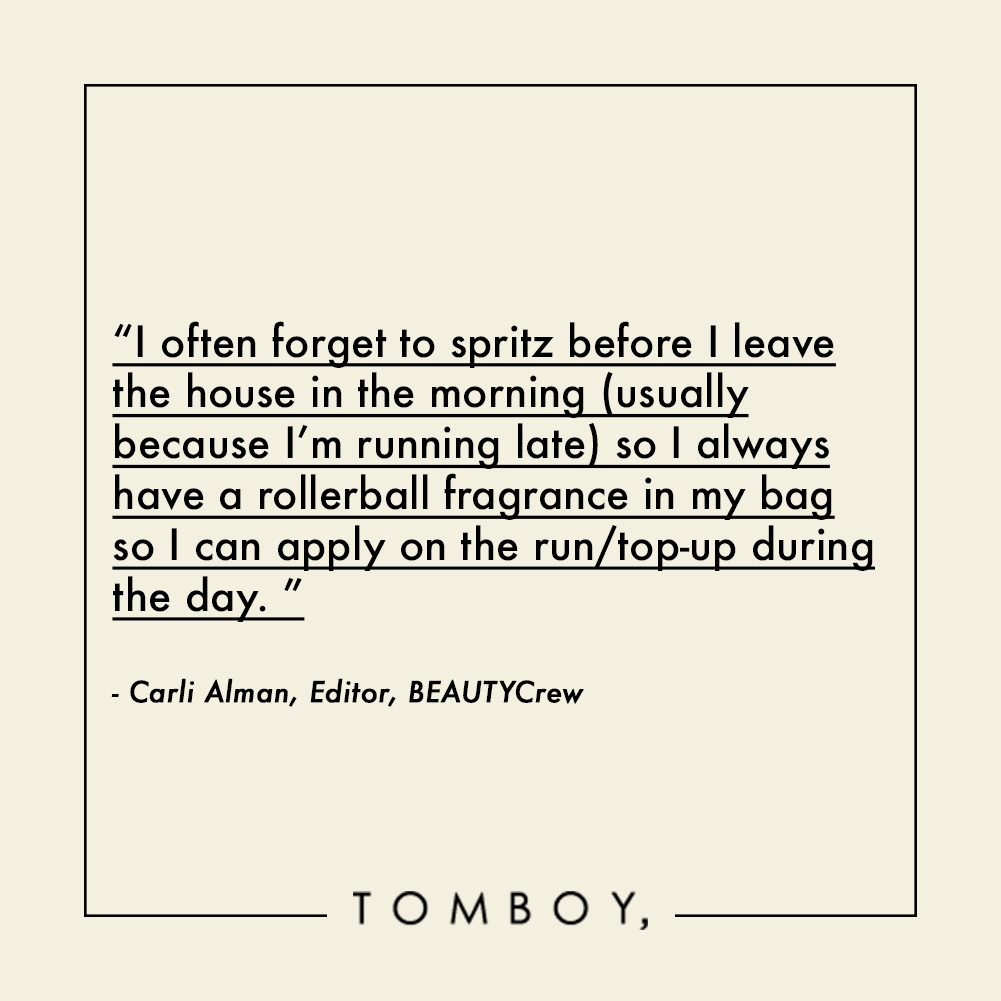 I often forget to spritz before I leave the house in the morning (usually because I'm running late) so I always have a rollerball fragrance in my bag so I can apply on the run/top-up during the day. Currently using: Aerin in Hibiscus Palm.I also have a milllllllion lip products – a balm for when my lips are feeling parched (Elizabeth Arden Eight Hour Cream in the bullet form is my OG), a tinted balm for when I want a hint of colour (Lanolips Tinted Balm or Mecca Cosmetica Lip De-Luscious Glide in Rose), and because I'm going to events a lot, an easy-to-apply-in-a-cab-without-a-mirror nude (currently NARS Velvet Lip Glide in Xenon) and a bold red (at the moment it's the L'Oréal Paris Rouge Signature Matte Ink in I Am Worth It). I also have to have a hand cream at my disposal at all times (partially because my hands need it but also because sometimes it just soothes me to use one Go-to's Super Handy smells delightful, absorbs quickly and nourishes like a dream.
Phoebe Youl, Writer and Producer; Beauty, Fitness, Wellness, Popsugar.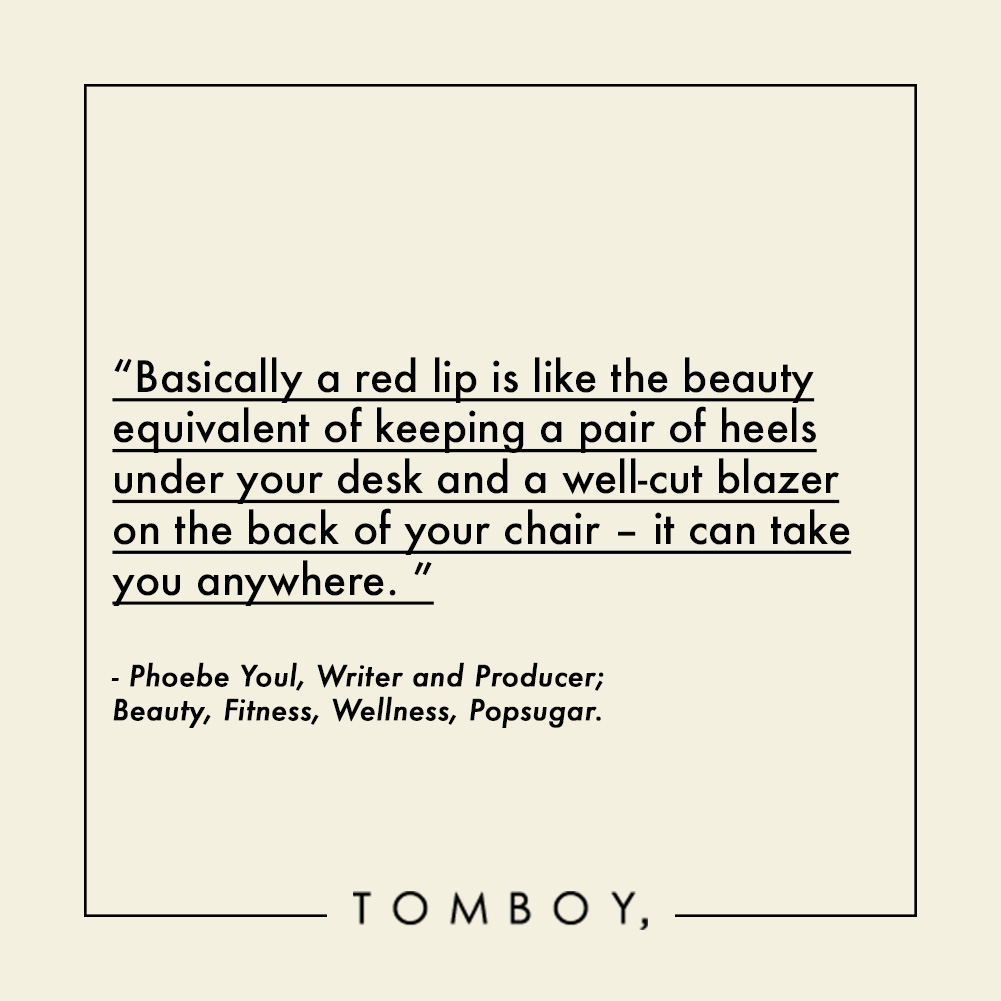 Rodin Crema Luxury Hand and Body Cream because i'm absolutely not a hand cream person but somehow Linda Rodin changed my mind. Yes, I'm aware it's $72 but a little really does go a long way and if things get really tricky you always sell a kidney to lavish your (now) sick addiction for luxurious hydrated nail beds. Hourglass Mini Ambient Lighting Powder in Diffused Light, if I was sensible, I'd say it's a more economical choice to invest in the full size of these Hourglass powders, but there's something about a miniature product that gets me every time. I wear the colour Diffused Light and it's the least "matte" setting powder I've ever tried. Bonus, this will fit into even the more ridiculous of tiny bags. Lanolips 101 Ointment,Everyone else has probably already mentioned this, but that's only because it really is THAT good. It's called 101 ointment for a reason and I make full use of it – basically, if something is cracked or dry apply this liberally. Rouge Allure Velvet Luminous Matte Lip Colour 56 Rouge Charnel, basically a red lip is like the beauty equivalent of keeping a pair of heels under your desk and a well-cut blazer on the back of your chair – it can take you anywhere. I've recently strayed from my safety red (aka 444 Gabrielle) and am now wearing Chanel's Rouge Allure Velvet Luminous Matte Lip Colour in 56 Rouge Charnel. I use Aesop Resurrection Rinse-Free Hand Wash Because, GERMS. However, I do have to admit that I have since refilled the beautiful bottle with some of the generic stuff. That being said, this Aesop hand gel really is the chicest sanitizer going around – and it doesn't dry out your hands!