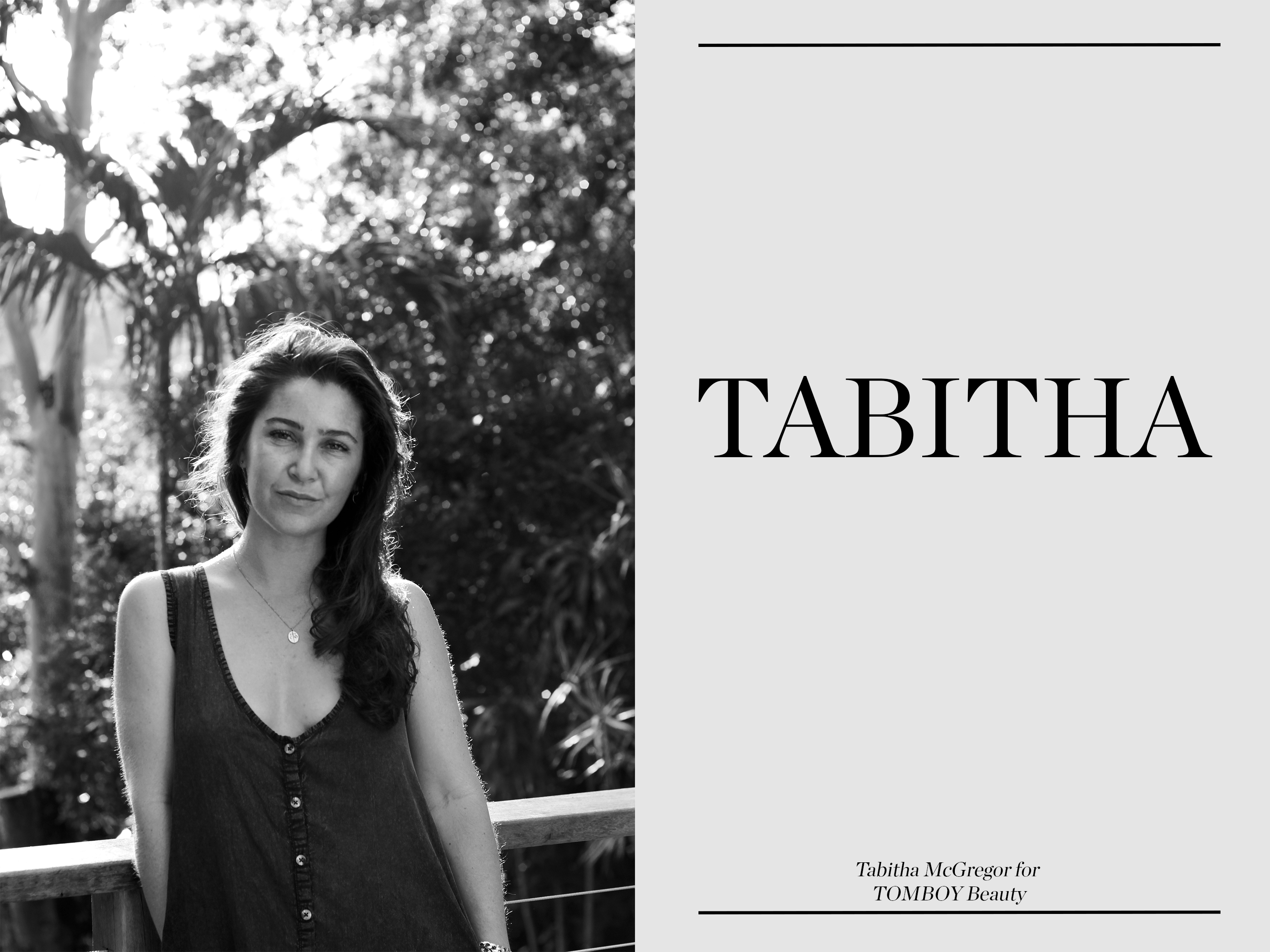 Having grown up in Byron Bay, the locally-based brand, THRILLS CO. is an establishment, one that almost everyone is familiar with, in one way or another. Their motorcycles, surf/grunge clothing, and/or exclusive parties – if you know – you know. What, or rather whom I did not know, was the woman behind the brand's tough exterior. Tabitha McGregor, co-founder and creative director of THRILLS, and one of the warmest people I've encountered in Byron's small and occasionally impertinent industry.
Residing in South Golden Beach, 20 minutes north of Byron Bay, Tabitha and her husband Brooke (who is also her business partner) have built a brand that stands alone from the bohemian labels that stock the shelves of so many boutiques, carving out a space that celebrates individuality, creative youth, the power of hard work, and a strong, uncompromising aesthetic.
Tabitha's daily to-do list includes: keeping two children alive and well, creatively directing and designing range-after-range. And most recently  creating a body of work that is now exhibiting at Lone Goat Gallery: that explore her connection to nature, human experience, and spiritualism through symbolic pieces constructed of mixed media such as graphite, in form of sculpture and painting.
Tab took time out of her busy AF schedule to let us invade her carefully curated home (a feat, considering her two young boys in residence), talk us through her ROUTINE, and what it means to be a woman made.
---
TB: What is your earliest beauty memory?
TM: Probably my sister who is three years older than me cornering me, plonking me on a chair and wanting to put mascara on me. I think I would've been 8, and she just wanted to put makeup on me all the time.
TB:  What does beauty mean to you?
TM: Beauty means self-confidence and love, and it's someone that is living true to themselves. Beauty can be all walks of life – man, woman, everything – I think that beauty just comes from within.
TB: And what's your approach to beauty?           
TM: Pretty simple, because my life is really busy. When I was younger I didn't really have to worry about it at all, just you know to wash your face and moisturise and that's it. Now I have a bit more of a strict routine because I need to, so I make sure that I keep my face washed and I have some really incredible products that I use to hydrate because hydration is a really big thing now and when it comes to actually putting makeup on (which I rarely do) I usually would just use something really light like a tinted moisturiser or something with SPF, it's all about SPF for me now.
TB: Are there any rituals that you have in your routine or in what you do that is kind of unexpected?
TM: I don't think its unexpected, but I have started having a really hot shower because its winter, so I have a hot, hot, hot shower and then at the last 5 seconds I quickly turn the hot off and blast my face with cold water and try not to get the rest of my body in it because its so cold but that's kind of what I've been doing and its actually been incredible. Just that blast of really cold water.
TB: Do you have any self-care rituals that you do when you're feeling really overworked or tired?
TM: The biggest thing is making sure that before I go to sleep that I apply some really intense moisturiser to my skin which makes all the difference to me as well as under-eye treatments, you know there's a lot of nights when I'm so busy, and I work late and I put the kids to bed and then keep working. Prepping my skin and just kind of looking after myself a little more is so different, I wake up to a whole different day.
TB: What is one product that you always bring when you're on the go?
TM: Mascara. I feel that if I have mascara on – I feel awake.
TB: What are your favourite products?
TM: I'm actually really loving the Dr Dennis Gross Alpha Beta Universal Daily Peel, that has been pretty awesome for my skin and I do it at night and the nights that I do it I wake up in the morning and the whole tone of my skin is just better. I love my perfume (Le Labo Santal 33), I guess that's the other thing I try not to leave without is mascara (Hourglass Film Noir Full Spectrum Mascara) and perfume, it just makes me feel complete. I think that skin peel has been the most exciting thing I've found because I love my moisturisers.
TB: What's your favourite moisturizer?
TM: I use Perricone MD Face Finishing Moisturizer.
TB: What's your morning routine like? 
TM: Well usually I wake up and there are two dogs and two children and my husband all in the bed, we have a king size bed, there's usually around 6 humans (or boys) in the bed and I usually kick everyone out. The first thing I do is I have a coffee, and I always write in a journal every morning. Thoughts, plans, stress, just like fun ideas I have, I don't know, anything, anything I know I need to do or anything I want to do I just write it all down.
TB: Do you take time to do your makeup or is that a car thing?
TM:  I usually do it in the car, because its usually only ever like, you know this is probably the most makeup I've worn in months and I usually probably only do a tinted moisturizer and mascara.
TB: What would you say to young people, in general, wanting to start their own clothing business?
TM: I would say don't give up because there's a lot of times that you are faced with situations that you could easily give up, and I think the only way to make it is to keep going. And back yourself. because a lot of people won't back you especially when you're going out on a limb, back yourself and don't give up.
TB: Favourite quote, or words to live by?
TM: I guess what I always repeat to myself, 'best possible outcome', because sometimes, life is pretty crazy and feels quite out of control, so I like to put my trust into myself and go 'okay well the best possible outcome, no matter what it is, don't try to make it into something, trust that whatever happens is going to be the best possible outcome.'
TB: have there been any limitations – not limitations – obviously, Byron's a really small place and you guys have definitely grown past that but do you find that you're comfortable with the brand being quite an 'iconic Byron thing'?
TM: Even though it is a small town, it's not always been the easiest, it's also largely to our benefit because… When we first started a lot of people were coming to Byron, that was 7 years ago we started, but in that 7 years, Byron has become quite an iconic destination internationally. There are so many people coming here, so to be associated with Byron is a real positive thing for our business even though we didn't set out to have it that way, just by circumstance and by starting a brand here and opening up one of our flagship stores it's been really good. And we also have really amazing people who work for us so we are just very lucky…
---
Words and photography: Ella Jane