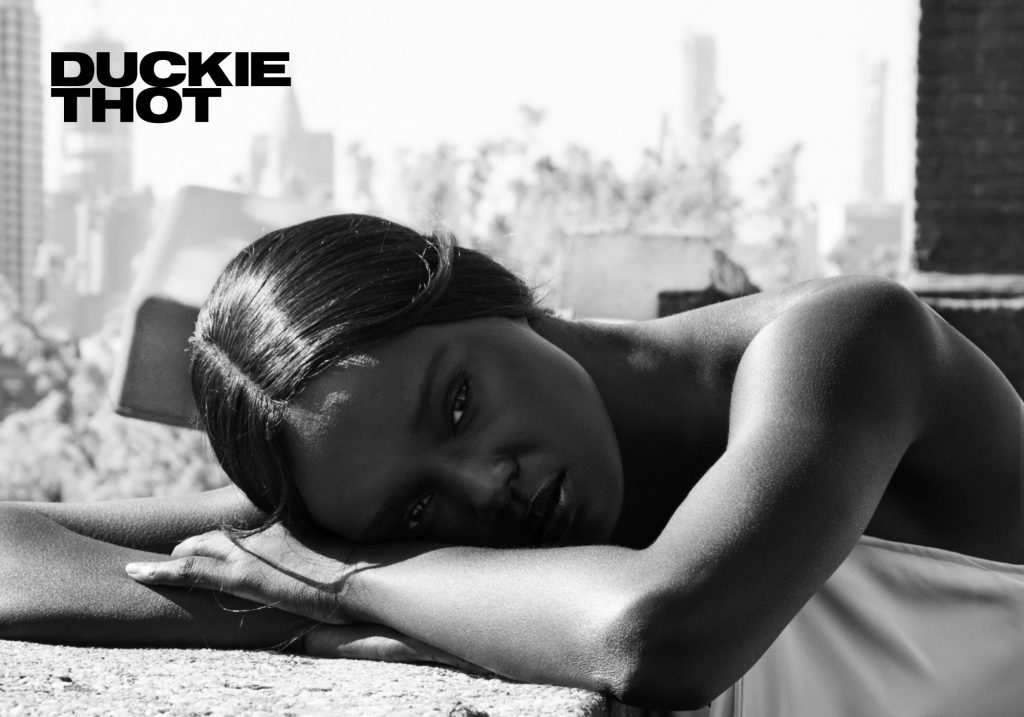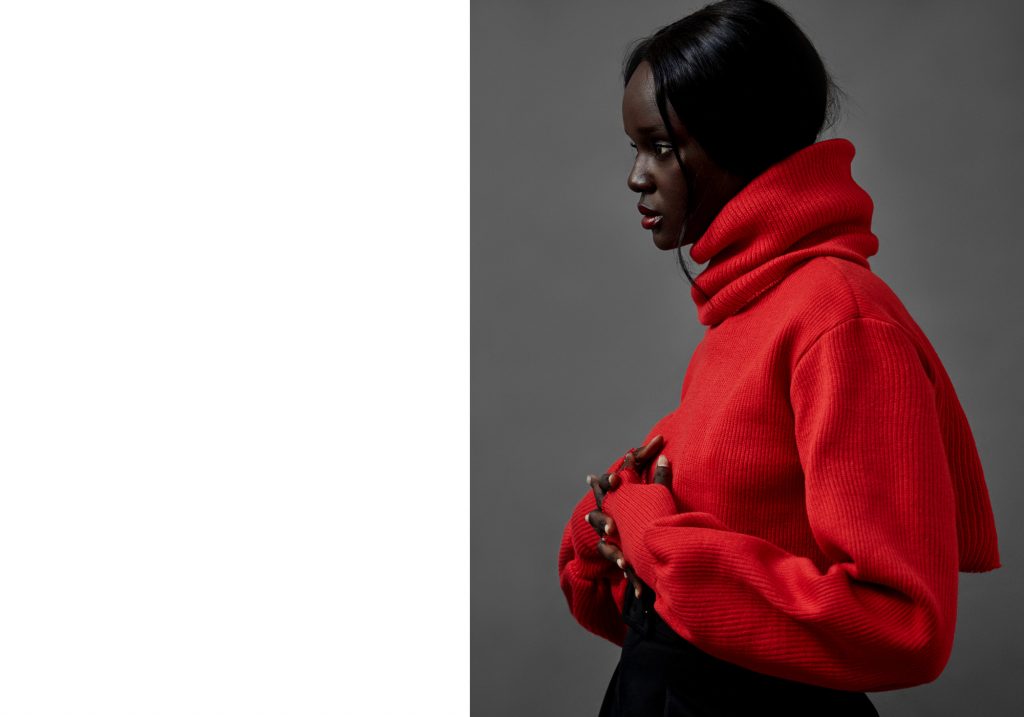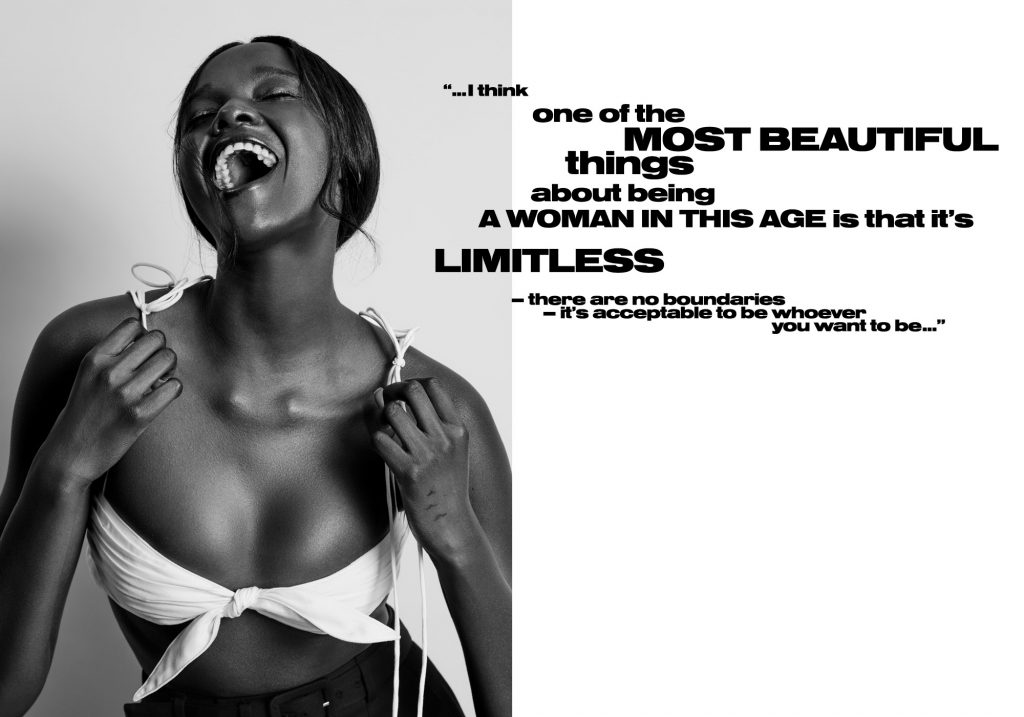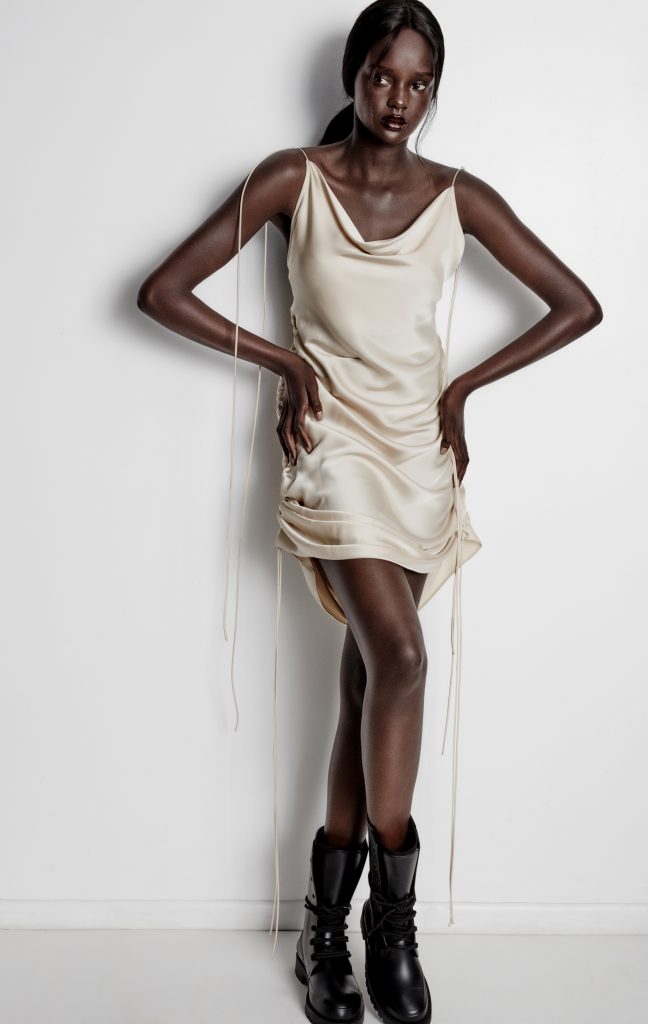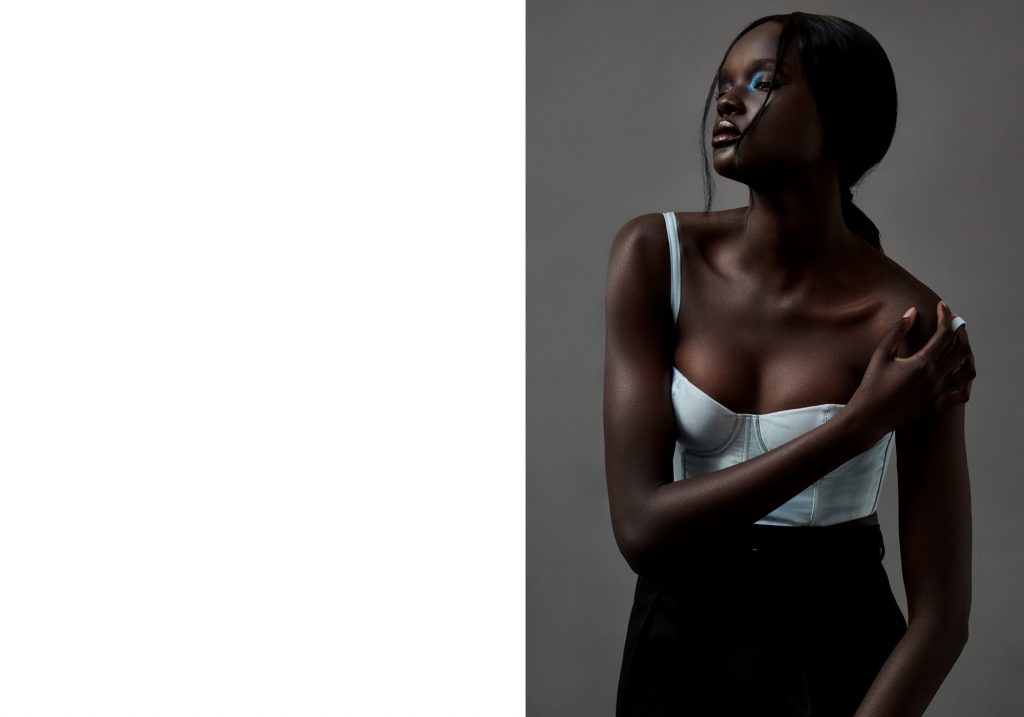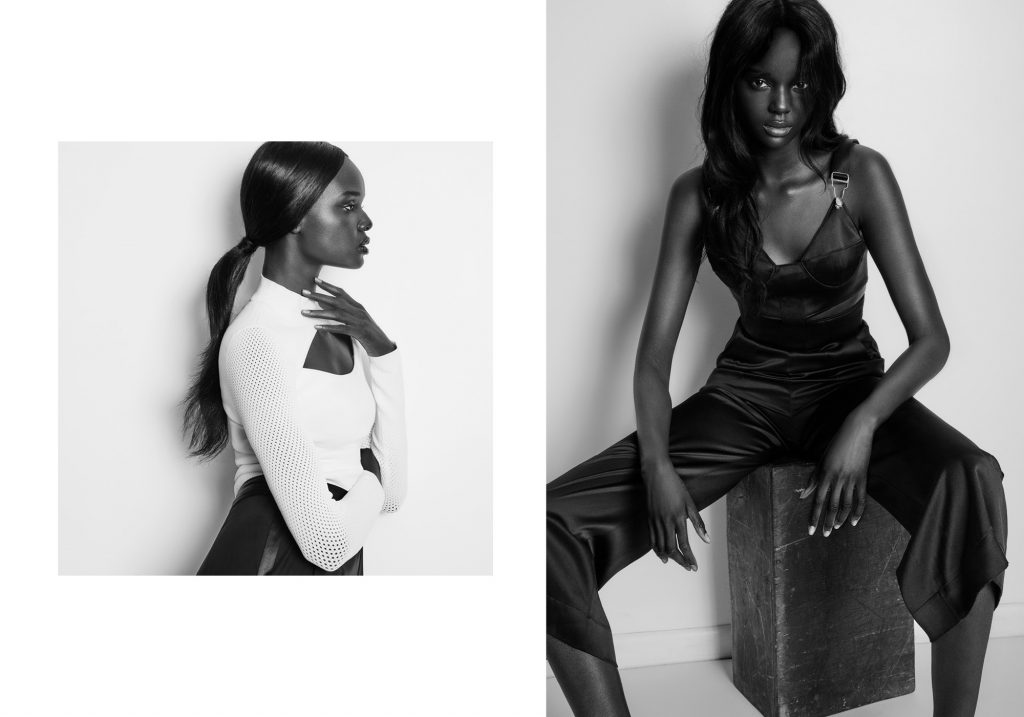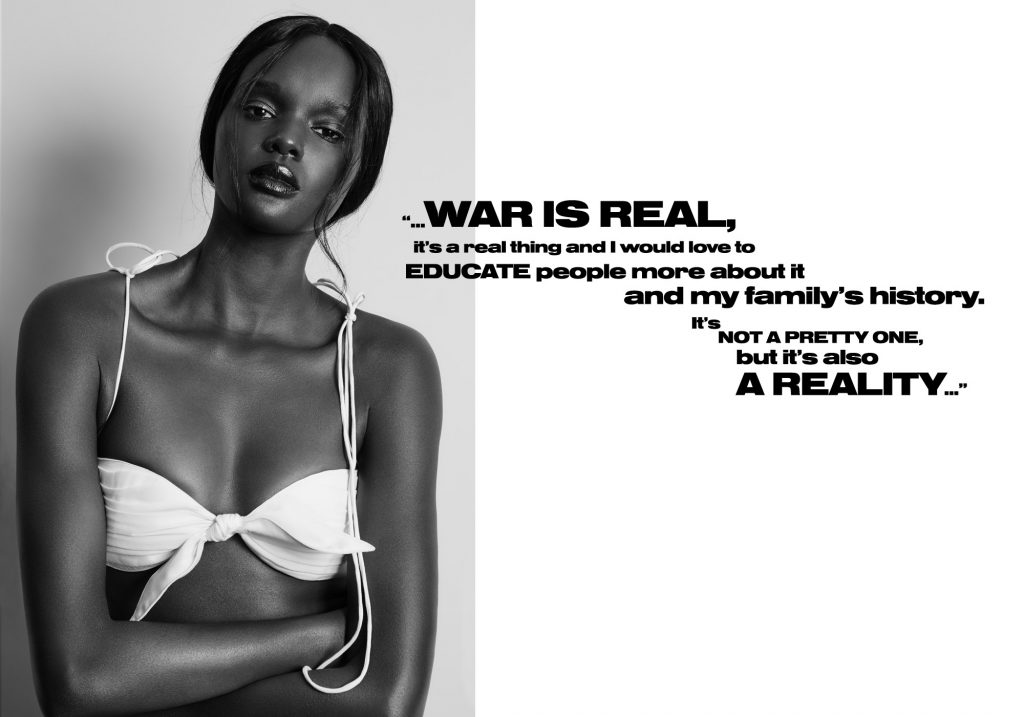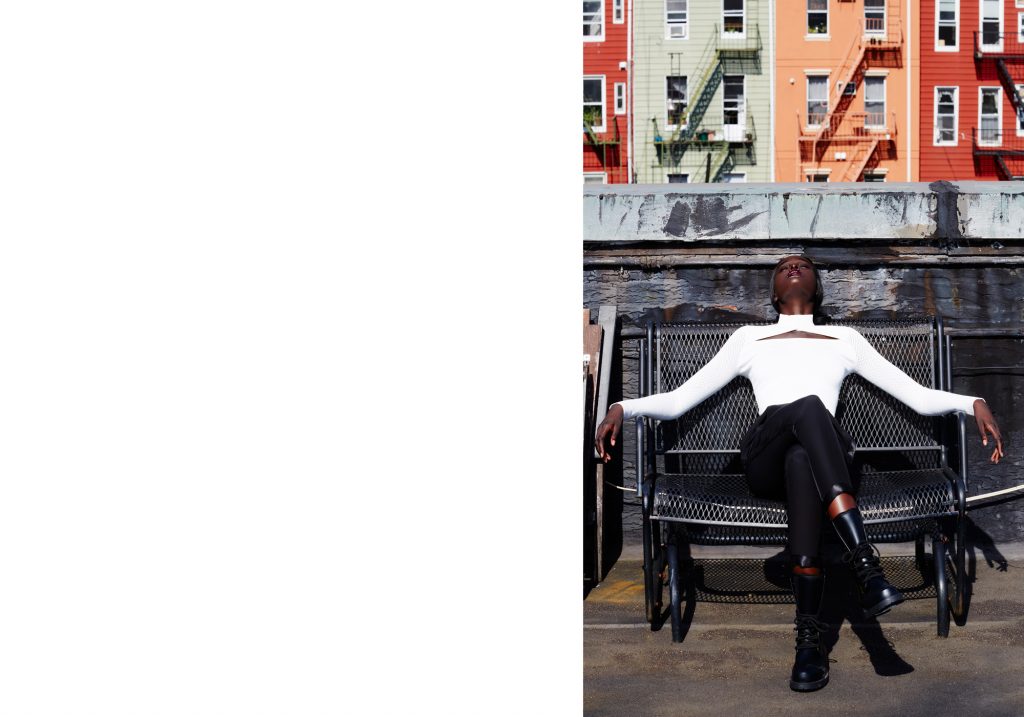 ---
Within the first 2 minutes of our conversation via phone, it's well established that Duckie Thot is a global citizen. Though, you probably already know that.
Down the line from London Duckie tells me she grew up in Melbourne (arriving in Australia from South Sudan when her mother was pregnant with her in 1994), and she now calls New York home. A month ago, we were together in Williamsburg with photographer Simon Upton who lensed this story, and who affectionately refers to Duckie as 'The Duck', both in person – through his thick, booming Aussie accent, and via emoji on the 'gram. They're old pals having shot together for the first time for Harper's BAZAAR when Duckie was a contestant Australia's Next Top Model's cycle eight.
---
Since then, Duckie has filled her wrap-sheet with the industry's most coveted gigs. A runway debut for Yeezy, campaigns for FENTY, Balmain and Moschino et al. And joining angel ranks when she walked the Victoria's Secret show in 2018. This year she secured a global makeup contract for L'Oreal Paris. The kind of contract models covet their whole career, though few grasp. She's 23. To say she is an over-achiever, is an under sell.
She's beautiful, smart, and hard-working, that's obvious. Though the way she views what she does for work, provides insight into what sets her apart;
"I like to think of myself as not only a model but as a creative. It's a field where I'm able to share what I know with other creatives and [we] bounce off of each other. Although its continuously changing, it gives me the freedom to express and expand in my creative space the way I need to… It takes time and you have to be on your toes in doing that. It takes real effort to understand the art and craft in it."
Her response mirrors the way TOMBOY Magazine's issue one cover girl and supermodel, Helena Christensen, who too, considers creative collaboration as essential.
Duckie's work is not the only basis for expression. As a South Sudanese woman, Duckie is a campaigner. When I asked, what she stands for, she said, "Honestly, I come from a war-torn country. As the subject is being raised again right now currently, all of a sudden, people are only finding out about issues that are happening today. Whereas our parents faced these same issues 20 years ago which is why they left." She adds,
"War is real, it's a real thing and I would love to educate people more about it and my family's history. It's not a pretty one, but it's also a reality, and I want to bring as much awareness to that as I can." 
A few days later, she penned a post to her 1.1 million Instagram followers amidst the sudden influx of engagement and concern in the war in Sudan where she defended her short silence on the matter for a need to process. In the post, which you can read in its entirety here, she said;
"I am committed to finding sustainable solutions, viable connections and humanitarian support that will foster meaningful changes and encourage competent leadership on the ground. I am demanding, looking to engage with and calling for action from the Government, industry and organisation and individuals and community. Many have lost their lives, but the sight of Hope and the act of resilience is what Africans know best. Presently, there is a media blackout. We need to engage, LISTEN and RESPOND to the requests and do what we can in response directly in relation to those on the ground. It is our responsibility. Please continue to educate yourself on Sudan and South Sudan."
---
Most 23-year-olds are just graduating college, entering the workforce and grasping early adulthood. Duckie, has already experienced meteoric success, is a role model, and an active voice. Via her Instagram, she has been a champion of inclusivity and diversity, social media pressures and anti-bullying. While some people, particularly young people with an online presence and a public profile buckle under the pressure, Duckie remains level, full of conviction for the causes she chooses to stand behind, authentic without the buzzword connotation, and positive. With all that she's already achieved, and for all that is in front of her I asked, in her experience what does it mean to be a woman in 2019.
"It just means to be. I think one of the most beautiful things about being a woman in this age is that it's limitless – there are no boundaries, it's acceptable to be whoever you want to be. We are living in times where that's encouraged and its praised and celebrated. Just being exactly who you want to be, is what it is. You can be free and who you are, and I think that's what being a woman is."
---
DUCKIE wears – Look 1: Orseund Iris drawstring dress. Look 2: Orseund Iris cropper turtle neck sweater, Fleur du Mal tuxedo pants. Look 3: Orseund Iris Cha Cha top. Look 4: Orseund Iris drawstring dress, Dior Camp Rubber Ankle Boot (worn throughout). Look 5: Fleur du Mal Balconette Bustier Top, Fleur du Mal tuxedo pant. Look 6: Fleur du Mal Cut Out Top and Fleur du Mal Romper.
CREDITS:
Photography and Creative Direction: Simon Upton X TOMBOY Beauty
Makeup: Tobi Henney
Hair: Damian Monzillo
Art Direction: Luke Shadbolt
Editor, styling and interview: Chloe Brinklow
---