If you're an avid reader of TOMBOY Beauty, firstly thank you. Second of all, you'd know that I grew up in Byron Bay, because like everyone from Byron Bay, I talk about it all the time. If you're a first time reader – hello, I'm Ella Jane, welcome, make yourself a cuppa, get comfy, and know Byron Bay is a rapidly growing beach town on the east coast of Australia, known for its heavenly beaches and laid-back lifestyle. And I grew up there.
If you count I just wrote Byron Bay three times in three sentences. Not even sorry about it.
Growing up in Byron, there was never anywhere particularly exciting in the way of beauty treatments. My neighbour gave me a massage every once in a while, (a pretty good remedial one) and I only had one facial there pre-my year 12 formal. Now I live in Sydney and am not as much 'up with the times' as I'd like to be when it comes to people asking me for beauty reccos at home, so I decided to spend a very torturous week trying some of the best new beauty destinations the Bay has to offer, which wasn't actually torturous at all. It was basically Nirvana, read on to understand why…
I hit up COMMA first, a newly established massage parlour on the Industrial Estate. If I could show someone a picture of the Byron Bay aesthetic, COMMA would be on the mood board. The décor is beachy and relaxed, but with an industrial edge. The massage beds are dressed with tonal linen, and SIR the label bathrobes are supplied. Upon arrival, my therapist offered me tea, and had me select an essential oil blend that would be used in my treatment. I opted for the Equilibrium treatment, a massage that pretty much covers the whole body. My therapist used long strokes, as she worked my body into relaxation. The experience overall was heaven. The best part is that it's reasonably priced, easily accessible, and very 'grammable.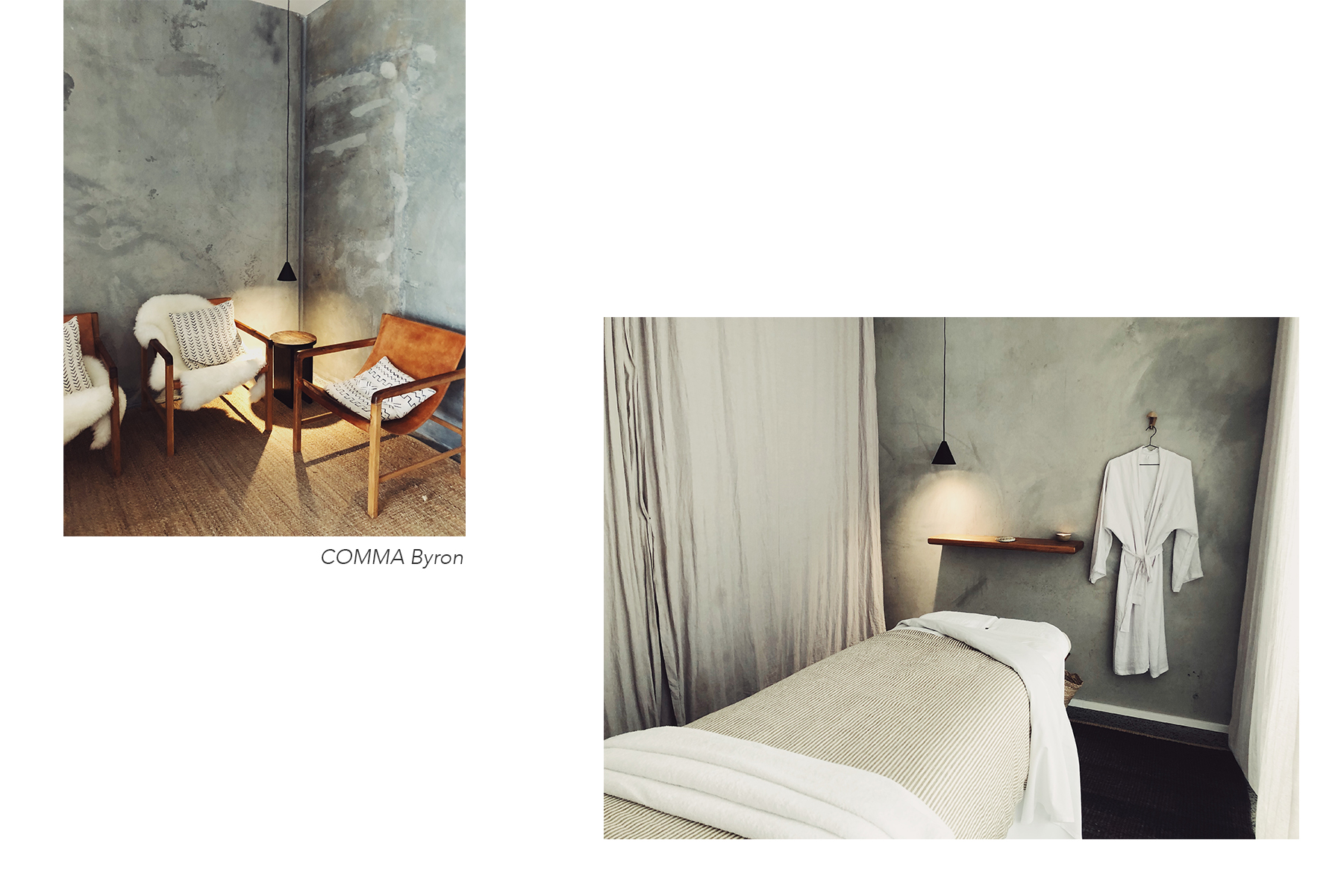 Aesthetica opened 10 days before I visited them, another new spot on the industrial estate in the very new trendy Habitat space, a short walk from Elements Resort. They are basically a Byron version of a Medi-spa, offering injectables, PRP, Dermapen, Dermaplaning, Fraxel, and LED treatments in the most beautiful, millennial pink space. On arrival, I was given a probiotic collagen infused water (lush), and lead into the treatment room where I would experience a 'level 2 Dermaviduals' facial nestled amongst rusty pink linens. My therapist started out by chatting to me about my skin concerns, and once we worked out what it was I needed to tackle, she began with a double cleanse, a physical exfoliant, an enzyme peeling mask, LED treatment which was accompanied by a foot massage while it was working it's magic, and then a few serums which were massaged into the face. It was one of those treatments that went on forever which was an absolute blessing (nothing worse than an express facial you could have done at home IMO). I left feeling nurtured, glowy, and far too relaxed for the rest of my work day.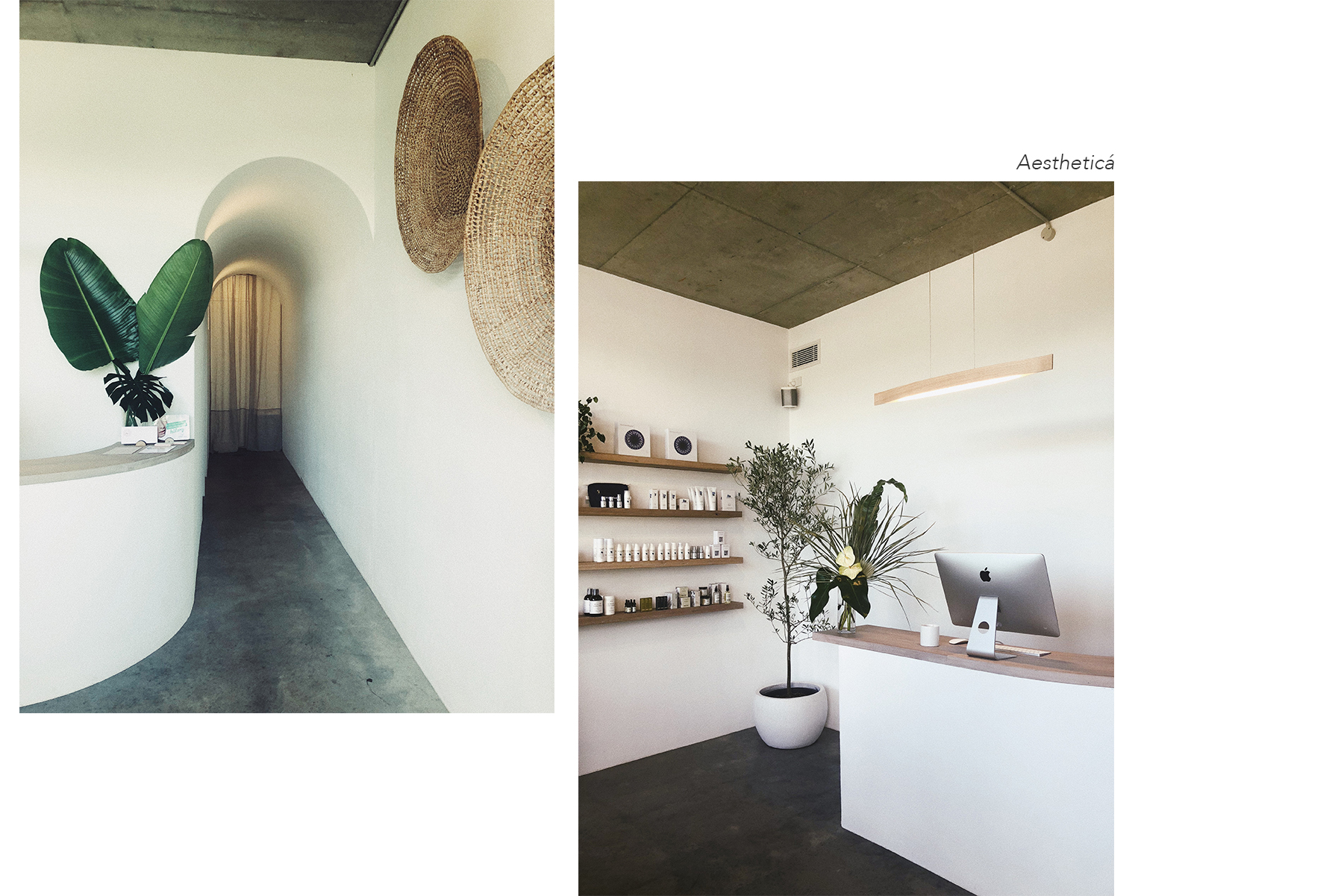 Another new industrial estate spot. Little company has a more organic, natural approach to skin, if that's what you're into. Their methods are holistic, the type that you leave from feeling 'held'. The space is beautiful, an all-white oasis where you are offered chlorophyll infused water and can get express LED treatments accompanied by guided meditations, for the time poor or treatment excessive. After speaking with my therapist about my concerns, for the third time that week got comfortable amongst some blush toned linens and let the magic happen. We started with a cleanse and then a look at my skin, followed by a mild exfoliant, and a brightening, clarifying mask. This was followed up by a jade rolling situation, a foot massage, a chest massage, and a face massage. 'Total bliss' is a good descriptive for this treatment, and prying myself away from my linen cocoon was… difficult.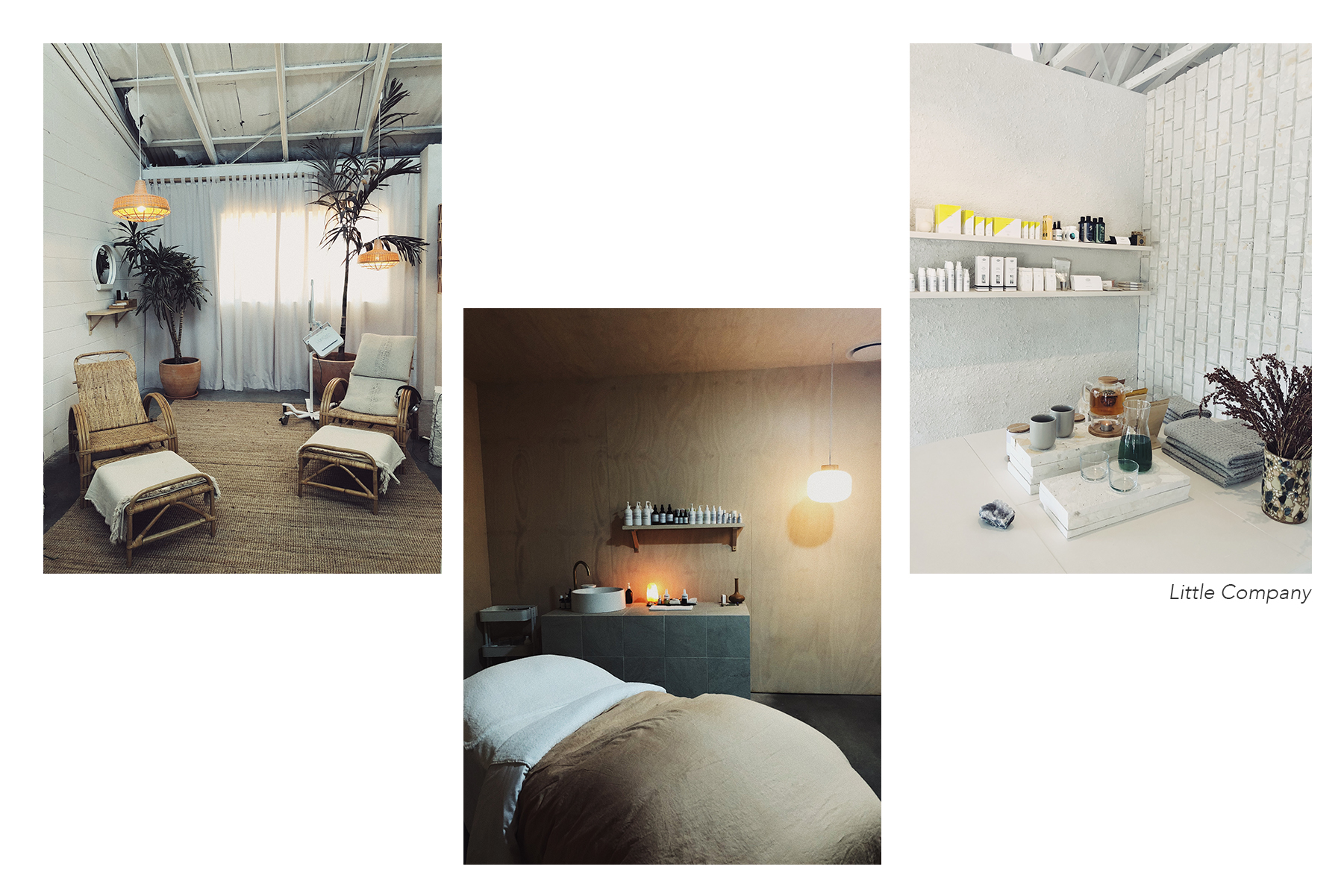 When I was growing up, Rae's was basically inaccessible to the average civilian. Always coined as 'Byron's most luxury accommodation' it was only admired from afar, slash on the way down to the beach. Now I'm a semi-grown up, and the opening of their terrace bar has occurred, I've dabbled with the idea of a champagne on the deck come sunset after schlepping it with the surfers on the sand all day, but thought I'd better check out the spa first, as my civic duty. I'm not joking when I tell you I cried in my car after this treatment, because it was actually that good. The Vichy Shower ritual was a draw-card because as a beauty ed if there is something I haven't heard of before, I kinda NEED to try it. I booked in on a Saturday to give myself ample time to completely relax. On arrival, hot tea is served, I slipped into a robe, in the tranquil lighting (and overall atmosphere) of the spa. The smells and noises were all reminiscent of a luxury spa in Bali or something of the sorts… basically, vacay vibes. The treatment started with selecting my chosen Santa Maria Novella Pharmacy massage oil of choice (I went with lavender), then I lay upon a bed with the Vichy shower heads looming above me, which reminded me of a car wash, but make it fancy. My therapist then covered my body with oil, and scrubbed every nook and cranny except for my bits (thank goodness). Following was the actual Vichy shower, in which about 8 shower heads moved horizontally across my body with varying pressures to wash off the scrub and help with detoxing the lymphatic system. It was sort of like being underwater, but in a really calming, non-drowny way. I then dried myself off and scooted over to the massage treatment room, where the same therapist gave me one of the best full body massages I've ever had. The entire experience was deeply nourishing, and If I had the word count to write another 3 paragraphs about it I probably would. This treatment was maybe one of the most entirely worth-it treatments I've ever had, and I implore you to try it next time you're in the bay.
Nestled between a tractor supply store and the post office in Mullumbimby is the beauty salon I've been going to since I was 12 years old. I still make an appointment every time I'm home visiting my parents for a lash tint, manicure, or wax. I do this for a few reasons, A) because they know me so well, by this point it's like catching up with my cousins. B) because I've never had a better, more cost-effective lash and brow tint anywhere. And C) they always go that little extra mile to make you feel looked after e.g. A hand massage when you're waiting for your lash tint to set in… You may have guessed, human touch is basically my weakness. Clay Organic uses all organic products hence the name, so you can feel confident that everything is safe for the body.
Skin divinity opened up just before I moved to Sydney, and was actually the first ever place I got an LED light treatment. I wanted to go back and see what had changed, and experience it all, since so many people I know in my hometown rave about it. Another medi-spa vibe, Skin Divinity offer Dermapen, injectables, PRP, and LED therapy as well as manicures and results-driven facials and peels: It's the place you go when you want to see results, over relaxation, though that's not to say the atmosphere isn't relaxing. The staff are heaven, it's just less spa and more results. My therapist and I agreed to do a non-invasive, no downtime chemical peel, accompanied by an LED treatment, throughout the treatment she was incredibly thorough in walking me through the whole procedure, which included an astringent peel-prep swiped over the skin, followed by the actual peel, which was left on the skin for a few minutes, wiped off, and followed up with 20 minutes of LED. All of the products in-clinic are take-home and cosmeceutical grade, and my skin directly after and the days following was popping OFF. The texture and tone even enough, that I skipped foundation for the week following.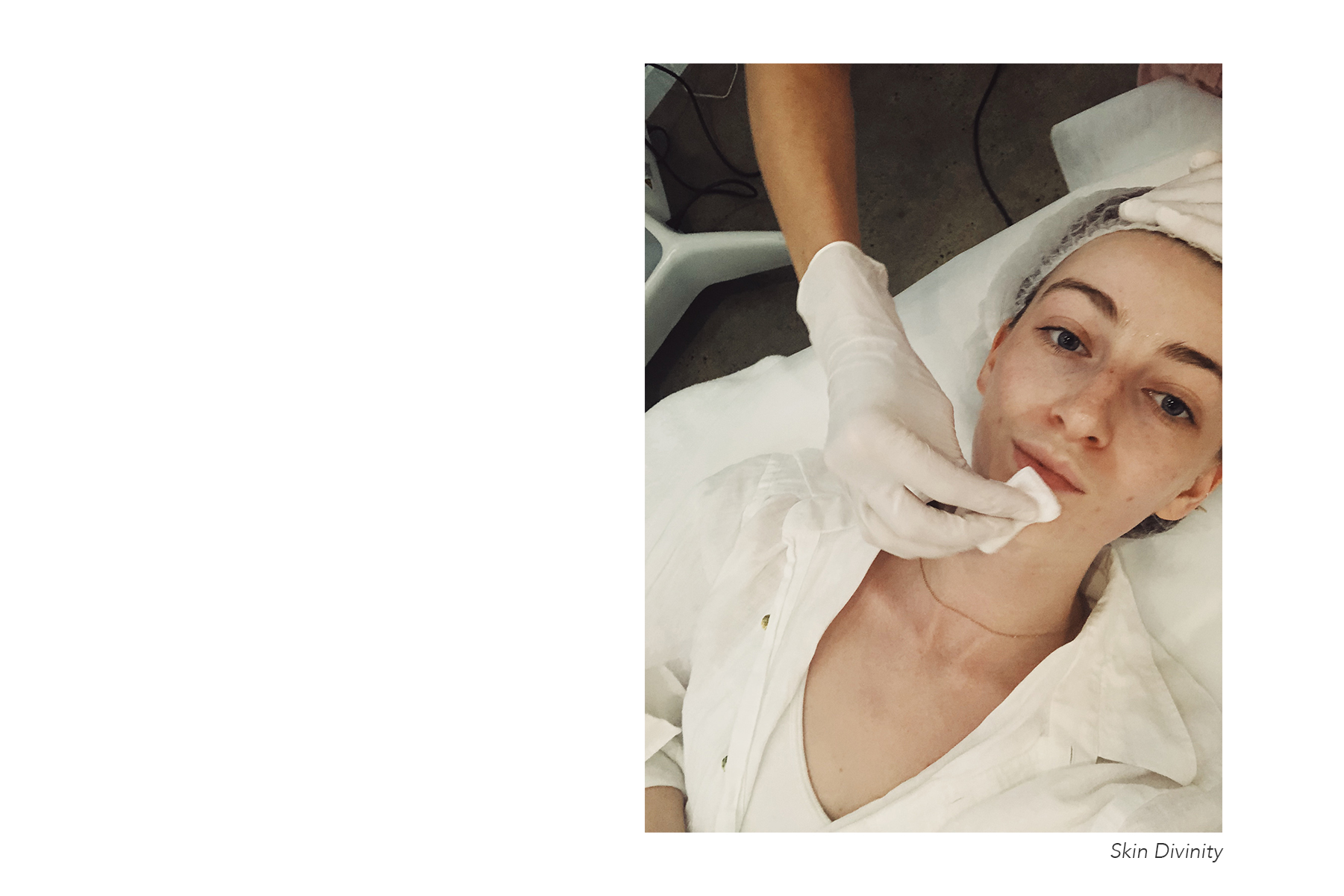 Kiva Spa, with a testimonial from TB contributor and also a Byron native, Matilda Dods.
A good old-fashioned, no-nonsense facial. The girls at kiva spa use all eminence products, so everything is organic and nasties-free. The treatment itself is essentially a 12 step, hour-long face massage, the only modality used is some light steam, all the rest is done by hand. There is also a head, hand and foot massage included. This facial is super relaxing, and I always leave looking like the inside of a seashell; smooth, plump and incredibly moisturised. Another bonus is that for only $20 on to the treatment, you can use the beautiful spa, sauna, steam room and plunge pool for an hour before you're transported to facial nirvana.