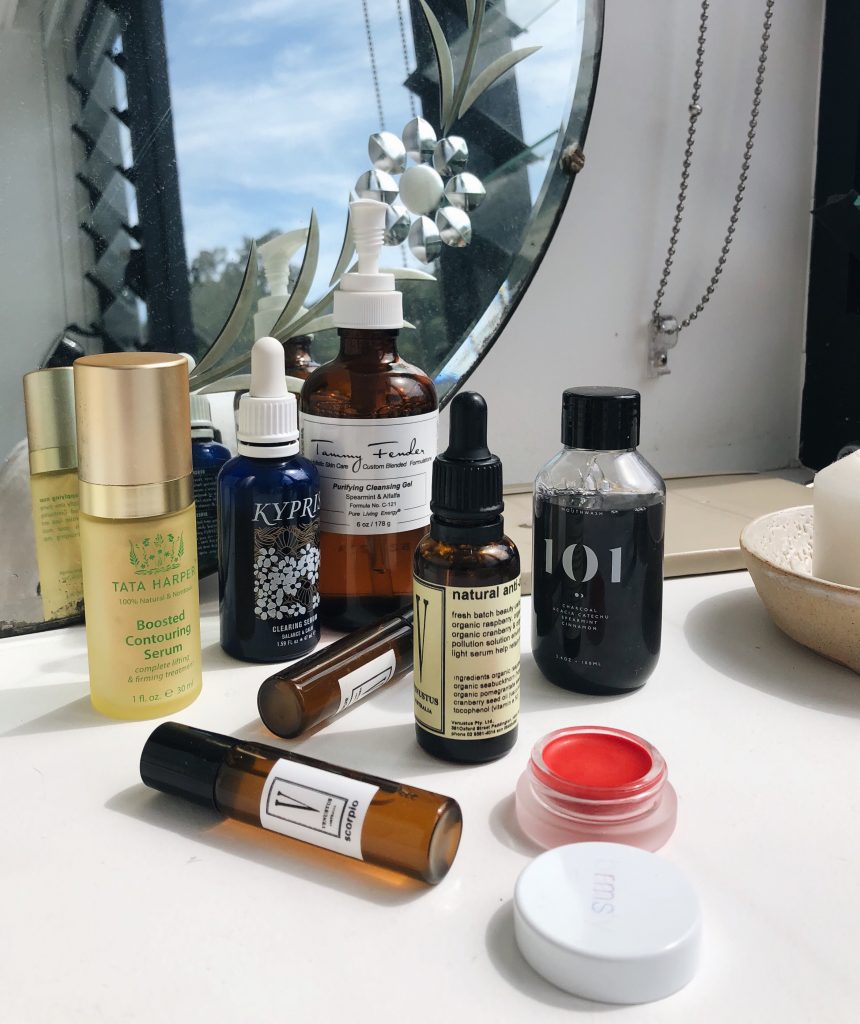 How great is 2018? Specifically, 2018 beauty advancements, like devices to lift and contour, remove scars, at home LED masks, at home Dermarolling, PRP facials, laser, 2018 beauty is wild. Namely, 2018 beauty of the natural/organic variety which aren't only sold in weird health food stores anymore and actually do the heavy lifting.
Gone are the days where natural and efficacious are mutually exclusive, exciting. Finding natural products that actually do the trick is nice because who doesn't want to be using fewer chemicals on their faces? I recently met Miranda Kerr IRL and something about her glow just screams 'no toxins here' (probably also because being glowy and organic is kind of her brand), which has made the idea seem far more desirable when witnessed in the flesh. Below, find a comprehensive guide to TOMBOY's favourite natural prods which actually put in the work.
---
Tata Harper Boosted Contouring Serum
This serum is like skin food in a little, aesthetically pleasing bottle. It claims to target mature, sagging skin, with 32 high-performance ingredients. I don't have mature sagging skin, however, I've been testing for about 2 months, and can safely say my skin is plumper, more evenly textured, and more supple. It also smells very soothing.
I'm a complete sucker for anything RMS. It's hands down the best natural makeup brand I've used. I bathe myself in their Living Luminizer each day but have featured it in MANY stories, so thought I'd shine the light on their lip and cheek duo's, which are equally as pigmented, buttery, and beautifully glowy as the luminizer. The shade 'Beloved' is heaven come summer time, a little goes a long way, and the 'just ran a few miles' flush it gives is one that can't really be mimicked with a powder.
This baby is an oil-based serum, comprised of organic cranberry oil, raspberry oil, pomegranate oil and sea buckthorn oil and vitamin e oil. Those 5 ingredients are literally all that is in it, all natural anti-oxidants that help restore the skin's barrier and fight ageing due to environmental pollution. If you want the freshest, most natural organic beauty products, Venustus Australia is the place to be.
Tammy Fender Purifying Cleansing Gel
Has anyone ever had that problem where they don't totally feel like natural cleansers are really cleansing the skin properly? Problem gone c/o this cleanser. Formulated for oily, overactive skin, but not drying, this spearmint scented heaven cleanser is your answer. It lightly foams upon applying and tingles the slightest bit, but once removed the skin doesn't feel tight or dried out, just perfectly balanced and ready for product.
101 Lifestyle Charcoal Mouthwash
I LOVE finding dental products that aren't full of sulphates and other garbage. I'm still fairly committed to feeling minty fresh, however, this charcoal based mouthwash is like the breath (literally) of fresh air you didn't know you needed. I used to hate mouthwash because it stung and made me feel like an alcoholic, not anymore. It tastes like Cinnamon and Spearmint, is made with Coconut Oil and Charcoal, and the best part is that it's akin to the whitening effect of oil pulling thanks to the latter two ingredients.
Venustus Organic Roll-On Star Sign Perfumes
First of all, if you're new here, yes we are obsessed with Venustus. Second, their perfumes specifically are the ones I find myself reaching for daily. After learning from Venustus founder, Jeannie herself how harmful synthetic fragrances are, I try to use them much more minimally these days. The Star Sign organic Roll-on Perfume range is perfect for this, all made with organic aromatherapy oils, they are water based, travel-friendly, and are actually beneficial if you're into aromatherapy. I love the idea that they are tailored to star signs, but don't let that stop you from picking your favourite scent. I'm currently wearing Scorpio, even though I'm a Leo through and through.
I only received this serum a week ago and was VERY keen to try it since my face had both broken out in a mysterious rash and normal hormonal spots. Not a pretty sight. Thankfully, this serum claims to both help clear and calm the skin from irritation, whilst helping it to heal in the process. Listed ingredients like Zinc and Centella Asiatica back this claim, as does the now-condition of my once (Monday) very sorry skin. Within two days of using, the planetary zit that had taken residence on my cheek had almost completely flattened and the rest of the settlers had either shrunk or come to a head, both manageable outcomes in my eyes. As for the rash? Thank u, next.
---
Words: Ella Jane