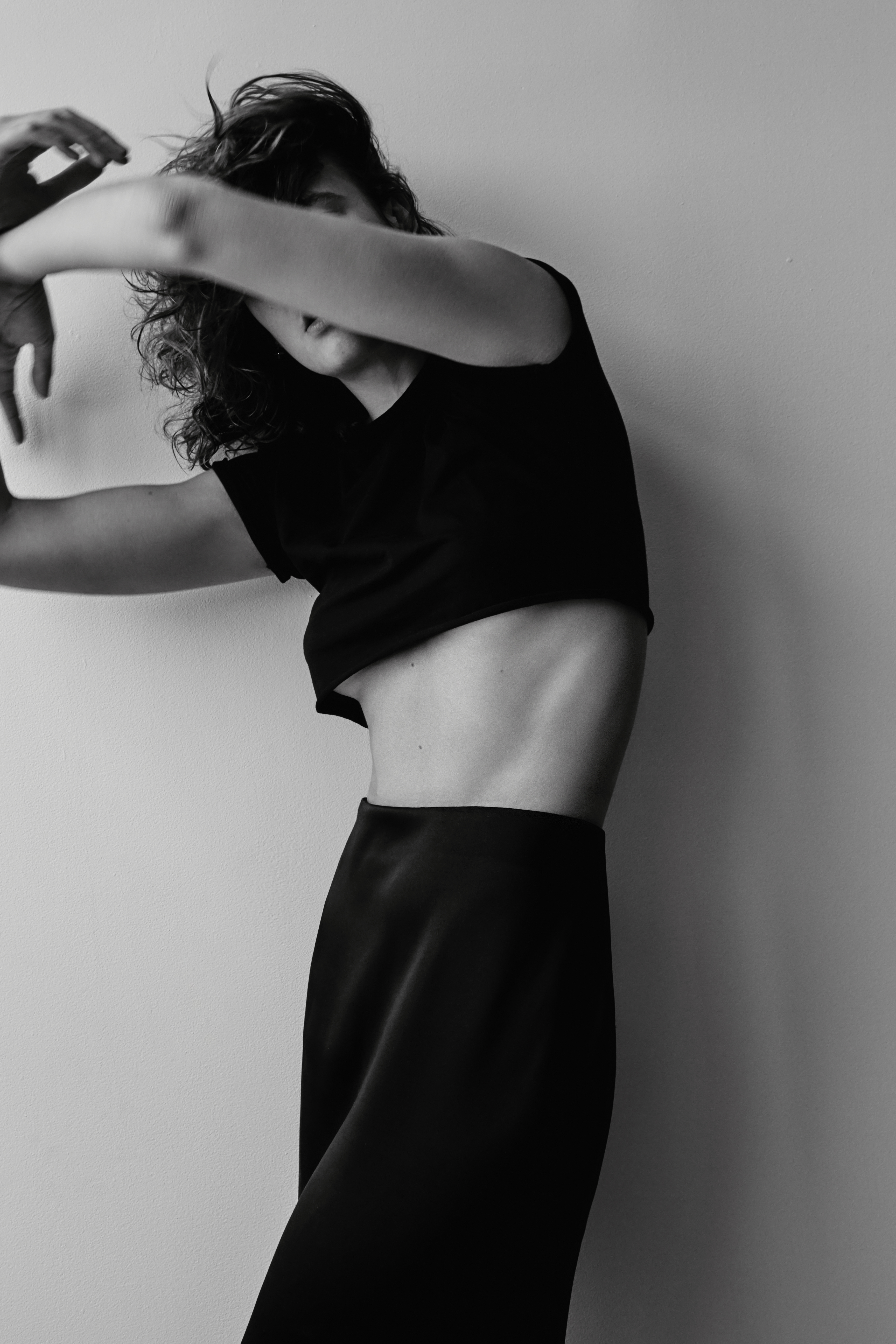 In our final instalment of #ModelsInNewYork, Montana Cox is lensed by photographer, Simon Upton at Shio Studio in Brooklyn. When Montana arrives wearing a red summer wrap dress and sandals, Simon is shooting Matilda Dods on the street. He yells out, 'MONTY!', his thick Aussie accent more distinct given our location. Quickly, Montana yells back, waving her arms, 'Uppyyyy!'
They're old mates having shot together many times since Montana started her career on Cycle 7 of Australia's Next Top Model. It sets the tone for the shoot – the energy  is super chill – and Montana glides through each shot, switching between a doll-like persona (her skin is next level – btw), and cool-girl ease. The type you can't fake, it's just innate.
When the shoot wraps we talk, before she hitches a ride to the Hamptons to meet up with friends. She's unguarded, funny and confident as we skim over home, living in New York and her approach to beauty…
---
ON LIVING IN NEW YORK:
It's one of those places you can't really explain… you have to be here! It has this weird higher frequency that no other city has. Once you have a taste of it, it's hard to not come back. It's kind of like a weird, annoying ex-boyfriend who you're in love with –  you know it's bad for you – but you keep coming back for more…
ON COMING HOME: 
I will definitely come home to Australia. I love Australia so much. In this time of my life I love New York, but I know in a few years time I will walk out on the street and get bumped and be like, "I'm done!" But for now I am putting up with it – and the sirens and the loud noises – I can do for now. But then I will want some cool air, and some fresh air, and some normal chilled out people.
ON AUSTRALIAN IN NEW YORK: 
All of my friends are Australian. You just end up gravitating towards each other. Especially in a big city, Australians have this weird thing: we just get it. It's definitely familiarity, we understand each other. I can relax. In the city, it helps you feel like home.
ON THE AUSTRALIAN MODEL SET: 
I am friends with Alex, and Megan, and Matilda… I walk out on the street and see her every day, Megan lives around the corner from me, I see Alexandra. We're all really close and really good friends, I feel like Australians are like that. We're not competitive, everyone's just really friendly, we get along. It's not like we don't care, but we get it.
ON BEAUTY: 
I am very much into natural beauty, I like clean skin, fresh eyes, natural lips. I like everything natural. Like, inner beauty (laughing). Basically what we shot today; natural curly hair and I don't like too much makeup. Dewy, with highlights in the special spots.
 ON MODELLING: 
It's a really hard industry, it's an amazing job – you get to see the best places and meet the coolest people – but it's one of those jobs that is much harder than it looks. It's extremely competitive, with girls and body image, it's a very sensitive topic and getting in to it too young. I think you need to develop before you get in to it, and then once you kind of know you're comfortable in your own skin, than 100% go for it. I do think it is such an incredible job, I love working like this when it's fun and easy, and you work with an incredible team, and you make great photos, and you come home from work and say I've had a great day.
---
Photography: Simon Upton
Stylist: Lauren Davis
Makeup: Katie Mellinger
Hair: Leon Gorman
Words, creative, production: Chloe Brinklow
Montana Cox @ IMG Models
---