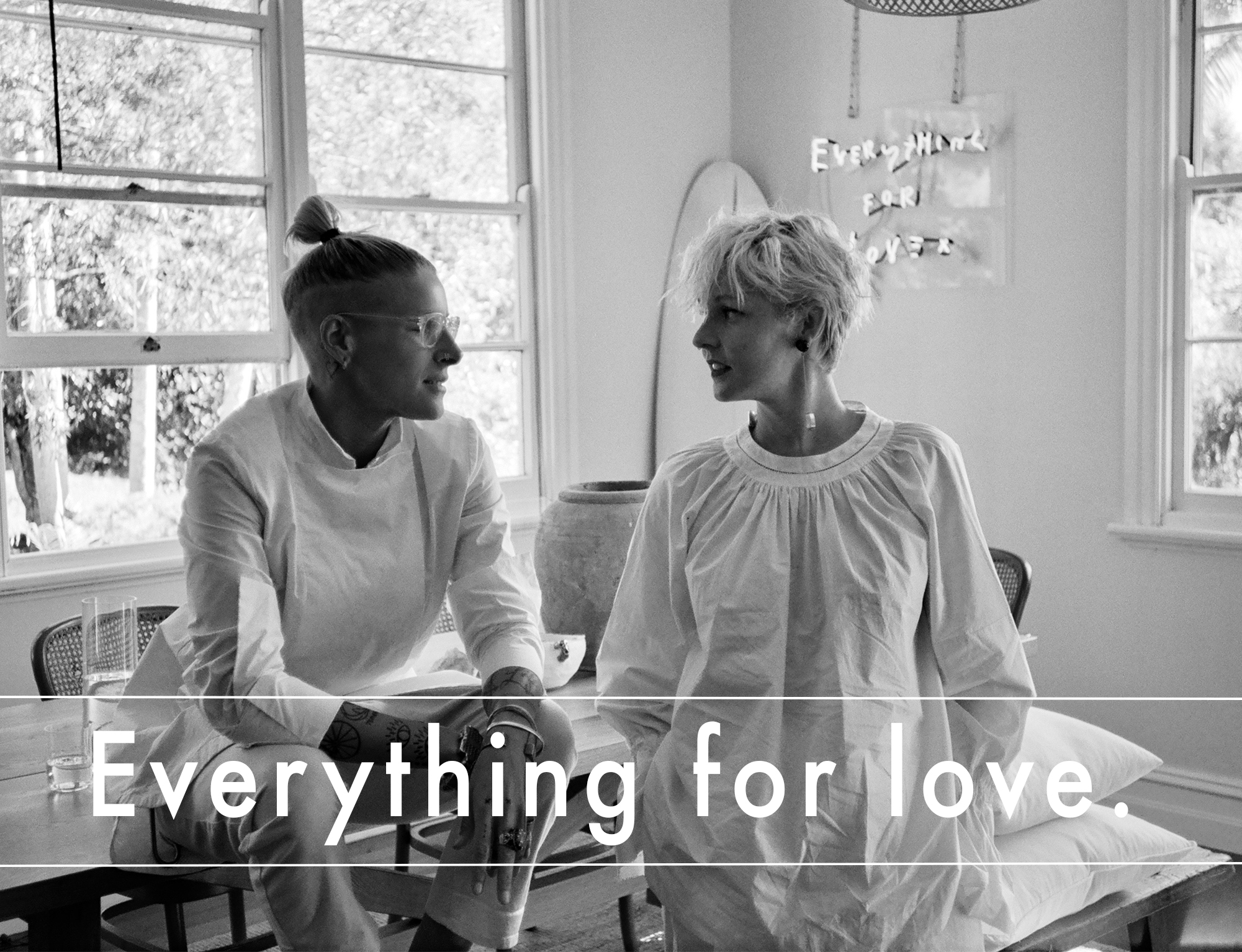 When TOMBOY launched with our first
#tomboybeautygirl
and my dear friend, Nicole Warne I wrote;
"Writing about a friend is difficult. More difficult than you would think. You don't want to come across gushy, or too familiar, but you do want the world get a peek into what you get to see."
The sentiment is true for this story.
---
I've known
Lia-belle King
since I was 13. I dated her brother in high school, and we took dance class together. Post-high school, I have seen her navigate an impressive career in fashion and media with a fancy title at InStyle magazine, founding a successful boutique, fashion PR agency, and a foray into sexology. None of LBK's career choices and successes have surprised me – she has always skipped to the beat of her own drum – and encouraged me to do the same.
When she launched her most recent project,
WORN
 a lifestyle concept with a focus on simplicity and sustainability – furniture, wares et al. with her business partner and wife
Lotte Barnes
, it felt like a natural progression, especially given that only month's earlier the couple had abandoned city life in favour of travel and self-discovery, and found themselves in Indonesia, more in tune with a
'
less is more' sensibility.
WORN
 launched with the
SLING chair
, that I've coveted ever since. I can't tell you the number of times, I've researched getting the chair to my apartment in New York economically, and respectfully in-line with WORN's environmental standpoint. The way Lia-Belle intellectualises this founding creation, best summarises what
WORN
stands for;
"The chair should be a symbol, not just a chair. But what you do when you sit in that chair, how do you feel when you sit, there's more to it."
In the short time since
WORN
 was established, it has grown to include more furniture designs, a monthly publication, a concept store in Bangalow, and a distribution in Sydney and Melbourne in collaboration with Lee Matthews.
As if Lia-Bella and Lotte aren't busy enough,12 months ago, they conceived their greatest creation yet… Their daughter Ophelia
(
Opi) Eulalie King.
It was a privilege to be invited into the family's Byron Bay abode to capture their love. Accompanying the images is a transcript of my phone conversation with Lia-Belle covering business, motherhood, her hopes, fears, and successes.
---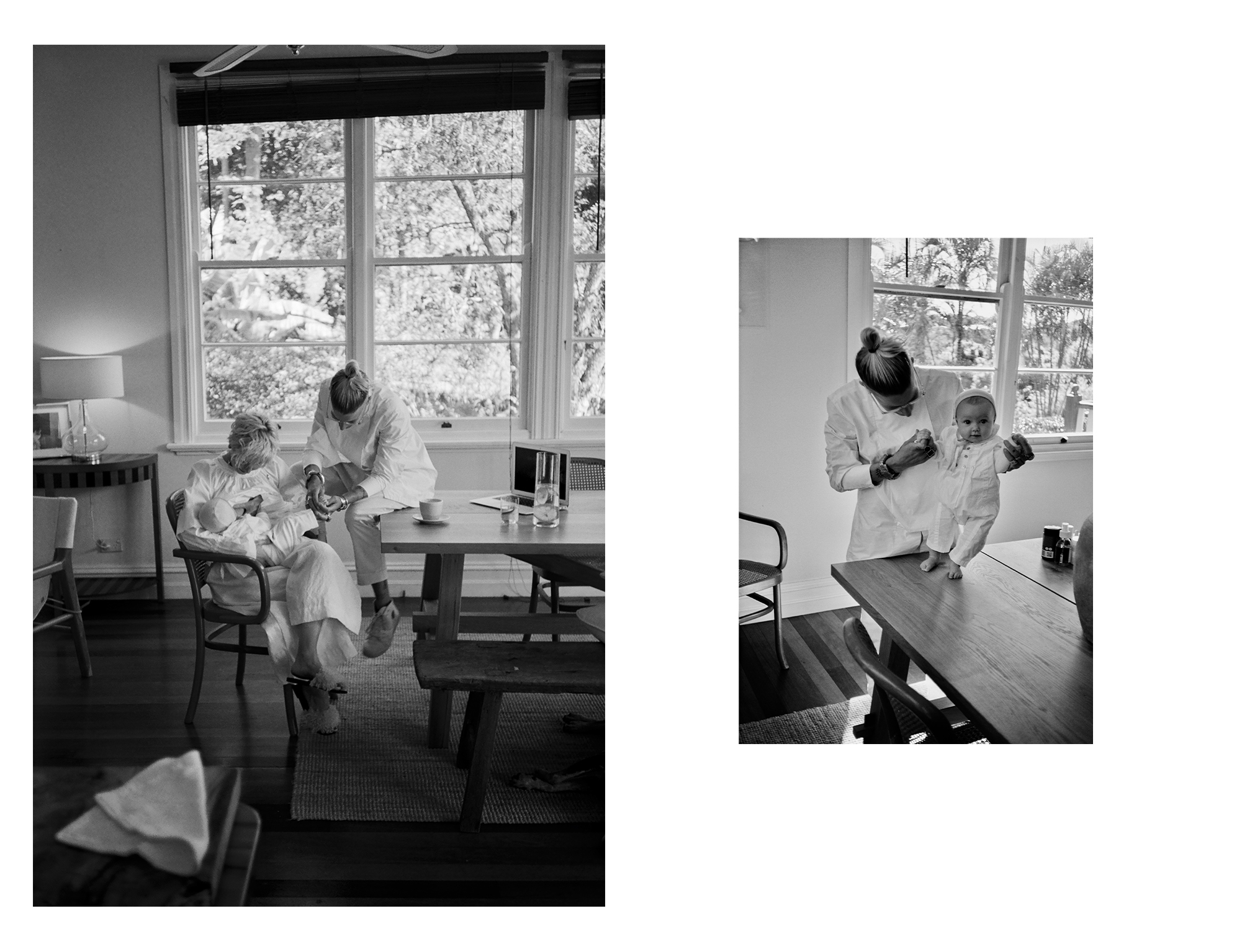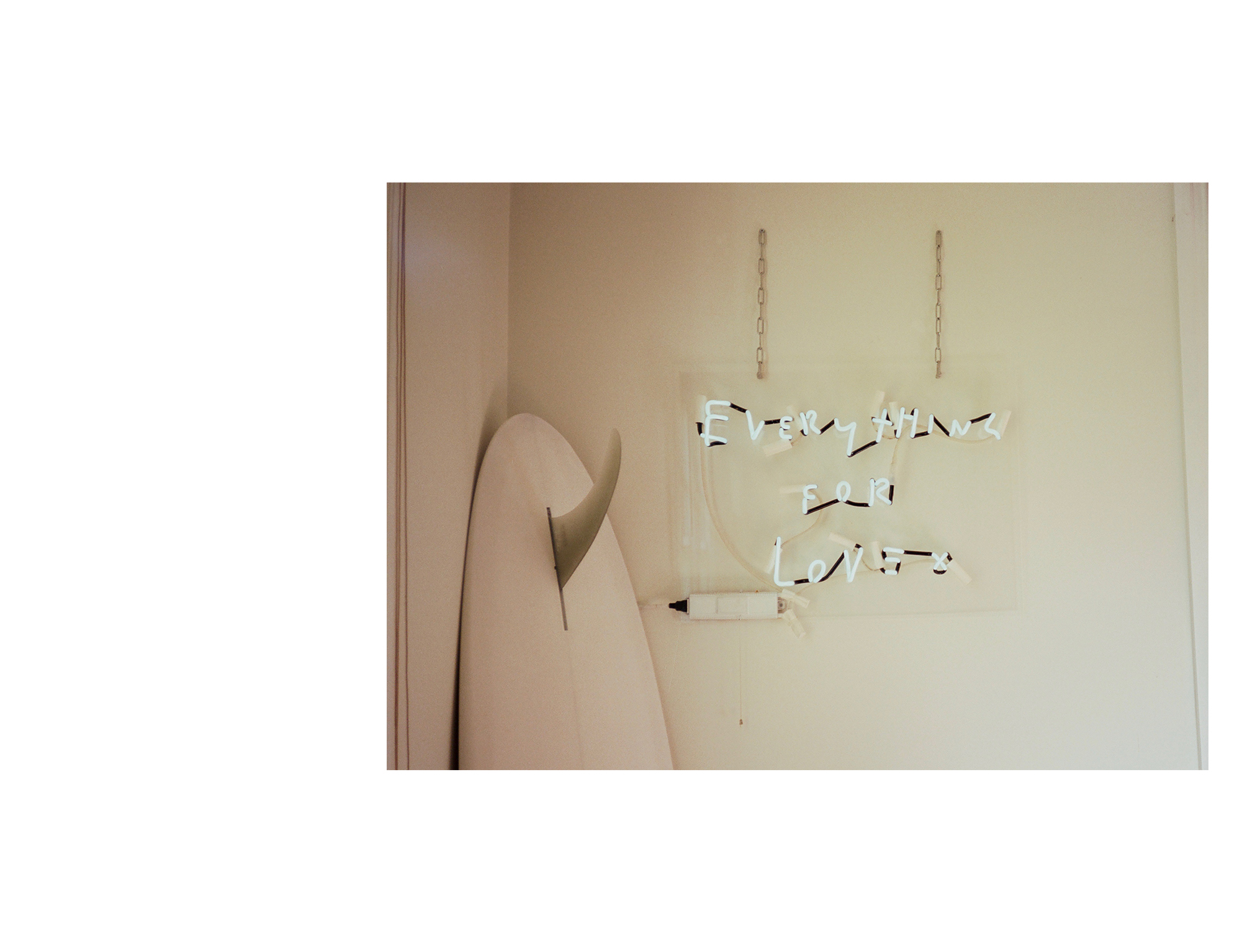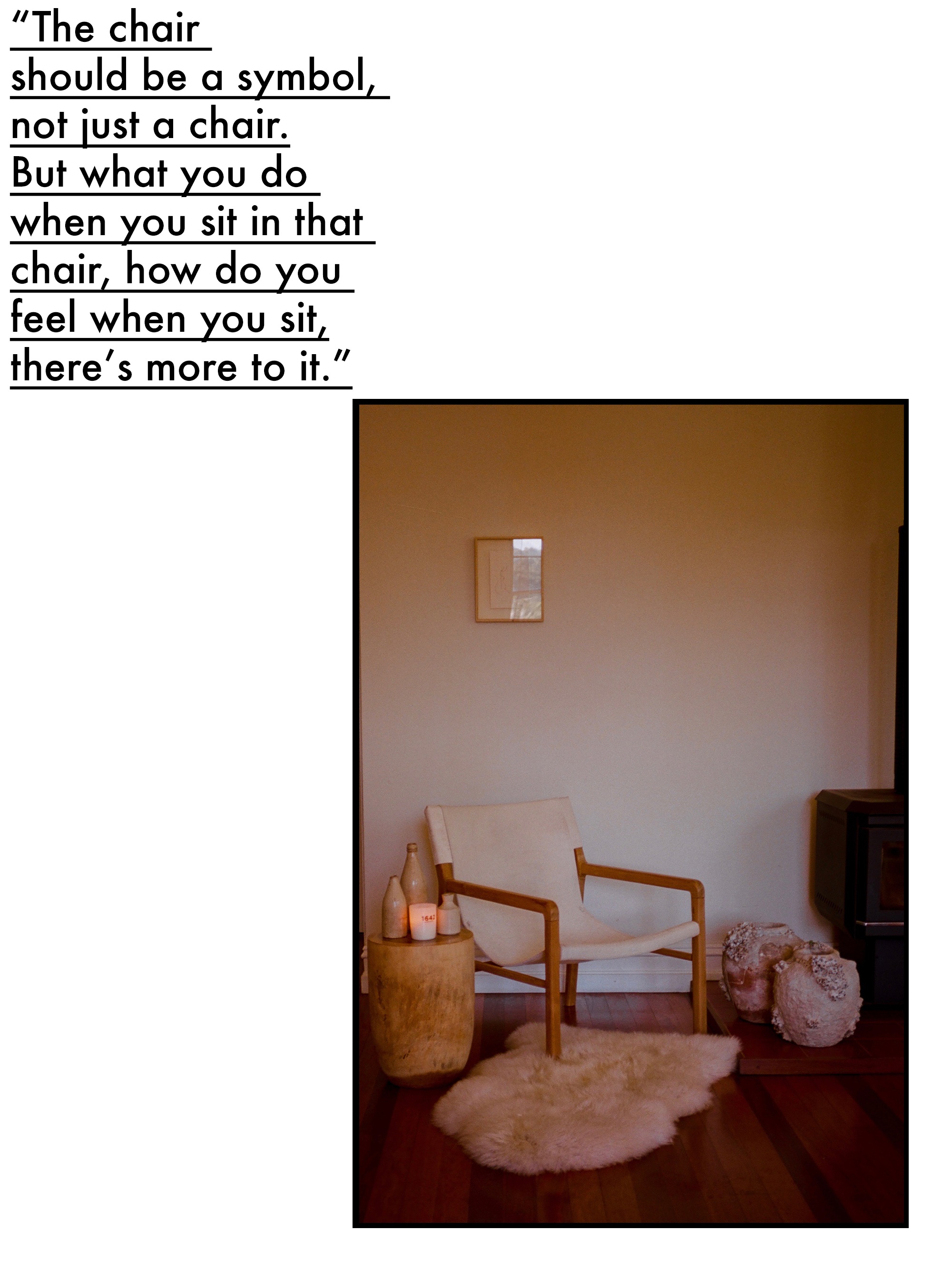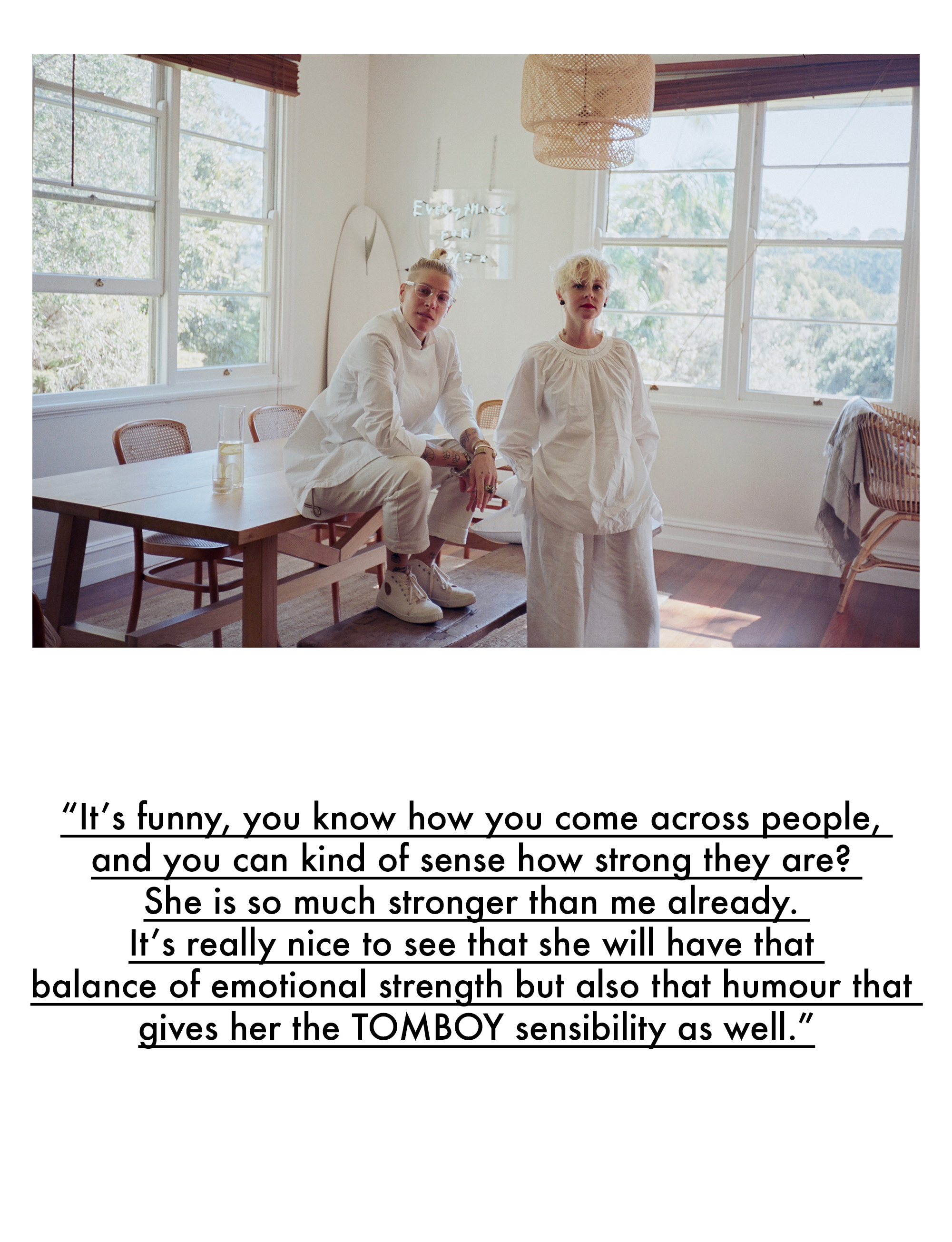 TB: How did you and Lotte meet?
LBK: Lotte and I met through friends, I had a crush on her, but she was in a relationship. I was looking for someone to work for me to produce some projects, so I got her on board; it was purely platonic and professional. Then after that contract ended, the relationship kind of went from being friends to being something more. It happened for us pretty quickly and something just clicked – we never questioned the relationship – we just knew.
TB: And then you got married?
LBK: Six months after we got together we moved overseas. When we got married in 2015, we flew back to Australia and had our ceremony in a beautiful sandstone gallery space in Chippendale and then we had the reception on the rooftop of the Old Clare hotel. And we flew back to Bali afterwards.
TB: And then Opi…?
LBK:
Our friend Tyler in Bali said
"
You guys I didn't get you anything for your wedding so I'd like to put myself forward to be a donor if you want to have a family. I don't want to have children and I would love nothing more than to help bring a child into the life of the love that you two have". I was seeing an acupuncturist for a couple of months, because we had three months to fall pregnant, before returning back to Australia, and I fell pregnant on the third month. I saw my acupuncturist a few days before leaving Bali and he said,
"
Hold on, everything has changed, you're pregnant! Will you send me a photograph when you're home?" So I did a bunch of pregnancy tests over the coming days and they were all negative. And then I did a test at the airport and it was positive. When my acupuncturist told me that I was pregnant, I was walking out of the treatment center and there's this beautiful walkway that has all of these stones and steps and archways of bamboo and the light shines through and I was walking underneath them and I could see Lotte waving at me at the end of it and I just burst into tears and I just said,
"
I think I'm pregnant!" For us this was our last opportunity to fall pregnant because our donor was in Bali, if we didn't fall pregnant that time, we didn't know when the next opportunity would be".
TB: Tell me about Opi…
LBK: It's funny, you know how you come across people, and you can kind of sense how strong they are? She is so much stronger than me already – when she wants something – she is so incredibly determined to get it that it makes me scared for how she will be when she's older because she's going to have to learn things the hard way. She has this wicked sense of humour, which I'm so glad about. It makes me so happy that she is really cheeky, really sassy, and she likes to challenge people. I think I kind of wanted her to be this soft feminine little girl as well, but she's a little tomboy which I didn't expect her to be at all. But it's really nice to see that she will have that balance of emotional strength, but also that humour that gives her the tomboy sensibility.
TB: What are the challenges of being a Mum, a creative, and a business owner?
LBK: 
The juggle. I started WORN. and then my morning sickness was so bad that only four months into the pregnancy, Lotte and I sat down and we had to decide if she wanted to do WORN
[
with me]. She was freelancing at the time and if she decided to do WORN she would have to stop that. We had to think about finding our life balance and growing the business because it's not an easy business to grow, there's a fickle aspect to it. So we took that risk and it's definitely paid off and allowed us to work and live in a way that we really wanted. We are able to live in a very calm and peaceful way that's not budget targeted even though maybe it should be. I want to be really present in Opi's life and I hate when I'm sitting on the lounge with my laptop and she's on the floor and I'm not interacting with her when I should be. I feel like this is more important than this person's email. Mothering is much harder than I thought it would be.
TB: What drives you?
LBK: As much as I think I'm really like earthy and that style I would definitely say success! You can't take the city out of the girl and I still battle with that. When you work in fashion and PR in Sydney you just have to make it happen, and I still have that.
TB: What is your definition of success?
LBK: I think success for me at the moment is that we have this list of what we want WORN to encompass and to actually be ticking off things from that list. It is a very slow process and to grow the business to that bigger place – so that it's not just a brand – it offers people more than just products.
TB: What scares you?
LBK: Failure. Failing at being a good mother, at being a good role model, the business failing, looking at myself when I wake up in the morning and not loving who I am, not being honest in the way that I live my life.
TB: Late last year, marriage equality was FINALLY acknowledged in Australia. What does that mean for your family?
LBK: The vote doesn't just affect our right to get married, it also affects the family law. There are all of these things that people aren't even really aware of that are implicated in the yes vote. The yes vote doesn't change Lotte's legal rights to Opi, but once they change the marriage law, the family law will then change, and that will make it easier for partners in same-sex relationships to get legal rights over the children.
TB: Was it a difficult time to witness the debate in the lead up to the ultimate YES?
LBK:
It's had a huge impact on our family but what I think has been really beautiful is not only the outcome and the campaign leading up to the announcement or the result but seeing how the community has evolved
[
on the quest] for equality. Not even the gay community being strong with their voice, but the straight community campaigning for equality and everybody kind of showing something that they want in their world. It was amazing to see people who won't be affected, wanting it regardless.
What would you say to the people that said no?
LBK: I think that everybody is entitled to their own opinion. I read somewhere that the highest form of ignorance is when you reject something that you don't know anything about. So I think that people who voted no, it's not necessarily a bigotry thing, it's just maybe a lack of education or even just not wanting to be open-minded enough…
TB: What would you say to people who said yes?
LBK: Thank you
---
Photography and Art Direction: Ella Jane
Words and interview: Chloe Brinklow
---