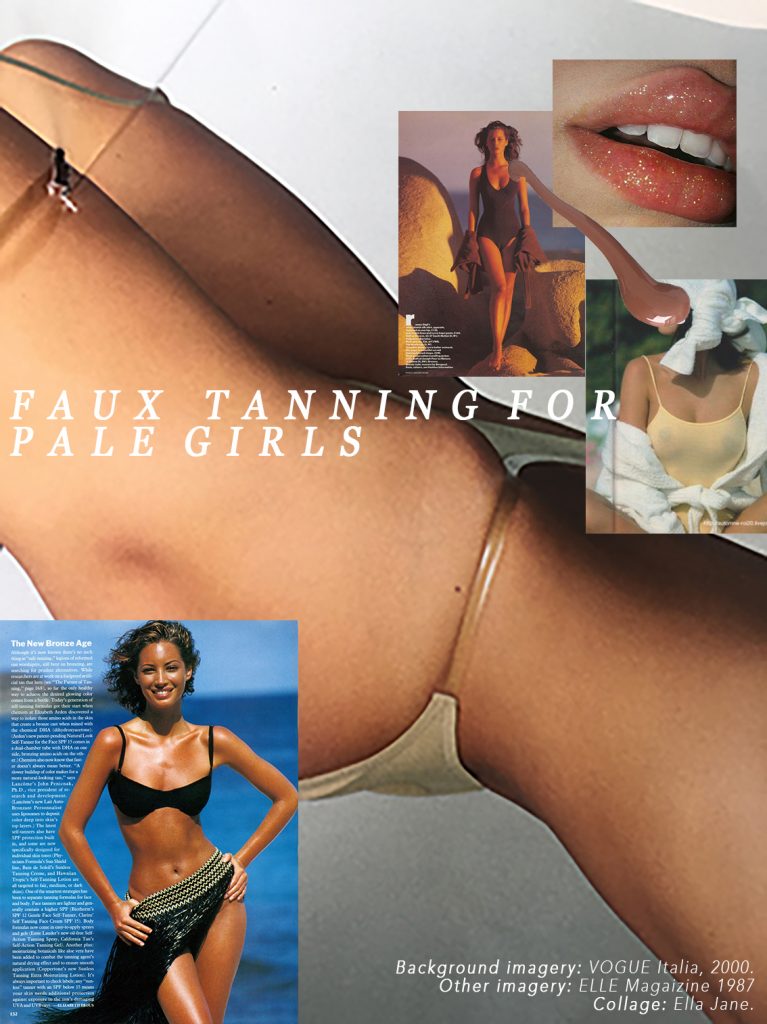 The realm of fake tanning if you're a pale person can feel daunting. Take it from a human (Me!) who spent 70% of her teen-hood experimenting with tinting her skin various shades of 'wayyyy too orange'. Going from skin brighter than your own future to a palatable bronze is hard to get right, especially if you are the kind of pale that actually doesn't tan, no matter how much reef oil you douse your body in to coax those skin cells into trauma.
This guide begins with: BABY STEPS. The key to a natural-looking glow for those who want to evolve from blinding-at-the-beach to a pleasant shade of Blake Lively, comes as 3 non-scary tips that keep the Dorito vibes at bay…
---
Strategic placement:
If you think about everything we've learned from makeup and how important the placement of certain shades are to making things look believable, the same rules can be applied for fake tanning. This is a great trick if you are super new to the faux tan and have no idea how to approach a full body spray. Apply a gradual tan to parts of the body that would naturally catch the sun first. Think shoulders, chest, and the tops of the thighs for a hint of colour that looks like you've just spent a few minutes basking.
Recommended products: Bondi Sands Every Day Liquid Gold Gradual Tanning Dry-Oil, St Tropez Self Tan Express Bronzing Mist, St Tropez Gradual Tan Plus Sculpt and Glow.
A gradual build: 
The issue I have being a pale girl, is when I get a spray tan, once I've been sprayed, it's game over if the plan was to be any lighter than the shade I've accidentally been covered with. I also don't think there is anything more disconcerting than looking like you've dunked your hand into a bag of hot Cheetos and haven't bothered to wash them. But to each, their own. ENTER: gradual tanner. Where you control amount applied, depending on your desired shade, and gauge the development of safely. For super light tans: mix a dollop of gradual tanner into your body moisturizer and go nuts, this will ensure that blending is seamless. For people in a rush or about to get into fresh white sheets: apply an in-shower gradual tanner and by morning or EOD you should start to glow. For people who are comfortable with gradual tan, likely a little less pale than I am: go hard.
Recommended products: St Tropez In-Shower Gradual Tanner, Bondi Sands Gradual Tanning Milk.
The last-minute glow:
If you're headed to an event/date/pool party/general life activity and you suddenly feel the urge to be slightly more ~golden~ this one is for you, and luckily, it's as straightforward as you need it to be post-shower, pre-Uber.
Step 1: Apply an instant tan and let dry. Avoid this step if you're wearing white, and next time, plan better pal. Step 2: Layer with a dry tanning oil for a nice sheen. Step 3: ~Finishing gloss~ this can be added if you want to go all out, or can be applied alone for a very subtle sun-kissed sitch. It is great if you want to amp up any tan that you already have or just blend over shoulders and collarbones for a lil something-something.
Recommended products:
Bondi Sands Everyday Liquid Gold Gradual Tanning Dry-Oil, St Tropez Self Tan Express Bronzing Mist, St Tropez Instant Tan Gloss.
---
Remember, tanning is a marathon, not a race. Embrace your pretty pale selves, stay sun-safe, and give these tips a go because summer is coming and looking straight out of Geordie shore is a non-option.
---
Words and collage: Ella Jane