A quick roll call of Melanie Grant's clients: Erin Wasson, Christine Centenera, Lara Worthington and Nicole Trunfio, to name a few… And, it's safe to say, the official skin expert for Chanel Australia's A-list body-of-work speaks (or glows) for itself!
But celebrity name-checking aside, my fascination with Mel was initially fuelled by the echo of her name four times in one week; endorsed by friends who share both excellent skin and the mythical "Mel" in common, each who instructed in whispers, "You must see her!" Even #TOMBOYBeautyGirl Nicole Warne matter-of-factly attributed her flawless complexion to Melanie Grant in The Other Woman.
Like Tom Cruise and Scientology, I had discovered a cult that I wanted to be a part of…
Fast forward a few weeks to the morning of our TOMBOY Beauty shoot at Grant's stylish Potts Point home and Grant is re-enacting her hilarious encounter with Karl Lagerfeld—at Colette in Paris, no less! The story goes that they 'bumped' in to each other (although that depends if you ask Mel or her husband Jason) and, after enthusiastically introducing herself in her usual charming way, swapping notes on Karl Lagerfeld, A Visual Journey (his exhibition showing in Paris at the time). Grant answered Lagerfeld's simple question: "What do you do for work?" with "I work for Chanel, too!"
As she recalls her uncharacteristic 'fan-girl' moment, she cringes but I find it far more endearing than embarrassing. She is authentic, self-deprecating, warm and calm. Coupled with her unmatched skill, endless knowledge and innate passion for skincare, it is no wonder she is the go-to skincare expert in Sydney, just three short years since the inception of her namesake skin clinic in Double Bay.
Here, we talk daily routine, approach to skincare (hers, ours), and the single most important thing you can do for your skin at night.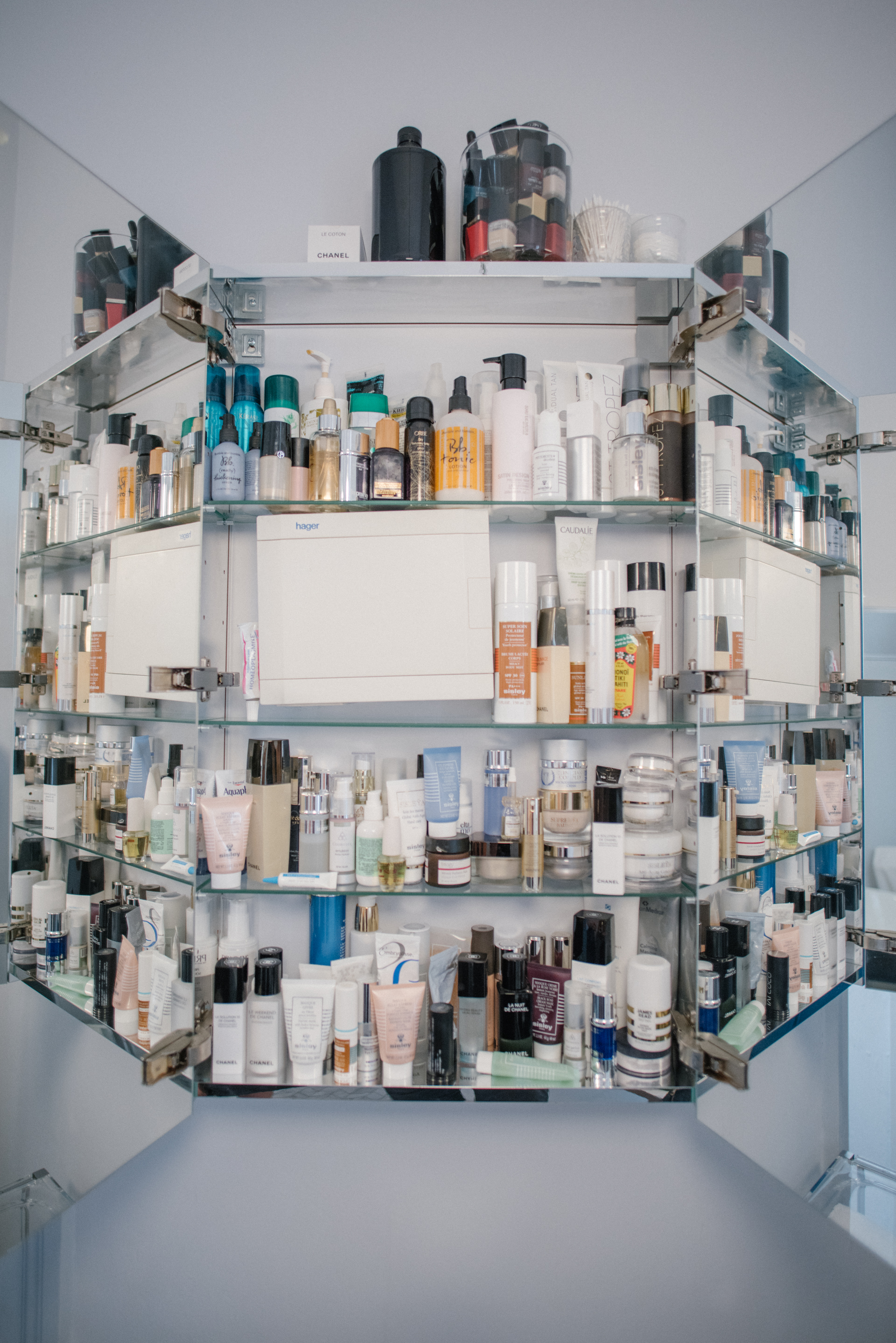 FIRST THING: 
I drink a long black with a dash of almond milk, and I have alkaline water with cucumber and lemon. I have jugs of it all around the house.
SKINCARE (AM):  
After getting my kids ready for school, I have a shower and cleanse my skin. My approach to beauty is simple and clinical; I like everything to have a purpose.
I usually cleanse with a gentle cleanser in the morning. At the moment I am using Sisley Milk Cleanser. When it comes to products I like to change it up and try different things all the time. I am currently alternating between SkinMedica TNS Recovery Serum and Skinceuticals CE Ferulic which I have used forever. After that, I apply a moisturiser, Chanel LA SOLUTION 10 and my sunscreen, Chanel UV ESSENTIAL. It is very liquid-y, so if I want a bit of coverage I [mix it with] a tinted moisturiser and it creates this really sheer and dewy veil on the skin.
MAKEUP:
I don't wear a lot of makeup during the day. Normally, it's just a tiny bit of Sisley Concealer under my eyes. It's one of the only ones for dark circles that doesn't irritate me because my eyes are quite sensitive. I use By Terry mascara and then I use a Lancôme eyeliner in Emerald Green. I have green eyes so I figure it matches! It's really fresh for the day instead of black. I do blue and an olive green as well, just the tiniest flick on the out corner of the eye. And then I use Chanel Lip Balm or a By Terry lip gloss.
If I am going out at night I still don't do heavy makeup. I think it's about having really luminous and dewy skin, with a flick of eyeliner, some mascara, and a strong brow. But I keep it very clean. I use Chantecaille Just Skin mixed in with an illuminator. I might do an eyeliner in  a beautiful cobalt blue and then lots of mascara. I don't use lashes—I hate lashes! Sometimes I'll swap eyeliner for a lipstick. Something nude, red or pink. I love TOM FORD Lipstick in Wild Ginger, it's an orangey red. Or a matte fuchsia pink lipstick from Chanel.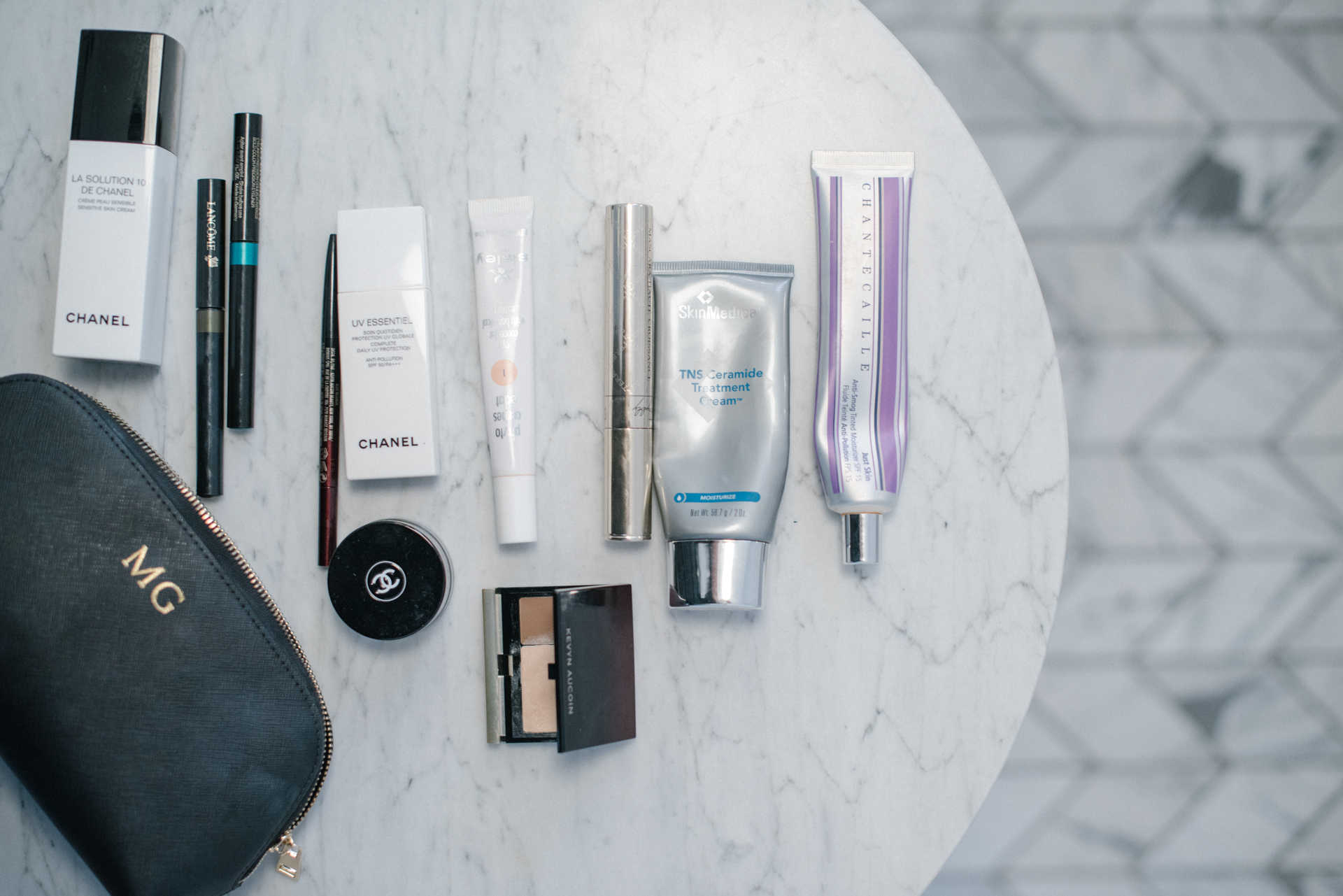 HAIR:
I only wash my hair twice a week—sometimes once every five days. I try to avoid heat as much as possible. I think it is the absolute worst thing for your hair. Since I discovered Keratin treatment, I am an air-dry girl now… at the moment at least. I don't like the look of blow-dried hair, so I'm just wash and go.
STYLE:
My day-to-day style is simple: black, neutral, very clean lines and tailored. I don't really go for trends very much, everything is very classic and to suit my body. I like to body-type dress. I kind of stick what suits me as opposed to jumping on a trend, because sometimes I do and it never ends well.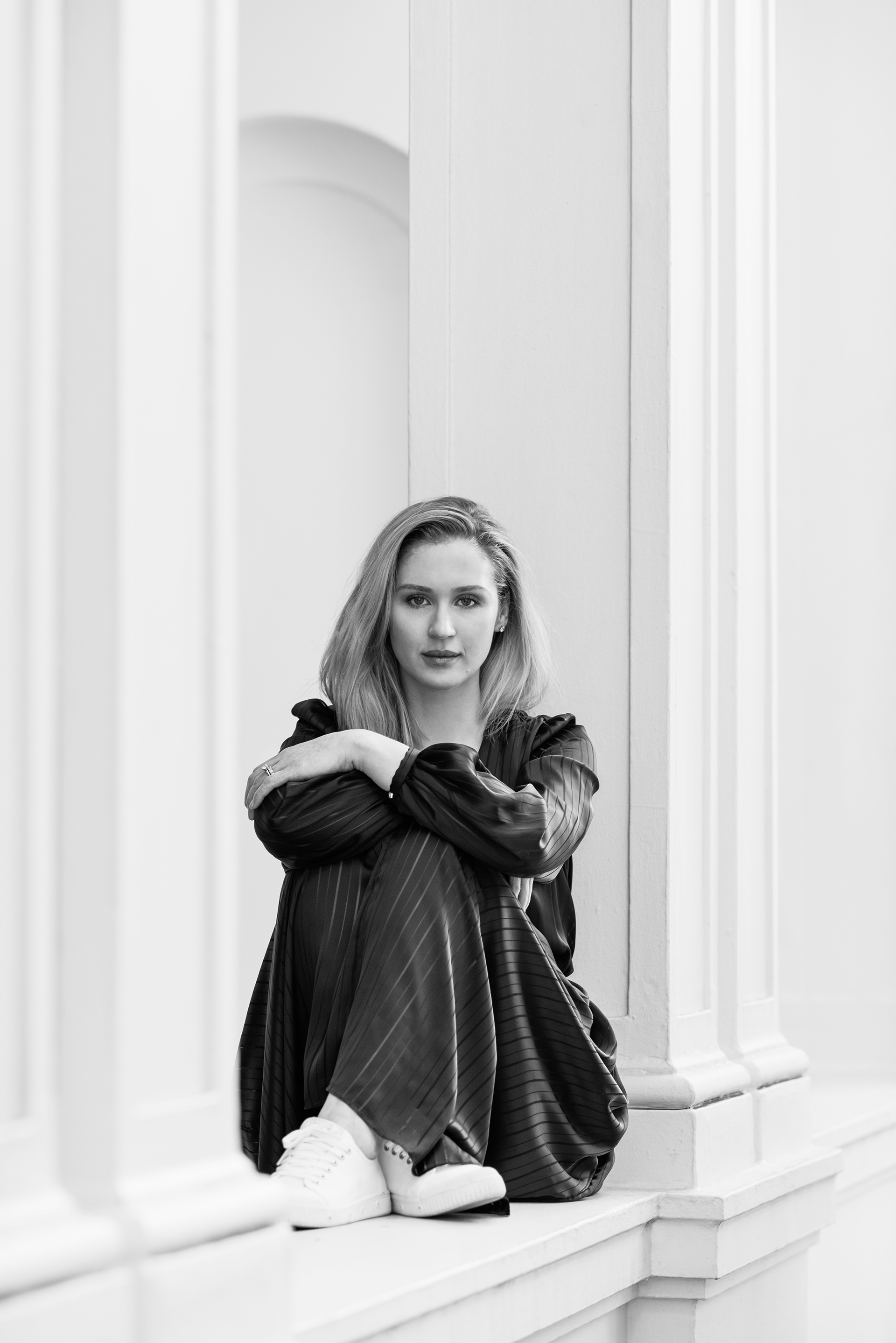 BUSINESS:
At the clinic, in one day, I will see between 8 -10 clients. But I always like to pop in and see my clients that are seeing my staff which means I can sometimes be seeing between 30 – 35 people a day.
When I opened my business, I had a very clear idea of where I wanted to position it. I had been doing skin for 15 years, so the experience was there. I am a really firm believer that word of mouth is the best way to build a business; we don't advertise. There's strength in setting and managing 'client' expectations. We never over promise, instead we try to under promise and over deliver.
I don't give my clients 20-step regimes or suggest excessive treatments. In fact, it's a very preventative approach, and a lot of it is on education. You can ask someone to do something, but I think you need to educate them and tell them why you're asking them to do certain things. That way, they're much more likely to be compliant.
DIET:
It's controversial—and I am not a nutritionist—but I have a really strong belief that taking an anti-inflammatory diet [is best] for skincare. No gluten or wheat, no dairy, no sugar. I would never say to somebody 'don't eat fruit'.
I have the same lunch every day because I don't like to eat different things. Because I don't like farmed salmon, I order wild salmon online and get it delivered from Canada to my favourite cafe in Double Bay.  They poach me a small piece and sometimes I will have it with brown rice or half an avocado. Never salads.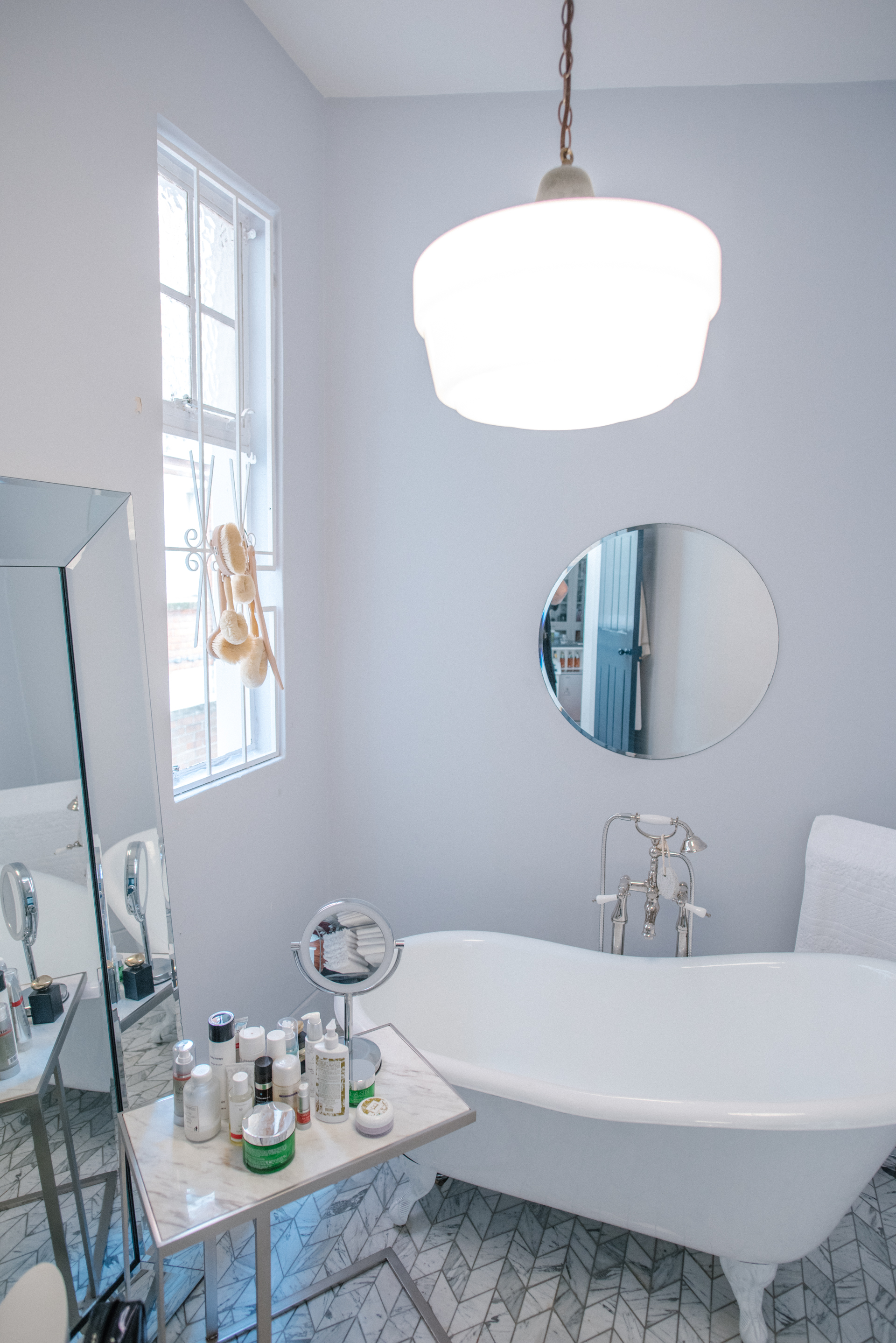 PM ROUTINE:
I love to go home and have dinner with my family at the table and spend time with them. My night-time regime varies but one of my favourite things in the world is to have a bath. Every evening, and some mornings I have a bath with Epsom salt which I buy in bulk, Rose Geranium oil, and a little bit of bi-carb soda. The combination is cleansing, detoxifying and great for circulation. The Rose Geranium smells like heaven.
On a normal night, I will double cleanse; I will use an oil cleanser to take my mascara off, at the moment I am using Cosmedix Purity Solution, and then a lactic acid cleanser, Cosmedix Purity Clean. If I am sitting in the bath I will do a mask – Sisley make a Black Rose Mask, or and Express Flower Gel Mask, they're just easy. Once a week, to exfoliate, I love to give my face a really good going over with a cotton pad and P50 lotion. It's very stimulating so it increases your circulation. I get out of the bath and my skin goes bright red so it would never be something I do in the morning.
And then after the bath I apply always alternate between a retinol serum, so a Vitamin A serum, and sometimes I do an anti-oxidant treatment. I love Sisley Paris Supremya Baume which is crazy expensive, It's like $800 a jar, which is ridiculous, but its like heaven. Its really nourishing and rich, but also breathable at the same time. Its like a little cocoon for your face. And then eye cream, is super important. I sometimes use an eye mask as an eye cream and don't wash it off, or RESULTS RX Eye Doctor is one I use everyday, in the morning as well.
BODY:
For body, which is really important, I love the Cane & Austin wipes that are Glycolic Acid in a pad that I wipe all over the body. And following that, I use PCA Skin Body Therapy – It resurfaces and hydrates at the same time. Or I use, Eminence Honey Dew moisturiser, it's a little bit daggy but it's organic and it smells divine. It doesn't leave your skin greasy at all, it penetrates straight away. And sometimes just on my legs I will use St Tropez Gradual Moisturiser.
SLEEP:
Sleep is the single most important thing you can do for your skin at night because it is when our skin repairs and rejuvenates. I don't really practice what I preach! I only get 6 or 7 hours but I absolutely notice the difference when I get 8 or 9 hours. And it's also about being asleep at the right time of your sleep cycle. So it's good to be asleep by 10pm—which is almost impossible for a lot of people, including me, but that's the science behind it. It's meant to be the most rejuvenating sleep.
Photography by Luke Shadbolt X TOMBOY BEAUTY
Words  and creative by Chloe Brinklow.
Hair and Makeup by Samantha Powell.