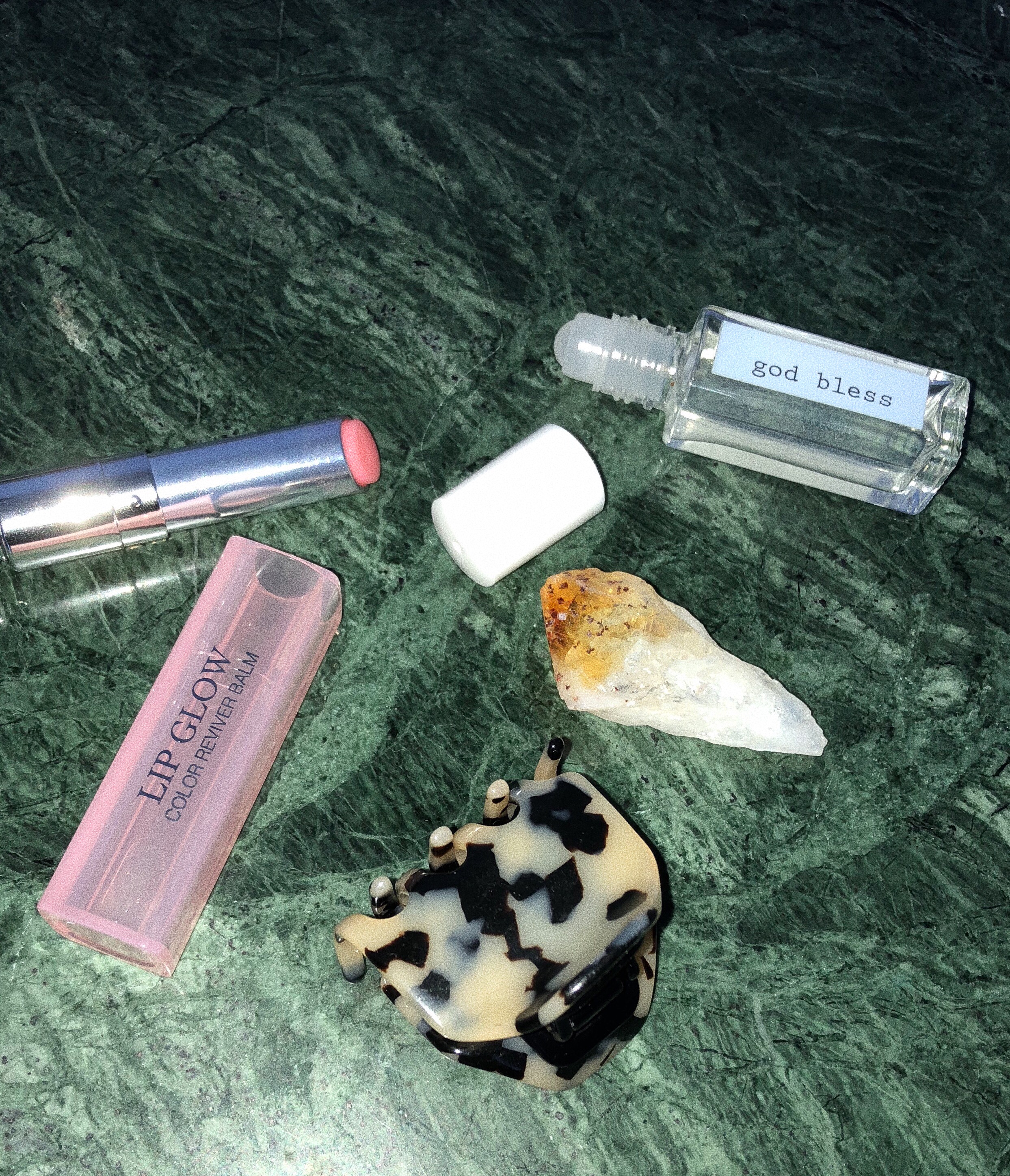 ---
Guaranteed if I pee in your house I'm 100% opening your bathroom cupboard while I'm at it… Apologies in advance. Also, if we're sitting across the table from each other, you dash to the loo and leave your bag behind, unzipped, in plain view… I'm also peeking!  Because I feel like that's where the real goods go – If you can't be without it on the run – it must be a winner!?
My sick obsession with beauty products started well before I joined staff at TOMBOY, but I feel safe in the knowledge that I can continue invading other's privacy in the name of work. Case in point, the products floating around with team TOMBOY, in case you're as curious as I am.
---
Ella Jane, Content Producer:
Venustus God Bless Roll-on Perfume: This is an essential oil blend which keeps me Zen while I'm on the go, or feeling overwhelmed, because I'm sensitive and stress about unnecessary shit on the daily. I also roll it onto people at around 3pm when I'm on set, to make them feel held, sometimes I'm rejected, but I try never the less.
Citrine Crystal: I told Jeannie Bourke from Venustus that I'm hustling and want lots of money… because I would like to be reading a book in the south of France come early August! She put this Citrine in my pocket, as it is supposed to help attract money to you. I haven't had it for very long but will keep you posted if I win the Lotto without entering.
Tortoiseshell Hair Clip: This clip is always with me and has appeared as a prop in TOMBOY Beauty editorials twice here and here. It was my Mum's before I stole it, so I can't identify the source but I think chic clips like this are really just necessary in order to always combat an unfortunate hair situation, or even to disguise the fact that you've used a rubber band to secure your hair and don't want people judging you or your breakage.
Dior Addict Lip Glow: Winter is upon us all and my lips literally shrink in size. I'm always excessively using some kind of tinted lip balm, but have decided to commit to this one for a while as a little treat, because Dior. It is, as expected, super ~*buttery*~, hydrating, and provides the perfect flush to bring your scraggly ass lips back from the brink.
Matilda  Dods, Contributor: 
Wallet: This Prada wallet is baby pink on the inside, and the first designer thing I ever bought myself. My dad did not approve.
Dermalogica Clear Start Emergency Spot Fix: I have an unwelcome tenant in the form of a giant pimple on my chin that I'm trying to evict.
Tampon, 🤷🏻‍♀️:
Naprogesic, refer to previous line.
Lip balm #1: Smith's Rosebud Salve, I bought this at American Apparel… RIP.
 Lip balm #2: Keihls Butterstick Lip Balm
Lip balm #3: Burt's bee's Ultra Conditioning Lip Balm  (Which I lost shortly after submitting this).
I have really dry lips OKAY!?
Avene Cicalfate Restorative Cream: I have some eczema on my chin and this stuff is magic at clearing it up. And yes my chin is very crowded currently.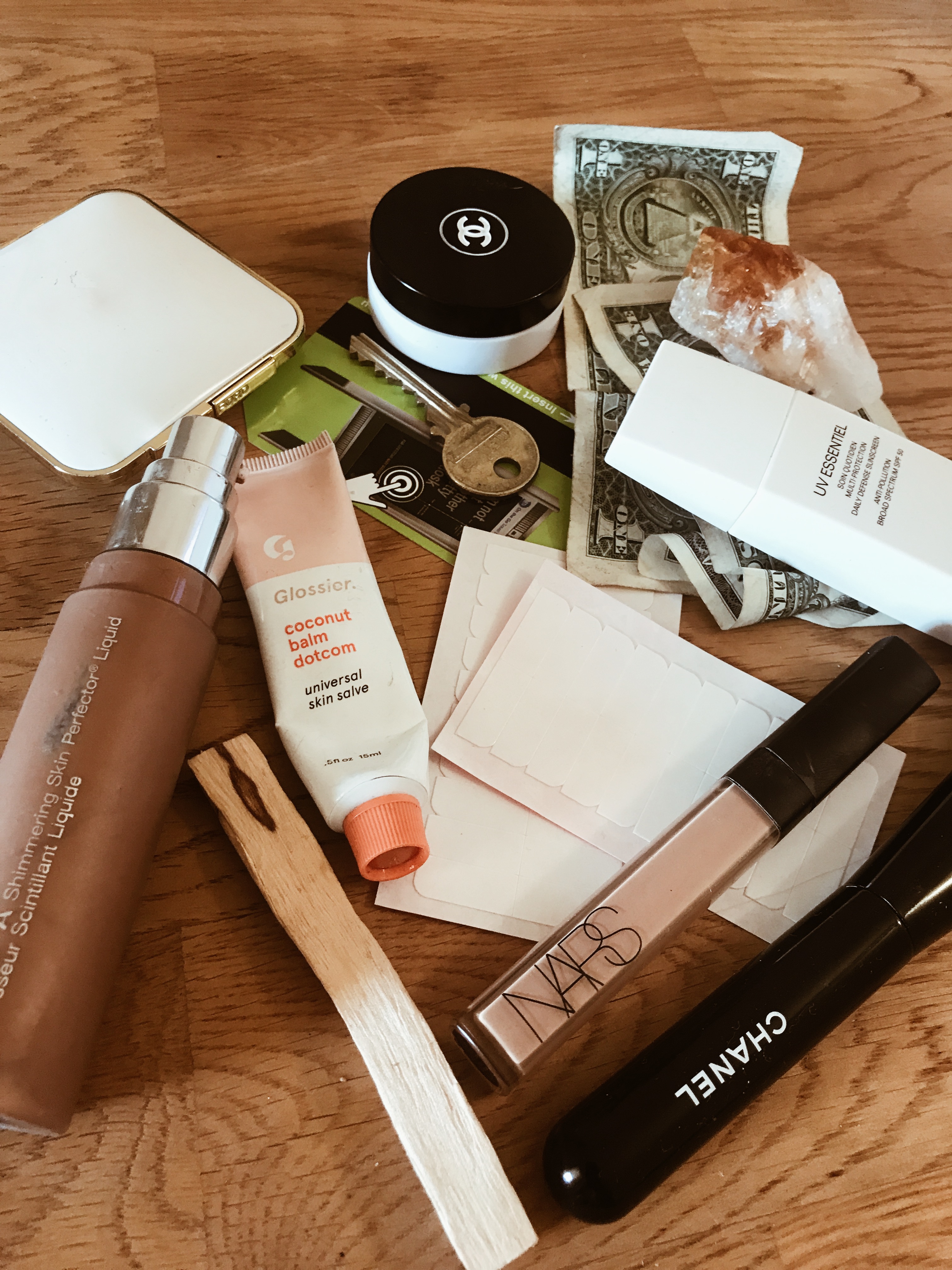 Chloe Brinklow, Editor-In-Chief:
Essentials: Wallet, keys, credit cards, ID, cash, metro card, obviously. Though, I don't care to admit the amount of times I've lost all of the aforementioned. Side-note: If you happen to be in Montauk ATM, lemme know if you find the keys to my apartment.
Glam Seamless Hair Extension tape tabs: Since I moved across seas from the only hair dresser I trust with my hair, whom would also get me in for an extensions refresh (yes, it's a thing) I carry around these double sided tapes in case of emergency. And yes, I know this is lol.
Lip Balm 1: Glossier Coconut Balm Dotcom (it's actually not my fave, LANO for the win, but I keep running out of the stuff).
Lip Balm 2: Chanel Hydra Beauty Nourishing Lip Care, like Matilda I have dry lips and this one makes me feel fancy.
Chanel UV Essential Anti-Pollution Broad Spectrum Sunscreen: For the last 18 months I have successfully had an endless summer, so while I enjoy a kissed by the sun glow, I am also obsessive about protecting my face. This SPF is compact and 50+, so perf for the ol' handbag schlep.
Becca Cosmetica Shimmering Skin Perfector Liquid in Topaz: In Summer I try to avoid wearing makeup as much as poss. And because of my  obsession with the SPF my face is a little lighter than the rest of my body. I mix this one with Glossier Skin Tint in Dark when I do my makeup in the morning, then carry it around me with me in case I run into the dude I've been manifesting a run-in with since our Australian summer romance back in January.  Failing to prepare is preparing to fail.
Tom Ford Bronzing Powder with the Chanel Blush Brush for application: Refer to above.
NARS Radiant Creamy Concealer in Medium: My adult acne is unpredictable; One minute I'm ready to cast for Glossier's next campaign, then nek minute I'm a candidate for Dr Pimple Popper's Greatest Hits. Because my job is forward facing, I actually get anxiety when I don't have concealer on my person. For spot concealing only.
Citrine from Venustus: Because apparently this little guy is funding mine and Ella Jane's South of France Vacay.
Palo Santo from Venustus: I got in the habit of saging my spaces and person a little too regularly to the point of obsession. Since I learnt that Palo Santo only clears the neg energy, whereas sage clears it all (good and bad) I've exclusively been a Palo Santo girl. I have no idea why it's in my handbag, honestly. But there's a lot of unsolved mysteries in the life and times of Chloe Brinklow.
---
Intro: Ella Jane
Words: Chloe Brinklow, Matilda Dods, Ella Jane.