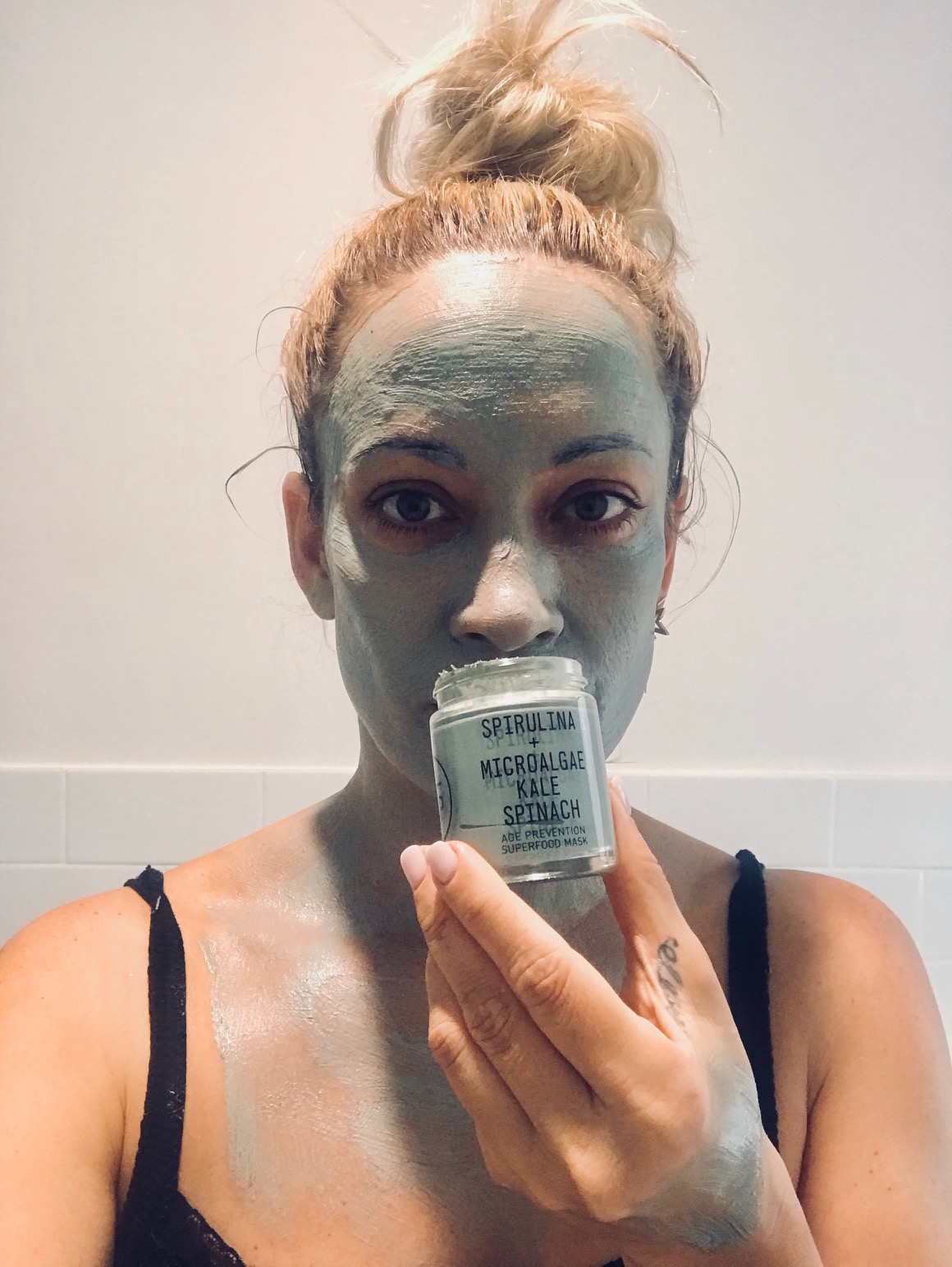 ---
If you follow H&MUA, Mia Hawkswell on Instagram, it won't be news to you that she isn't far from being crowned queen of masking. She even has a highlights reel dedicated to it. After our Instagram debate re: public masking, see Cher as reference, Mia slid into our DM's and explained to us the plethora of masks she uses on the daily, some of which, we'd never heard of before, so thought it best slash necessary to document below.
Top masking tips?
Cleanse, always, always exfoliate prior to masking… Skin is warm, free of dead skin, ready to absorb as much good stuff as possible.
Your favourite masking combo?
Where do I begin? Depending on how much time, it may be a Skincare Sunday, where I have been known to do 7 masks, or it might be prior to a night out, so it's more Sheet Mask, put a look together, hair, in no time vibes. I cleanse w my favourite Ultra Ceuticals Brightening Foaming Cleanser, exfoliate w Arcona Black Ice Exfoliating Mask ( I have a few I switch between, Ultra Ceuticals DUAL MICROFOLIANT, Dermalogica Charcoal Rescue Masque), then if I'm heading out its defiantly Lonvitalité 24K Gold & Collagen Eye Mask, underneath their Lonvitalité Red Wine Collagen Firming & Moisturising Silk Sheet – my makeup looks flawless after this. tip: be sure to lightly cleanse off residue if you're applying makeup straight after, so your foundation doesn't slide off.
Your Secret Masking Behaviour?
It could be anything… colouring my hair, housework or more masks on my feet, hands & Décolletage.. such a sight! or writing.. ** I may be masking now**
What you love most about masking?
My skin looks like I don't have a worry in the world after masking… I feel like I look as though I've been on the best behaviour, sleeping, eating and drinking enough water…
Alternate areas you mask which get overlooked and the best products to do so?
Feet, hands, neck & décolletage…and yes, there's sheets & booties & gloves – I do it all & most of the time, all at once.
Ultraceauticals Brightening Accelerator Mask:
What it is: It's a concentrated professional only mask that targets hyperpigmentation – Jocelyn Petroni introduced me and I love it.
How it works: The ingredients in the mask work to rapidly break down melanin within the skin and accelerate the removal of hyperpigmentation – helping me with my fight to look 12!
When to apply: It's my sneaky salon only treatment.. but worth it.
The Verdict: Love it!!
Caolion Blackhead Steam Pore Pack
What it is:  Its a mask aimed specifically for your pores, activated by steam.
How it works: The steam activates the charcoal, which opens clogged pores, massaging helps exfoliate away the impurities.
When to apply: After cleansing, while skin is warm.. gently massage in for a couple of minutes, then leave for ten minutes. gently rinse while massaging off. Scrubbing isn't exfoliating, it's damaging… gently gentle. I apply to the areas that bother me.
The Verdict: My skin feels like new, it appears firmer, and my pores definitely aren't as obvious. My makeup sits much better.
What it is: Its a pore tightening & calming mask.
How it works: It tightens enlarged pores, while calming and hydrating.
When to apply: I love to apply this straight after its mate, the Blackhead Steam Pore Pack, leave it on for 10-15mins, then rinse w warm water. or cold in summer for an extra fresh look.
The Verdict: In love… I just love this brand a lot. Being a Korean skincare brand, its all about being free of ingredients that may trigger sensitive skin.
Algenist Perfect Clarifying Pore Corrector Mask
What it is: It's another Pore Clarifying Mask aimed to reduce the appearance of large pores, improve texture & enhancing moisture – yes, there's a running theme with me…I have pores!
How it works: The ingredients help absorb excess oil which assists in reducing the appearance of large pores. Makes my skin feel super soft and hydrated – defiantly not dry.
When to apply: I apply this mask only to my pore problem areas! Always after cleansing.
The Verdict: This is a new addition to my routine, and I'm so happy I tried it. My skin looks and feels healthy.
Arcona Black Ice Exfoliating Mask
What it is: It an exfoliating & brightening mask…
How it works: Volcanic Sand draws out congestion, while black lava & charcoal clean & minimise the appearance of our pores.
When to apply: I sometimes use this as my exfoliator, once a week, so after I cleanse. In summer, I exfoliate 2 or 3 times – gently.
The Verdict: I'm just finishing my second tube, so that says something.. I love this mask. I look more fresh and bright after rinsing this off
Youth To The People Spirulina + Microaglae Kale Spinach Age Prevention Superfood Mask
What it is: Basically like a green smoothie and veggies in a mask! An anti ageing pick me up.
How it works: Its jam packed full of antioxydants, amino acids, minerals & vitamins, to give the skin a plumping and refreshing boost.
When to apply: I use this any time I feel dry, dehydrated and dull. After a cleanse, and exfolite, so my skin absorbs it all – I've been busted a few times doing my laundry in my building with this on.
The Verdict: I'll be sad when the bottle is empty.  I love using this as after all my brightening/exfoliating masks.
June Jacobs Mandarin Moisture Mask
What it is: Its a hydrating calming, refreshing mask – that smells amazing!
How it works: Its full of antioxidants and algae which are awesome for anti aging concerns.
When to apply: I use this if  my skin is a little dry and sensitised, either from the environment or an in salon peel or if I've been traveling a lot. I'd be tempted to apply during a flight as its clear.- stay tuned!
The Verdict: Its a thick gel, which cools and calms instantly, leaving my skin super hydrated.  & soft.
---
Words and interview: Ella Jane