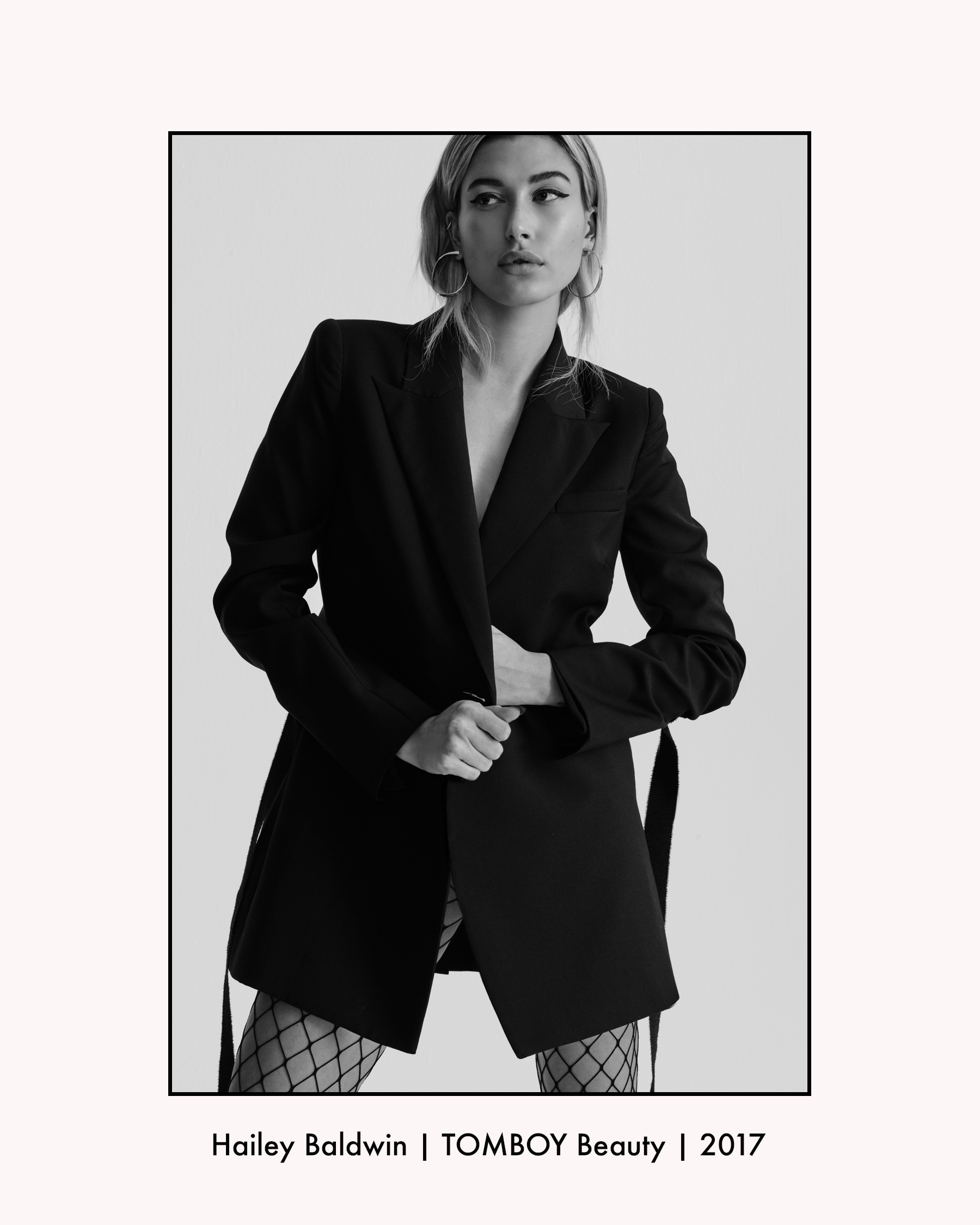 The things you probably already know about Hailey Baldwin: She is a Hollywood kid, the daughter of actor Stephen Baldwin, and Alec Baldwin's niece. She grew up with Bieber, dated him for a hot minute, and counts the Jenners, Hadids, et al. as her mates. At 20, she's an in- demand model and boasts over 10.3 million Instagram followers.
The first time I met Hailey was in in early 2016. She was shooting the campaign for #theHAILEYedited, her capsule for Australian leather accessories brand, The Daily Edited. She arrived on time sans entourage and manager, and introduced herself to everyone in the room, before sitting down for makeup: IRL, the first thing I noticed was that her skin was next level! The rest of the day panned out as I expected it to – she was open, considered and funny – We talked about her fitness regimen (boxing at the Dog Pound), her favourite New York spots (The Smile on Bond Street), and her style, which she described as sporty, and tomboy, citing dresses with sneakers, her go-to look.
---
Fast-forward 12 months, and Hailey is in Sydney to shoot the campaign and launch her Hailey Baldwin X ModelCo Cosmetics makeup collection. Photographer Simon Upton (who also shot the brand's campaign) and I shoot Hailey after she'd been on the ground for 48 hours working non-stop, though she is professional and as the pictures prove, here to get the job done.
---
The next time we speak is on email…
TB: Your approach to beauty is…
HB: Raw, natural, experimental.
TB: Your beauty routine, talk me through it…
HB:
SKIN:
For my skin I use EltaMD skincare products, my dermatologist recommended these for my skin.
MAKEUP:
When it comes to makeup, I love that natural makeup look. From my Hailey Baldwin for ModelCo range, I wear the Glow Beauty Balm, it is amazing for wearing on its own or as a primer and it really illuminates your skin. The Filter Contour and Glow is great for adding definition, and On-the-Glow Highlighter in Spotlight gives that added sheen. I also use Volume Lash for mascara, groom my brows with Perfect Brows and add a slick of Kiss Pot Rose Lip Balm.
HAIR:
I love Jen Atkin's products. I use OUAI every day – the shampoo, conditioner and the sea salt spray for texture.
BODY:
I have always been obsessed with Coconut Oil so was super excited to create this in my collection. I use it all over my body.
TB: If you weren't working the "family business," what would you be doing?
HB: I was a serious ballet dancer for 12 years, even training in the summers! I guess I would still be involved in the dance world.
TB: What inspires you?
HB: Designers that I love, and projects that I aspire to be involved in.
TB: Are you a TOMBOY girl?
HB: Definitely TOMBOY! I love rocking a leather jacket, biker boots and jeans! But I will always pair them with something feminine like fishnets or a statement piece of jewellery.
TB: Who do you look to for style inspiration?
HB: I have my own style which I would describe as sexy tomboy. I love looking to Instagram for fashion and style inspiration and I am not afraid to experiment with different looks.
TB: What's next for Hailey Baldwin?
HB: I am hoping that my modelling career continues to go from strength to strength. I have some exciting projects lined up for 2017!
TB: Best advice you have ever received?
HB: Family comes first.
Fin.
---
Photography: Simon Upton X TOMBOY Beauty
Makeup: Filomena Natoli using Hailey Baldwin for ModelCo Cosmetics collection.
Hair: Daren Borthwick
Creative, Styling, Words by: Chloe Brinklow
---