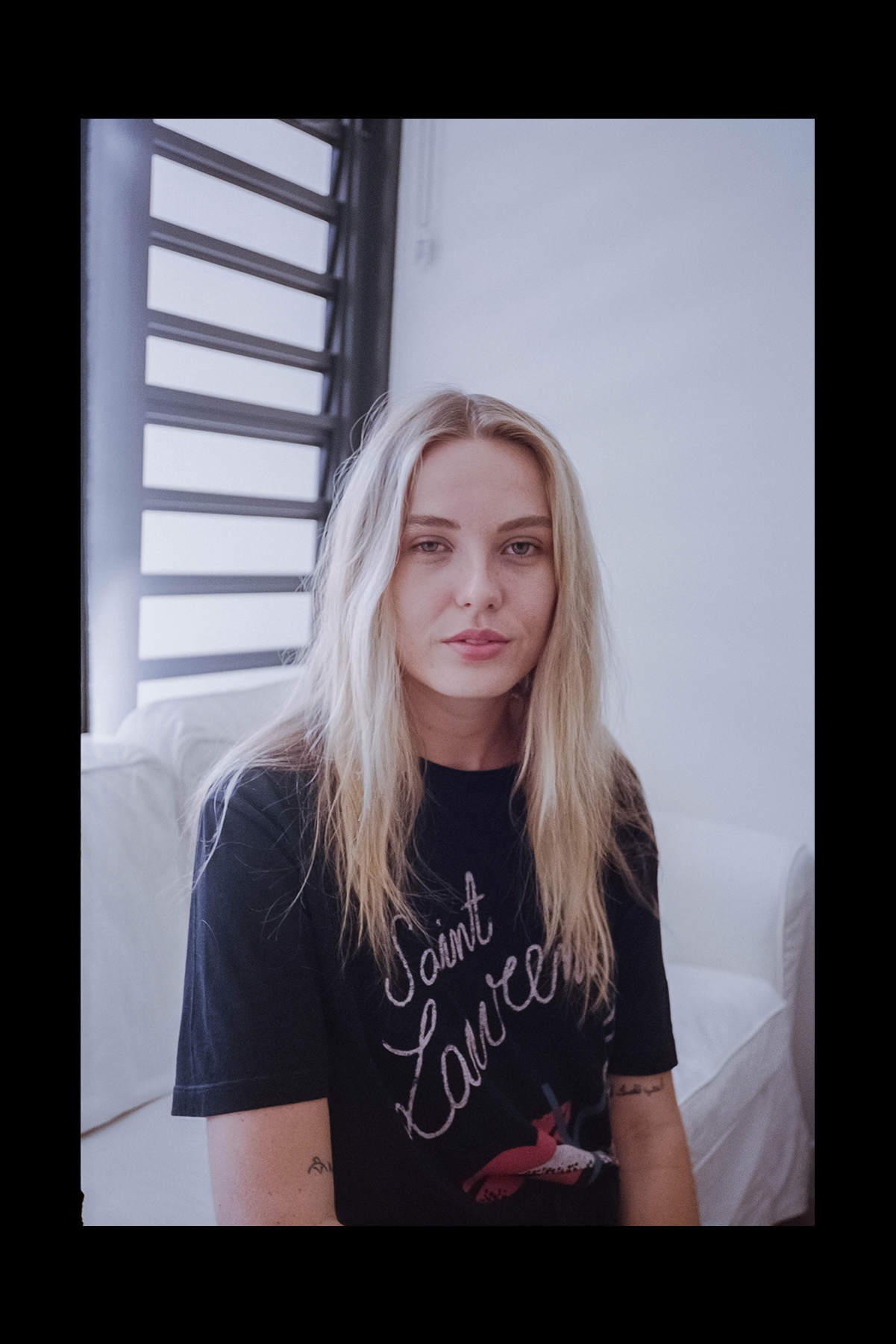 ---
Confession: at the beginning of this year, I vaguely recall texting my best friend after Grace O'Neill started following me on Instagram, and in response insta-stalking the life out of her and replying that, "I could definitely see us being friends."  A couple of months and back-and-forth story replies later (how weird is Instagram life, BTW?), I finally slid into her DMs to propose, "We should get a drink sometime!" She was down. Resulting in not only the beginning of a likeminded friendship that I've seen my editor, Chloe cultivate with so many in the industry, but also this routine. TY universe.
Aside from having one very chic, seemingly effortless and witty captioned Instagram account, Grace is the digital fashion editor at Harper's Bazaar, Elle and Cosmopolitan Australia, and one of the most hilarious and approachable editors I know. The kind of cool-girl who has a beauty cabinet brimming with products. Her cabinet is cover flowing with the best of the best, but her approach to beauty is simple: good products, looking after yourself, and most importantly: calling out men when they are being ass holes! Yes, it's a thing.
We had a very candid conversation around the importance of mental and physical health, with sprinklings of fake tan reference and the products she is currently coveting.
---
---
TB: What does beauty mean to you?
GO: It sounds a little bit cliché but it's definitely about your attitude and sense of confidence and the way that you feel and perceive yourself, rather that it is just about how you look. At the same time, I think there's nothing more beautiful than clear skin and minimal makeup.
TB: Earliest beauty memory?
GO: My mum and my grandma never were really into makeup or skincare or anything, they were more into keeping everything simple and minimal. I guess my earliest beauty memory would be wanting to rebel against that, so I bought a box dye – I had really beautiful naturally blonde hair and I purchased peroxide blonde. I was 12 and just dyed it. I didn't even really know how to use and it totally fucked up my hair, I've had to dye my hair ever since, it's really sad. I spend all this money to dye my hair the colour it is naturally.
TB: How important is a routine to you?
GO: I love having a beauty routine that I have finally figured out. For years beauty felt like this really crazy big thing that I didn't really understand but now I know what works and what keeps my skin looking fresh and keeps me feeling confident every day – I think its very important.
TB: Any parts of your routine that people wouldn't expect?
GO: Well it's just a little beauty thing that's random, I use Glossier's Milky Jelly Cleanser as shaving cream. And I don't know if this is really it but I found that I suffer pretty bad anxiety and I started seeing a therapist and she gave me a lot of breathing techniques and good thinking processes that make you chill the fuck out, basically, and I think that's had a big impact on my skin and my overall wellbeing. I'm also pretty gnarly about sleep, I feel like I sleep like 8 or 9 hours every night.
TB: What do you do when you're masking?
GO: There's nothing I love more on a Sunday night than to fake tan.
TB: Which one do you use?
GO: I love St Tropez. I was only introduced to fake tanning a year ago and my friend who is as pale as us was like, YOU have to fake tan. It just makes you look prettier and skinnier and healthier, and then I started doing it and became obsessed. I've also started using the Elle Effect and it's actually really good. Anyway, I like to do that and then do a really gnarly 50-minute skin care routine, just cleansing and I have this CosrX  Ultimate Nourishing Rice Overnight Spa Mask and I put that on leave it on for 30 minutes then wash it off. In between, I have a glass of red wine and I like watching something usually the West Wing or [listening to] podcasts. And I'll probably end up doing 2 or 3 masks throughout the night but its always like wine / podcasts / tv.
TB: What's your strategy for getting dressed in the morning?
 GO: I'm kind of one of those people who plans it the night before because it does add an extra level of stress in the morning but I also like it to be quite organic in the morning. So I like to think 'what will I wear today that will make me feel really good' because for years I used to buy shit that I thought was cool but it wouldn't fit right or it wouldn't feel right and I just try to go by feel. I have a little rack of like 15 to 20 pieces that I'm really wearing and I usually just pick something from that.
TB: What are your top 5 products?
 GO: I really love NARS Pure Radiant Tinted Moisturiser, and the Tom Ford Bronzing Powder, I don't really wear much makeup but those two see me through. In terms of skins care, I really love the Cosmedix Purity Solution, I was always against using oils because I get oily but it's really soft and nice on my skin. And I really love, even though it was so expensive, the Vintners Daughter Active Botanical Serum. I'm a sucker for fragrance, so I really love the Tom Ford Neroli Portofino fragrance.
TB: Beauty advice?
GO: I've found it's good to take an intelligent or academic approach to it, where you look quite objectively at what's working and what isn't, not just falling into buying shit for the sake of buying shit. It's the same with fashion – some things won't suit you or work for you –  so you've got to really look at ingredients, what your skin problems are, book into a dermatologist or a really good facialist and start from there. And then– it's so boring – but for all the skin care in the world, if I haven't had much sleep or I'm stressed out or I've been drinking a lot, it's irrelevant how many beautiful expensive products you put on your skin.
TB: What's the best thing and the hardest thing about being a woman in 2018?
GO: I think its an exciting time to be a woman, I think it really feels like there's shift going on which is great, which is exciting, and I think people are waking up to how fucked up things have been and it's a really great time to be empowered and to speak up. But in saying that, there's still so much evidence that we're not as far along as we would like to be. We talk about all this stuff, but I just wonder if we are only talking about it, and it's not really coming to fruition. I work in such a female dominated field that I feel like I don't experience the sexism day to day that I know a lot of women do, so I feel like a little bit detached.
TB: Women that you most admire?
GO: From a career perspective I think that Sofia Coppola is such a great example of someone who is super talented but also super chic, I just think she's amazing. And I know this is so lame but Amal Clooney, I just think she's such a legend, she's so fucking cool. There are people I admire in terms of career stuff and then there are people whose style I admire like Emmanuelle Alt or Sarah Harris from British Vogue, I just love a lot of editor's styles, and then Anja Rubik and Kate Moss, the off-duty models.
TB: What would be your advice for this generation of women?
GO:  My best advice is to spend just as much time as possible on yourself and bettering yourself and caring about yourself and knowing that it's not selfish to do that. Like saying be the best version of yourself you can sound really cliché, but actively doing things that make you a better, more productive person in society and also feeling okay to call men out when they're dicks. I think a lot of the time guys don't want to be assholes, they're with all their mates and then they're assholes and women just sort of accept it, and it just creates this really bad cycle. You have more power than you think you do.
---
Photography and interview: Ella Jane