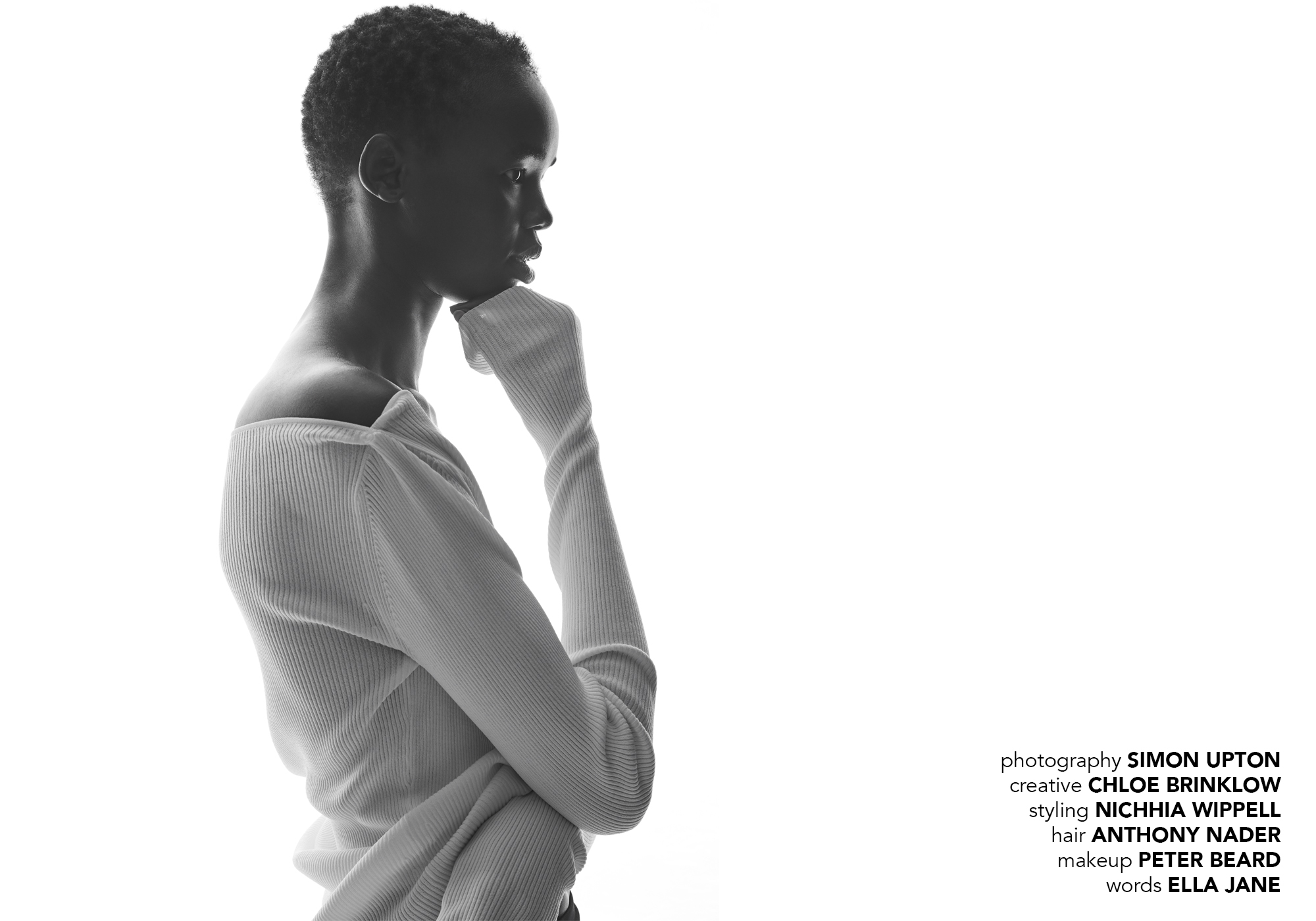 Six months ago, Akiima was just a regular 20-year-old girl, living in Adelaide and studying for her dream job to be a nurse. Today, when she answers my call, she's in Paris for her first season modelling at Haute Couture week. NBD. 
I first spotted Akiima backstage at Alice McCall at MBFWA in May. After doing a double take, I snapped a picture of her eating a muffin. This image hasn't seen the light of day because it is blurry, and I am devastated. But for context, Akiima's first ever editorial photo shoot is this one, lensed by Simon Upton, who turned to me post-shoot and announced, "This girl is absolutely unreal."
Present day, Akiima just walked for Hermes – I am on the other line in Surry Hills quizzing her about her rapid success, and she timidly responds, "I was just looking for a small change in my life, but it's been a big change now." When we talk geography, and the experience of modelling in Paris, she says, "I've been so, so nervous, but it's been so good to just be here right now doing it, it feels amazing. It means so much to me. It makes me feel so special, like I can actually do this and go out in the world. Now I feel like I can go anywhere and I'll be able to accomplish this." She understandably can't narrow her favourite thing about the new city to just one thing, "The culture, the people, the food… Mostly the food!" Cue: FOMO.
Born in Kenya, Akiima relocated to Adelaide in 2006 when she was 12, and now resides in Sydney, post-signing with IMG. As she describes the differences between the life she led in Kenya and the life she leads now, she is considered in her explanation, "I don't remember a lot. But everything was different. Of course, my lifestyle and education are different. In Kenya, as a woman you don't have to focus on being educated or going to school, you just focus on other things. I have come here and I have to focus on my education and actually doing something with my life, that doesn't involve getting married. I mean, I still will get married at some point- but not right now."
The future looks undeniably bright for Akiima, when I quiz her on what's next she tells me she wants to continue to pursue nursing in the future, but RN it's about modelling, "I want to do as much as I can, and be recognised. I just want to leave my mark."
---
ON WHAT SHE'S LEARNT SO FAR:
That you have to be confident. Believe in yourself, and get that job if you want it!
WHAT BEAUTY MEANS TO ME: 
Confidence.
FIRST BEAUTY MEMORY:
Bright orange lipstick. I remember putting it on and being like Oh, wow! And I went out and my brother was laughing at me but I thought it was great. I was 12.
MORNING ROUTINE:
Plenty of water, coconut oil after washing my face of course, and then just a good moisturiser. I go for a run or walk in the morning and then leave going to the gym for the evenings.
---
Fashion Credit: All clothing from My Chameleon.