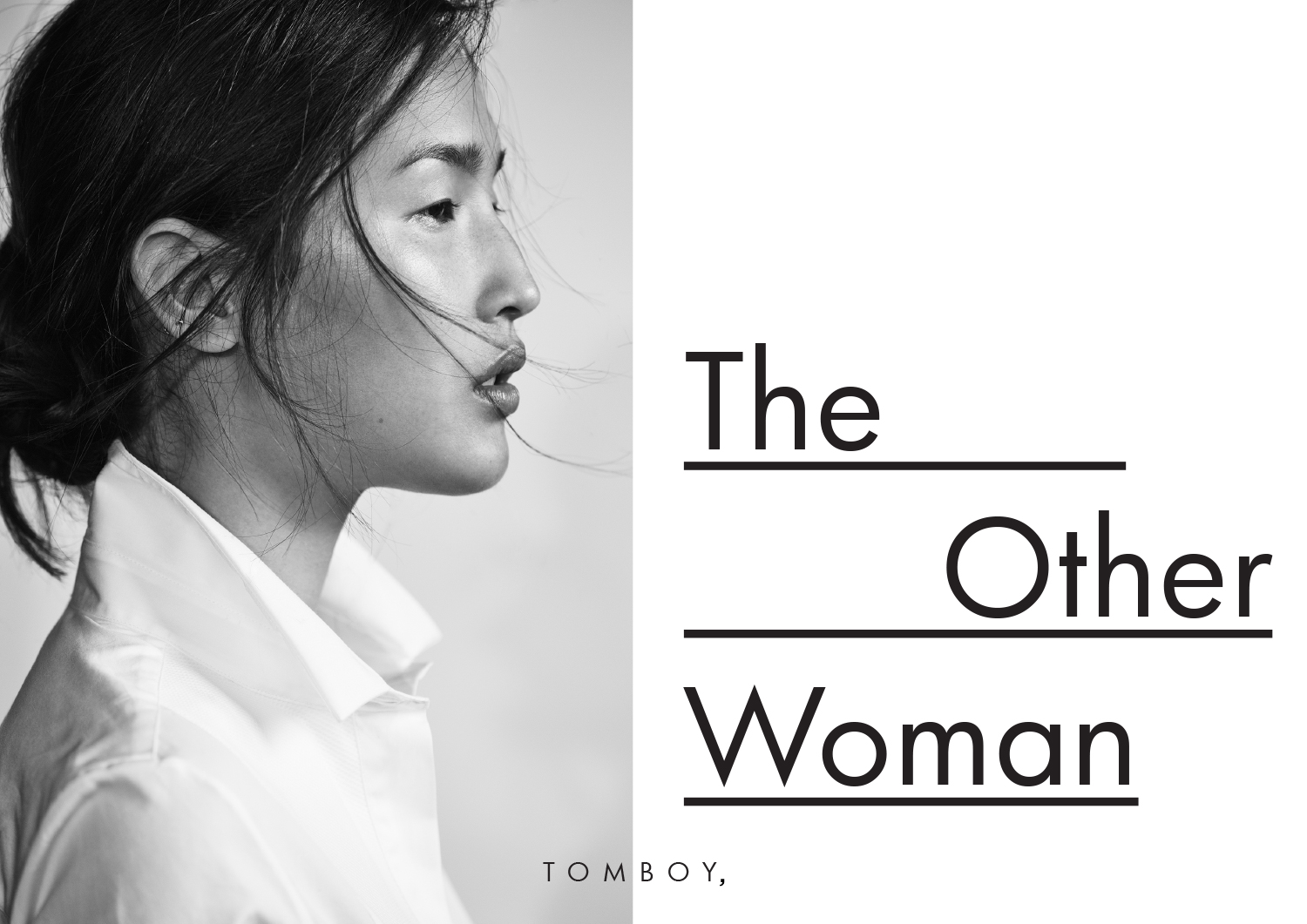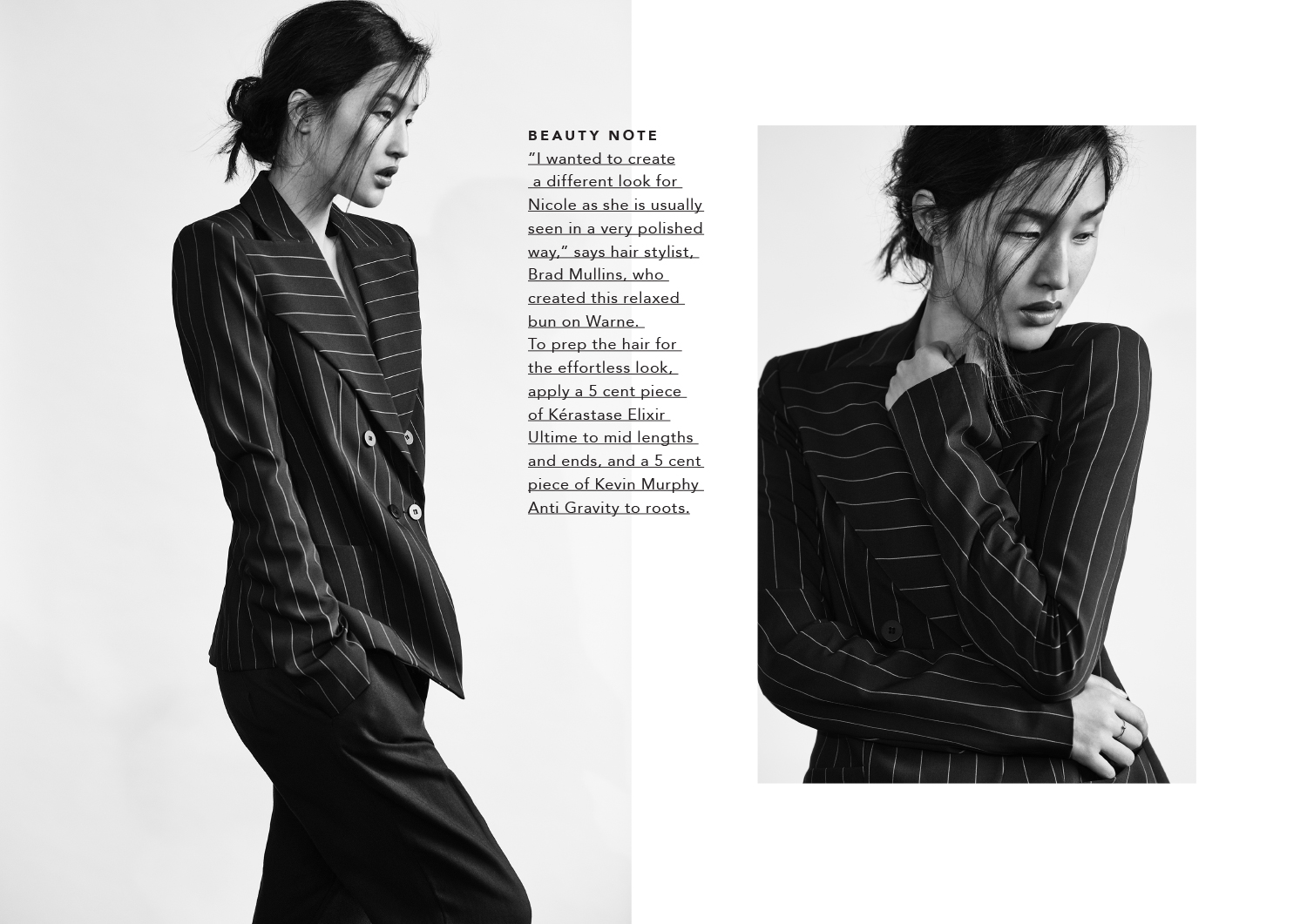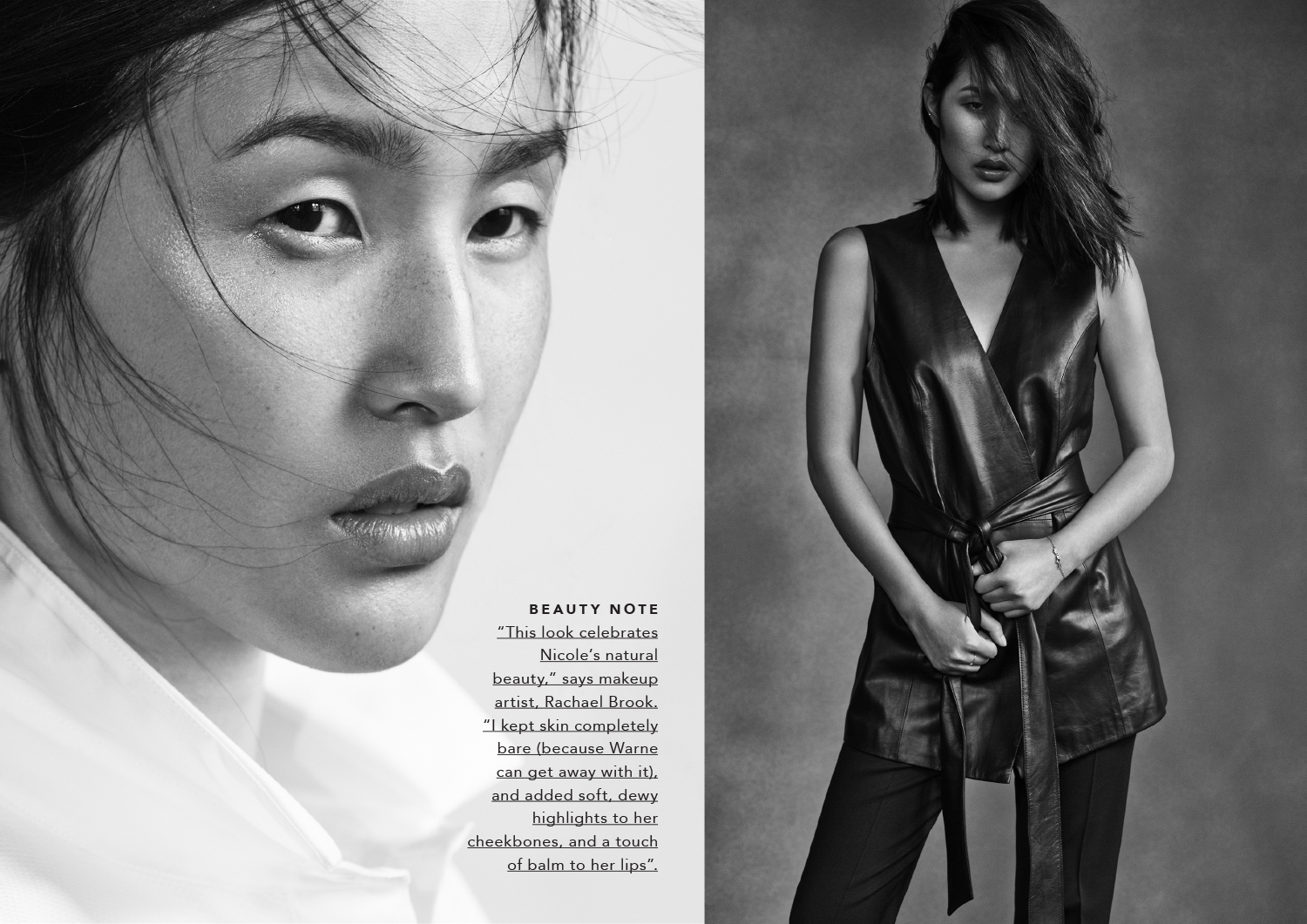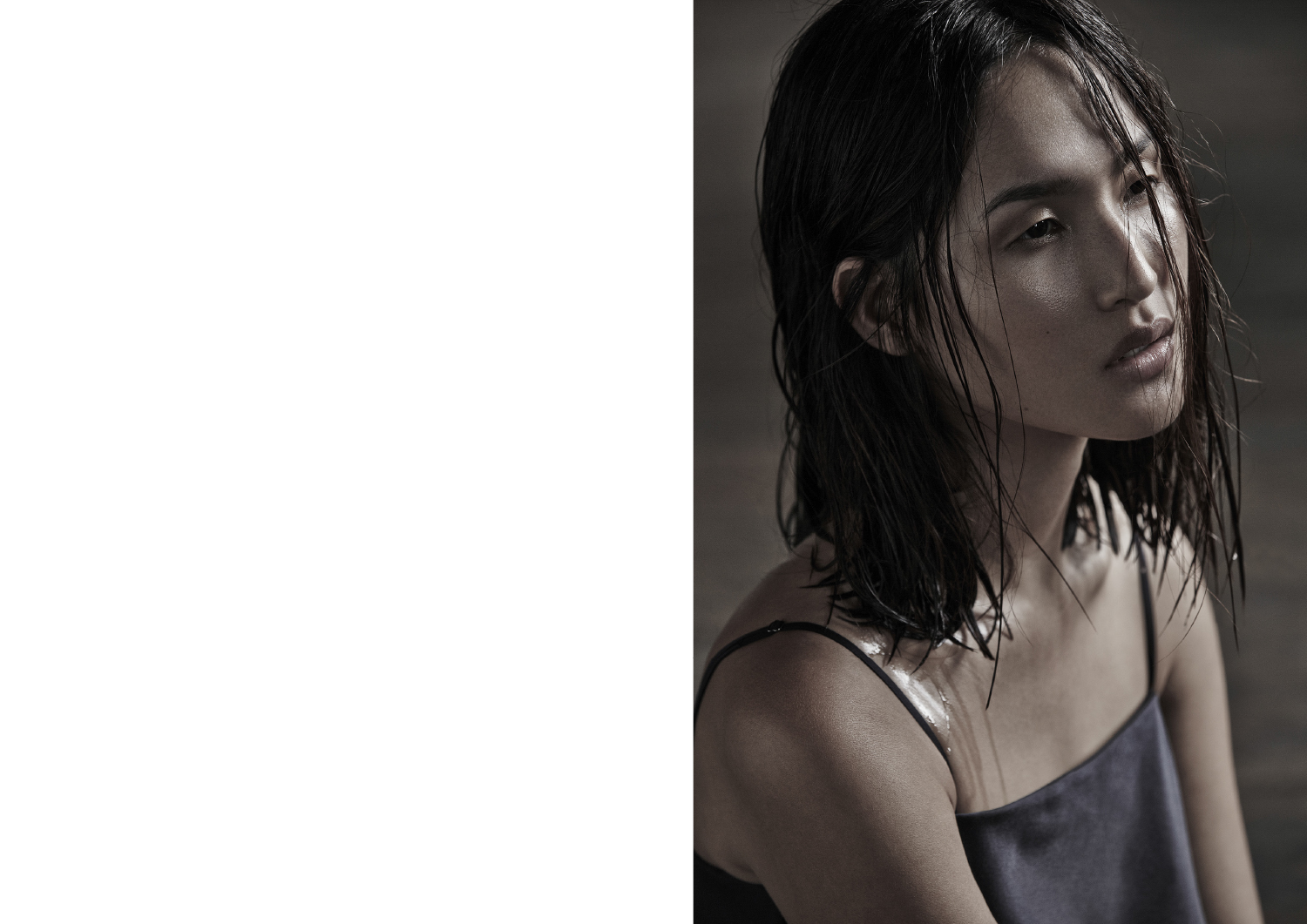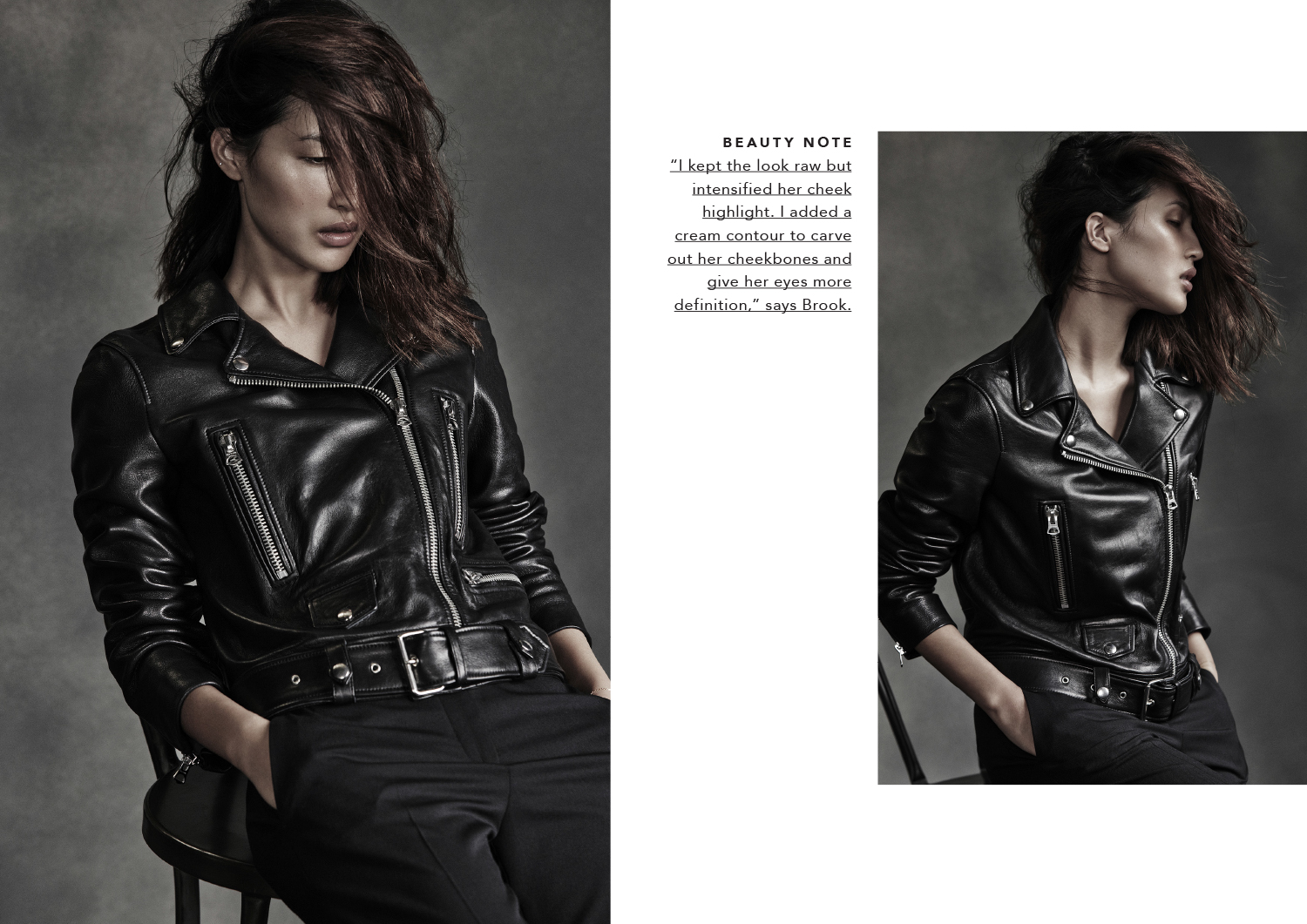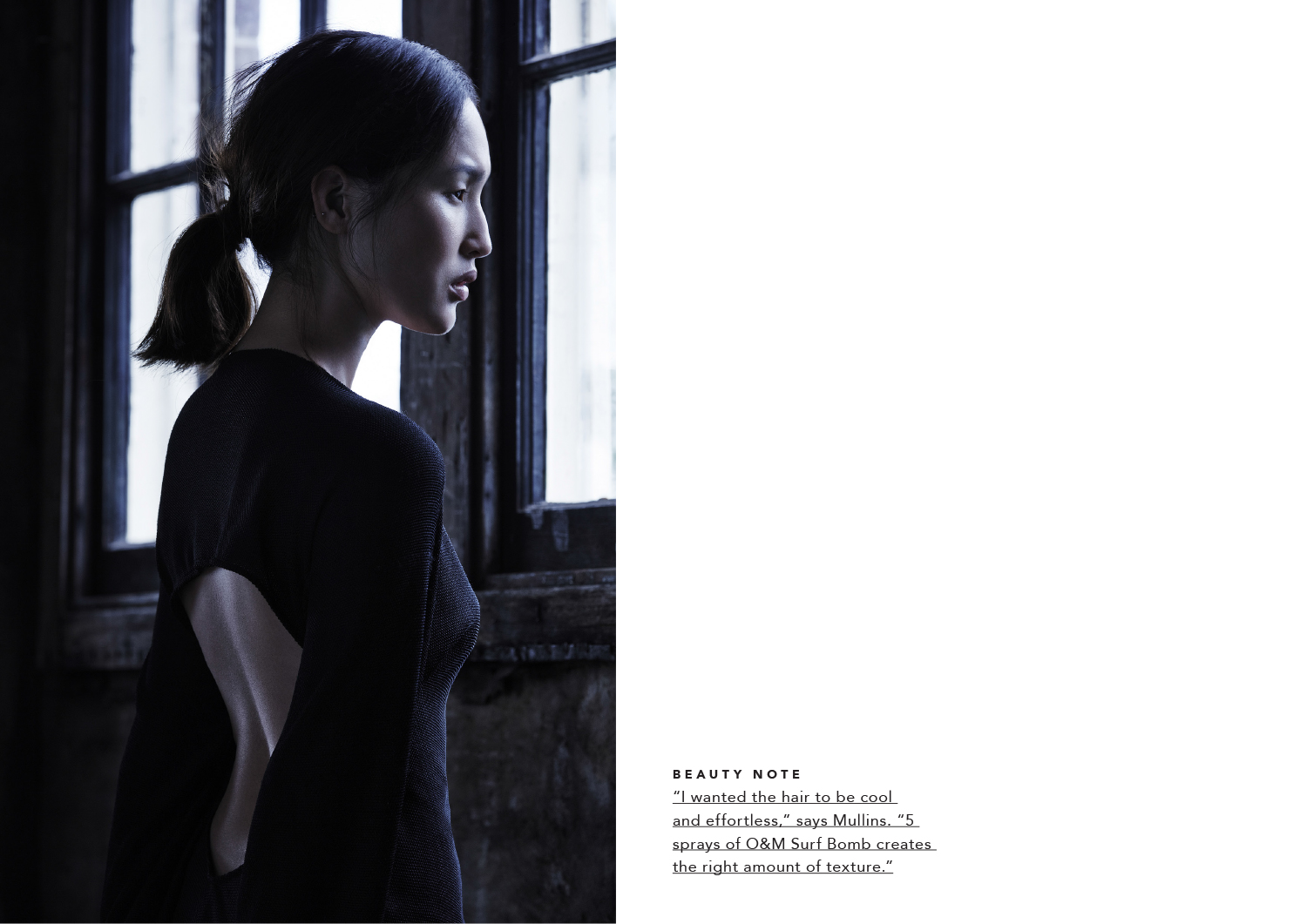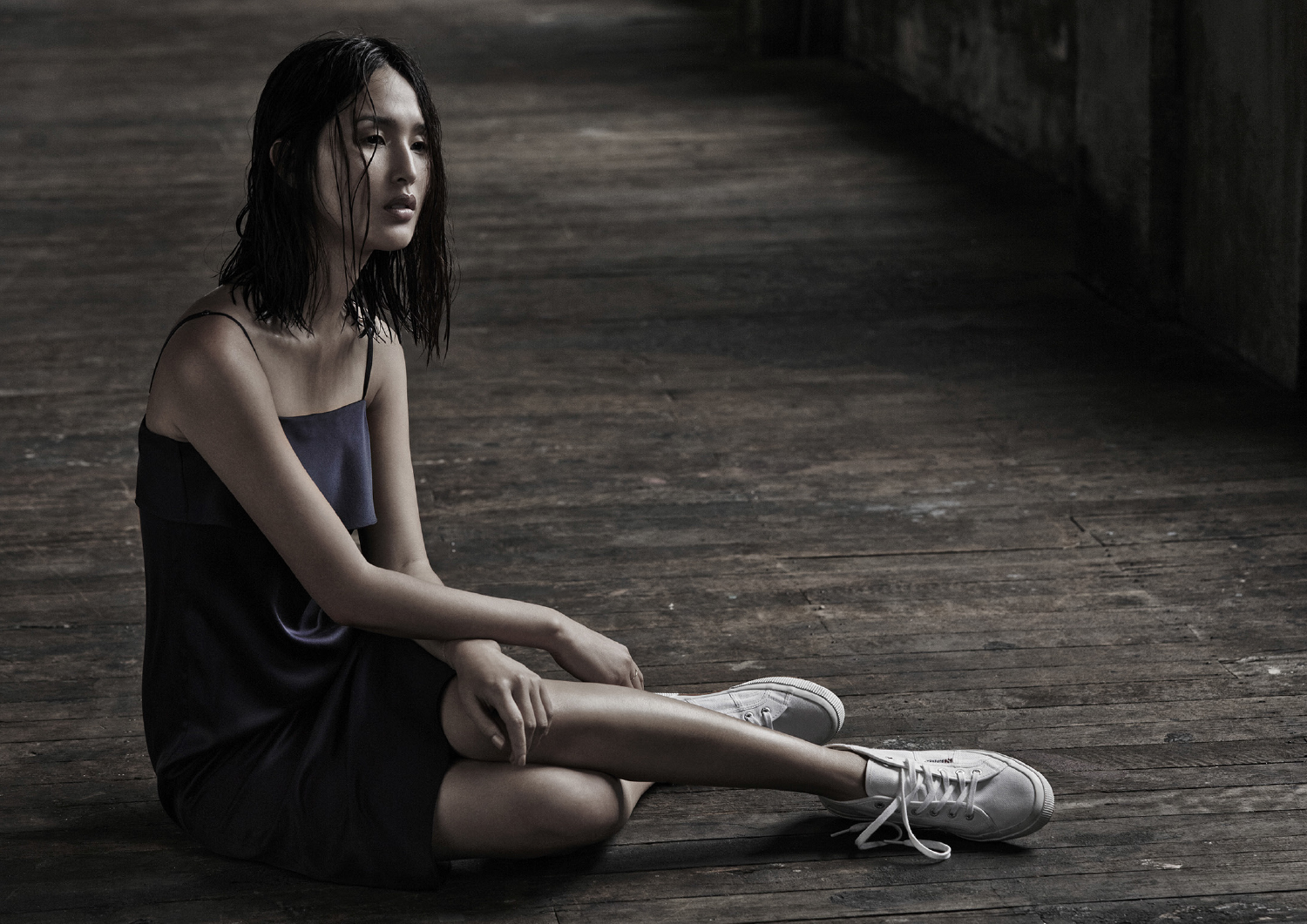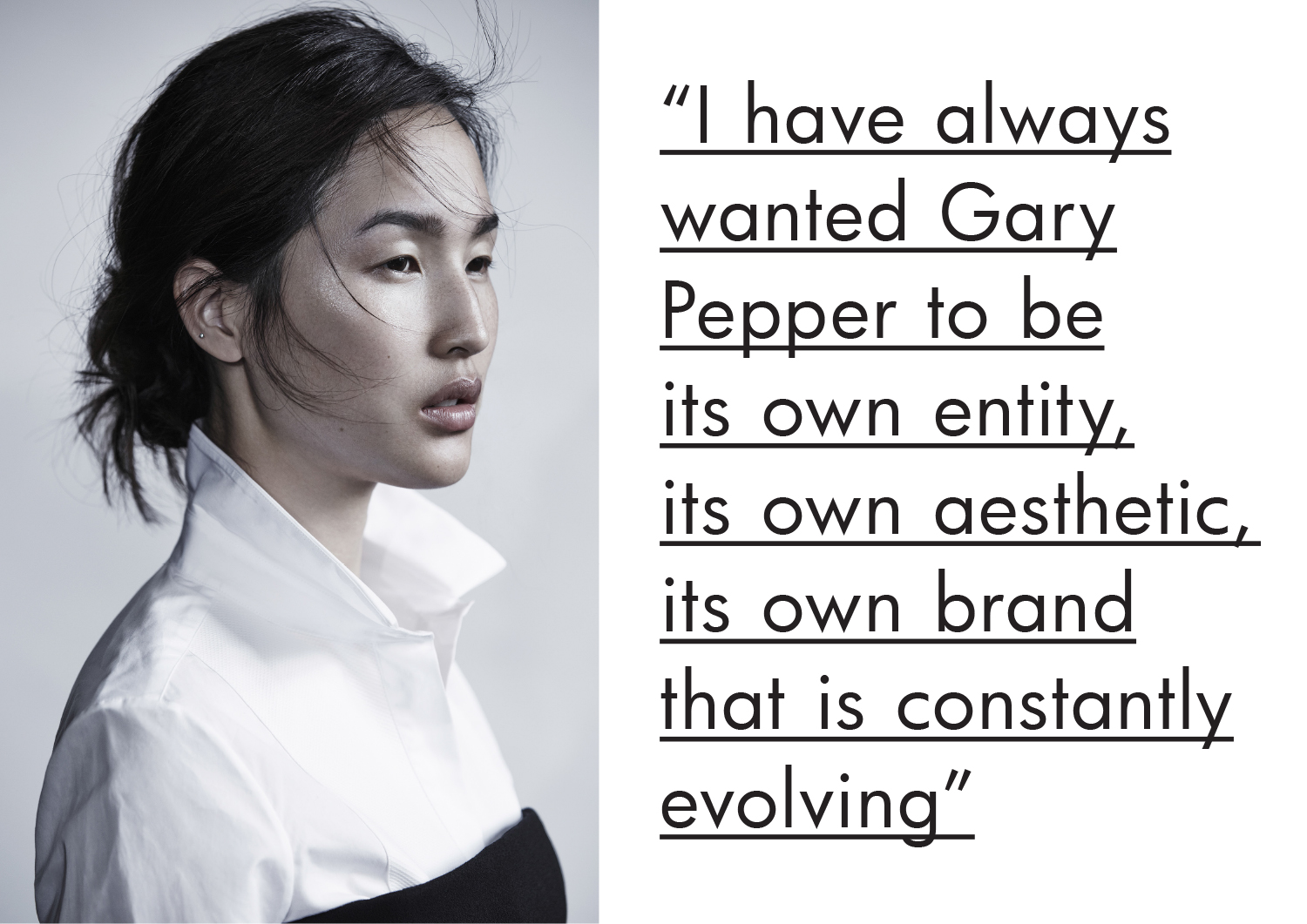 It's  8:45am  at  Sydney  Prop  Specialists  –  an  unassuming but  exquisite  space  in  Sydney's inner  west  –  and the  location  for today's  shoot. The  well-worn  original  timber floorboards meet walls of peeling paint, and beautiful sash windows that allow pockets of natural light to creep into the otherwise dim space.
The subject of the shoot, digital influencer, model, and creative  consultant  Nicole Warne from Gary Pepper Girl, arrives  on  time, after  driving  two  hours  from  the sleepy seaside town  of  North  Avoca. Located on the New South Wales Central Coast, North Avoca is Warne's hometown, where she  lives  with  fiancé  photographer Luke  Shadbolt  when  she isn't  globetrotting  for  work; collection  shows  in  New  York  and  Paris,  or  whatever corner of  the  world  her  coveted contracts with the likes of luxury brands Net-A-Porter, Chopard and QANTAS take her to.
Dressed in a black slip dress by Edun and white Common Projects sneakers, Warne is looking distinctively more casual than in the outfits that she usually shares via her Instagram account @garypeppergirl (at last count, it had over 1.5 million followers). Up close, her skin is incredible—like a retouched photograph: blemish free and glowing. When pressed for skin secrets, she offers matter-of-factly, "Sunscreen, exfoliating, Melanie Grant (a Sydney-based facialist), and genetics, you can't fight genetics".
As soon as she is whisked into the next room for hair and makeup, leading fashion photographer Simon Upton, who is lensing the shoot, agrees: "She looks great. This is going to be epic. " I'm not sure what Upton was expecting, but his succinct statement sets the tone for the rest of the day
There is a buzz in the room as Warne is captured in a new light. To a lot of people, she is about colour and pristine, exuding an uber femininity in almost every photograph to date—and there are a lot of them. She's graced the covers of Elle Magazine Australia, The Edit (alongside fellow style stars, Poppy Delevingne, Julia Restoin Roitfeld, Laura Bailey and Chloe Norgaard), as well as Lucky magazine. At time of publishing she has 3,924 photos uploaded to her Instagram account—and counting.
In an era where anyone with a social media account is a self-proclaimed slashie (blogger/photographer/stylists/creative director/model, etc.), to be able to do each thing is seemingly enough, but to excel? It's simply impressive. Frame after frame, Warne finds her angles and seems determined to communicate the brief: power and vulnerability, while mixing feminine ease and masculine edge, proving to even a seasoned photographer like Upton, that she can, in fact, model. And do it very well.
As Warne puts on a leather jacket by Stockholm-based fashion house ACNE Studios, (my favourite shots in the series), she mentions that she's never been shot in a leather jacket before. It's not surprising given her usual ethereal and romantic aesthetic, but as the pictures prove – she wears it well.
---
Fast forward three weeks and Warne has this time arrived at my home in Newport on Sydney's Northern Beaches. The lounge room, where we're setting up, is walled by glass doors that open up to views of the ocean, less than 100m away. Taken by the impressive scene, Warne immediately starts suggesting ways in which I can capture it for Instagram: "I didn't realise how beautiful it is; you're framing it all wrong!" she laughs.
It's not common practice for an interviewee to make this kind of effort, read: another two-hour drive, for a story on a yet-to-be released digital publication. But then again, Nicole and I have a relationship beyond journalist and subject.
We first met in 2007, Nicole was 18, and I was 20. Her fiancé Luke, one of my oldest friends, was hosting one of his infamous fancy dress parties. He told me there was a girl he wanted me to meet and, after weaving through a sea of people dressed in the most ridiculous outfits, I arrived in front of Nicole. From memory, she was wearing a bottle-green '80's 'prom' dress, and her hair long. Much longer than the shoulder grazing lob she wears today. Instantly, she leapt from her chair and threw her arms around me with the kind of force that I can only liken to the gusto and enthusiasm with which she launched her online business just two short years later. We collapsed into an open cupboard behind us, and laughed hysterically. A fast friendship formed that would develop over the next few years as we forged our chosen careers in fashion and media.
Writing about a friend is difficult. More difficult than you would think. You don't want to come across gushy, or too familiar, but you do want the world get a peek in to what you get to see.
---
Warne's interest in vintage and fashion was ignited after being bullied in high school. "Until I moved schools, I didn't really know I was different. It was quite a shock," she remembers. "My school in Western Australia was multicultural, but when I moved to New South Wales, it was predominantly Anglo Saxon. There were four other Asian kids and one of them was my sister," she says. "But high school was a very important part of my life, I think it made me a stronger person; the process of learning who you are and what you stand for." Warne tends to make a habit of finding the silver lining in everything. "If kids didn't bully me for being different, I may not have decided to push my differences through vintage, and I might not have ended up where I am now," she says.
In 2009, Warne launched Gary Pepper Vintage, an ebay store, as a hobby to sell her overflowing wardrobe of vintage clothing. At the time she was studying at fashion college, working a retail manager job and interning at Harper's BAZAAR and Grazia magazines.
After only eight weeks, the store was generating enough revenue to match Warne's retail salary, and then some. She resigned, deferred her studies and put her internships on hold. With the help of social media, the business expanded quickly (and globally) and she moved the store to a self-hosted e-commerce platform 12 months later. She was moving 200-300 items of stock every ten days—an epic feat for vintage inventory, and it was turning over a healthy profit.
But it was a trip to New York for Fashion Week that changed the direction of her business. "I decided to take a break for the first time in two years. I met a lot of inspiring people, and had a lot of really productive meetings with brands. So I made the decision to shut the online store, and focus on growing my personal brand through the editorial arm, garypeppergirl.com" she says.
The evolution of Gary Pepper from ebay store, to e-commerce site, to one of most successful style blogs in the world is something Nicole puts down to curiosity. "It's just me experimenting, right now I am in an intermission between an e-commerce site, and perhaps becoming a physical brand again," she says. When I mention that it's been quite the intermission, suggesting attending the Chanel fashion show in Paris or Cannes Film Festival as a guest of Dior is a fairytale for some people, she dodges the compliment, and instead gives credit to her entrepreneurial parents.
"My dad was always really experimental with business, driven by a thirst for knowledge, not profit," she says. "My family was always doing odd things. My mum had a dog washing company, and was making biscuits. My dad had an online science store, an online business for photo prints with little LED lights around them. Then they opened a candy store".
With so many girls keen to grow an online following to make a quick buck, Warne says her intentions were the opposite. "As a person, I have always believed in quality over quantity and I think that has been reflected in the business decisions. I believe in aligning with a handful of brands that I truly am invested in". Her thinking is ahead of its time in a still very new industry. "There are a lot of opportunities but it won't last forever, so you need to be strategic and focus on longevity," she says.
I often hear Warne start her sentences with "as a person," which gives me a sense that she has a hard time differentiating between Nicole Warne and Gary Pepper Girl. "At the moment, I don't think there is a distinction between the two. It isn't like there was in the beginning, when Gary Pepper was a vintage store, and Nicole Warne was random girl running it from her dining room table in North Avoca," she says. As a friend, I have witnessed her struggle with the differentiation over the years, even dating back to the vintage store. The reality was, when she modelled the clothing, it sold. "i never intended it, but Gary Pepper shifted from a corporate brand, to a personal brand, and the next steps are to divide that again." A sentiment so unique in a time of the self-made celebrity and shameless self promotion.
In a GQ cover story on Taylor Swift, journalist Chuck Klosterman, makes the observation that Swift has two ways of speaking. The first is when she is actively shaping the interview, seemingly rehearsed. The second is when she cares less about the way her words are presented. And while Warne would be embarrassed at the comparison to the mega star, I also notice the oscillation in Warne's speech.
If she's talking about Luke, her family, or a dream place to live (it's a split between North Avoca – her hometown, New York – for work, Paris – for pleasure and Norway – for health, in case you were wondering!), her voice is relaxed, her speech faster and less careful. But when asked about business, her thoughts on the future of the industry and why she works with magazines, she takes her time to gather her thoughts, meticulously choosing her words, so that what she articulates can not be misconstrued. I get the feeling she's learnt from past experiences, or that she's aware of the industry she is in; rife with tall poppies so quick to pass judgement.
On working with magazines, Warne's rationale is aligned with her commercial sensibility, listing brand equity and positioning as the reasons she partners with premium mastheads. She is adamant that, despite doom-and-gloom-reports that the future of magazines is in limbo, titles like Vogue, Harper's BAZAAR and Elle will stand the test of time—albeit in a mobile format. "I don't think it's a question of  'will magazines be around in 5 years?'. Of course they will. I think its more, 'will they have a physical product?' I predict a shift to mobile – the next generation won't grow up reading a magazine on the bus on the way to school. They will be reading the masthead's app on their iPhone or android," she says.
On the subject of the next generation, I am curious to know what Warne's reaction would be to her hypothetical daughter coming to her and saying, "Mum, I want to launch an online business!". Would she encourage it? "I'd probably be her 'Momager", she says, in her more casual voice of the two. "I think as long as she was going against the grain and working for herself, I would always encourage that because I think it takes a lot of courage and it's a lot harder than people would think," she says.
As if she is making a guidebook for navigating the world of online business, Warne rattles off more words of warning to her future daughter. "I'd tell her how important it is to balance her personal and professional life, to communicate openly with the people around her, and to ask for help when she needs it. I would tell her not be care about judgement and how people see you, that fear can cripple you, but you shouldn't let it," she says.
---
As our interview draws to a close, after almost two hours of talking, we get on to the subject of ambitions, and Warne reveals hers has never really changed. "I want to spend my life building a global brand that my children will inherit. I have always wanted Gary Pepper to be its own entity, its own aesthetic, its own brand that is constantly evolving," she says. She hopes it is a benchmark for young entrepreneurs in the digital space or even the retail space. Though is sure to mention, again, that it is still really "just an experiment!"
In the next 12 months, Warne plans on extending her team, moving overseas and expanding on existing relationships with her luxury client base. On a personal note she says, "I want to plan my wedding, have my wedding, and buy a property".
If this is intermission, we can't wait to see Act 2.
Fashion Credits. 
Look 1: Shirt, Iris & Ink. Top, Dion Lee. // Look 2: Blazer, Dion Lee. Pants, Bassike. // Look 3: Shirt, Iris & Ink (as above). // Look 4: Leather vest, Oroton. Pants, Bassike. // Look 5: Dress, Theory. // Look 6: Leather Jacket, ACNE. Pants, Bassike. // Look 7: Top, Maticevski. Look 8: Dress, Theory, Shoes, Superga.
Creative, Production, Words: Chloe Brinklow
Photography: Simon Upton X TOMBOY Beauty
Hair: Brad Mullins 
Makeup: Rachael Brook 
Fashion Assistant: Nichhia Wippell