Style advice for your face.
When it comes to purchase decisions of the sartorial kind, my fashion editor friends are the first point of consultation. The luxury of having style advice available on speed-dial (or whatsapp) is never taken for granted. "Should I buy these? Or are they over? Will I be stomping in shoes of seasons past? Do you think my feet will get sweaty? Also, are sneakers the new heels? Or are slides? Can you wear slides at night? Like, to a dinner?"

Yesterday's line of questioning endured by my friend Karla (who works at BAZAAR), would suggest that I, along with the majority of the female population am shifting my attitudes towards footwear. Everything is more relaxed; sneakers once reserved for the commute are staying on our feet long after we've arrived at the destination. Black silk slip dresses, vintage levis and crisp white tees are having a moment, many moments actually! The celebration of less-is-more is welcomed in these parts, we celebrate it as an approach to beauty and by default, style.
Makeup certainly hasn't escaped the dressing-down culture either – great – albeit scary! Though, it should be noted that effortlessness doesn't necessarily mean sans effort, just like no makeup, rarely means no makeup. It's for that reason I asked the fashion-set what foundations they actually wear, not only for their skill in curation separating the excellent from the okay, but because they err on the side of minimalism, true to the spirit of the time.
Gemma Kiel (@gemmakeil), Fashion Editor, InStyle Magazine.
"I'm a high-low girl when it comes to fashion and beauty. Generally, I'm very low maintenance but need products that work for me and put out maximum results. Tom Ford's Traceless Foundation SPF 15 in Bisque is slightly sheer so gives you a really natural look, it contains SPF15 which I need for everyday and has a slight illuminating effect that gives you glow. Honestly it's heaven."
Amanda Stavropoulos (@amandastav), Fashion Editor, WHO WHAT WEAR.
"I have been hooked on MAC Cosmetics Lighful C Tinted Cream SPF 30 since I discovered it a few months ago. It's moisturising, illuminating, and protects from the sun. I don't like the feeling of a heavy foundation, so this gives me all the coverage I need while still feeling dewy and fresh. It sinks into my skin as the day wears on but coverage stays put."
Caroline Tran (@carotran), Market Editor, Harper's BAZAAR
"My makeup routine is quite low maintenance (and quick) as I can't seem to get out of bed in the morning! I use NARS Pure Radiant Tinted Moisturiser.  I mix two shades together to create the perfect one for my skin tone and blend with my fingers. Foundation is too heavy to use on my skin, if I want more coverage at night or on weekends, I build it up".
Emma Freebairn (@emma_kalfus), Junior Fashion Editor, Sunday Style
Foundation wise, I generally still use Dove Tinted Moisturiser in Honey. LOL – is that daggy? I have used it since I was 15.
"I tend to have foundations on high rotation and generally use two different shades to blend the right tone depending on how light or dark I am. At the moment I'm loving the Lancôme Miracle Cushion. It's a light coverage and perfect for summer when I want to enhance my skin (and natural tan), not mask it".
Karla Clarke (@karlanneclarke)  Fashion Editor, Harper's BAZAAR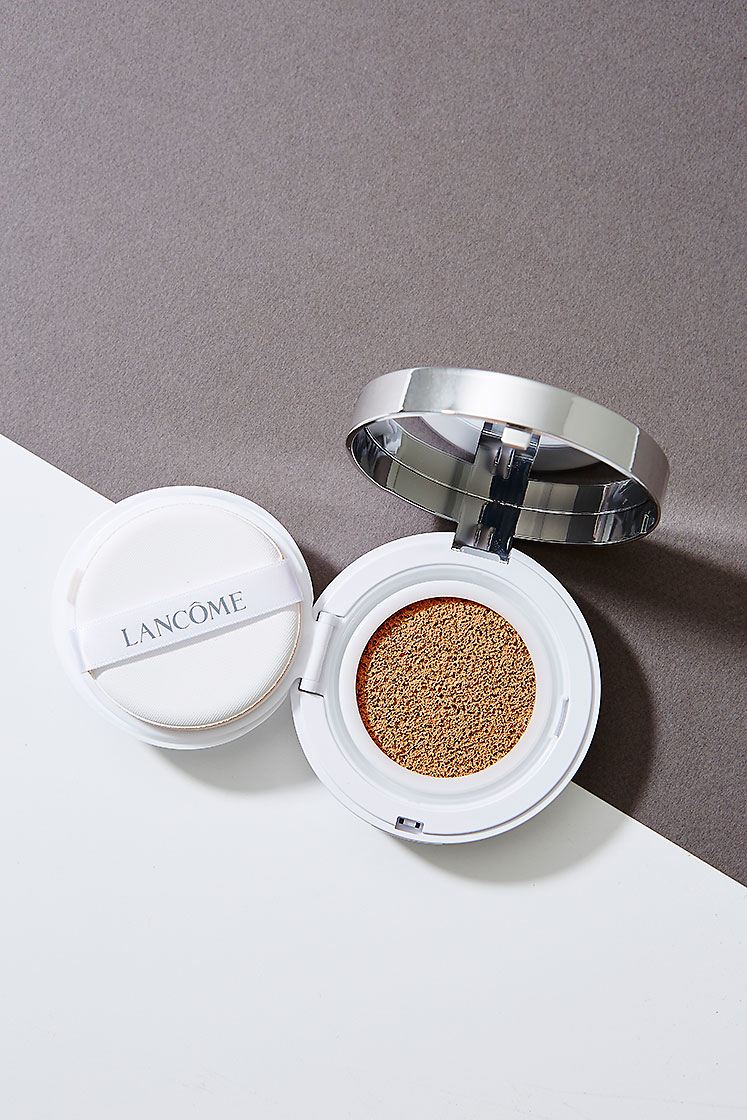 "I am for coverage. I have large pores that need hiding and I like something that my face isn't going to oil-off. That said, caked-on foundation isn't very modern, so I still want something that is light and fresh and doesn't make me look like a try hard. Our beauty director told me that Lancôme Teint Miracle has the same fancy ingredient that they use in the Giorgio Armani foundation (that is apparently all the rage)".
Words: Chloe Brinklow // Photography: Simon Taylor.