Justine Marjan is usually doing hair for the Kardashians, you might have been keeping up with them!? OR directing New York Fashion Week shows as  TRESemmé's Global Hairstylist.
In chronicling hair: she creates three wearable (not boring) looks, on Chronicles of Her's, Carmen Hamilton. From come-as-you-are, cool-girl hair, to exaggerated-texture borrowed from Freja Beha Erichsen, Justine explains what's what, and how-to: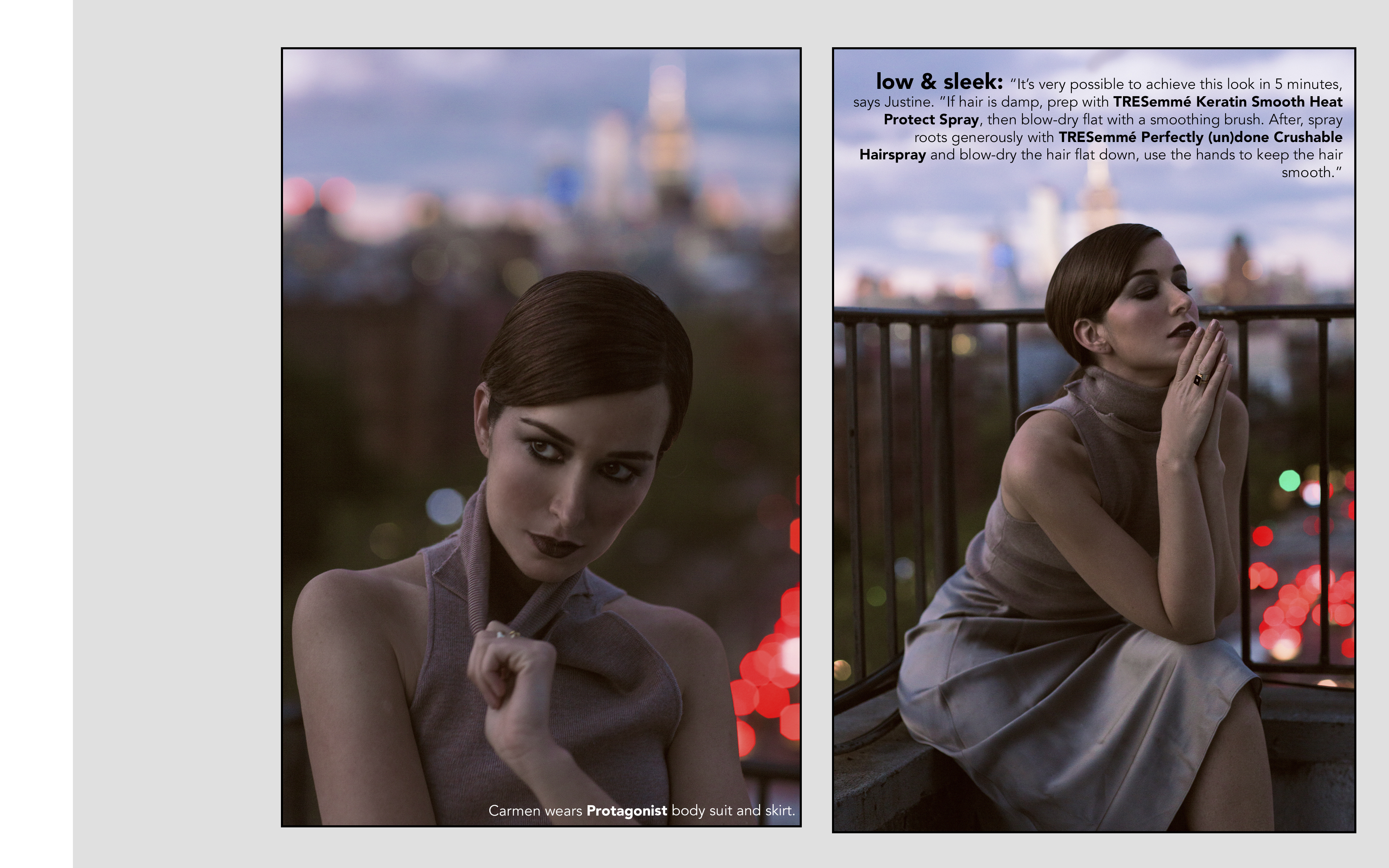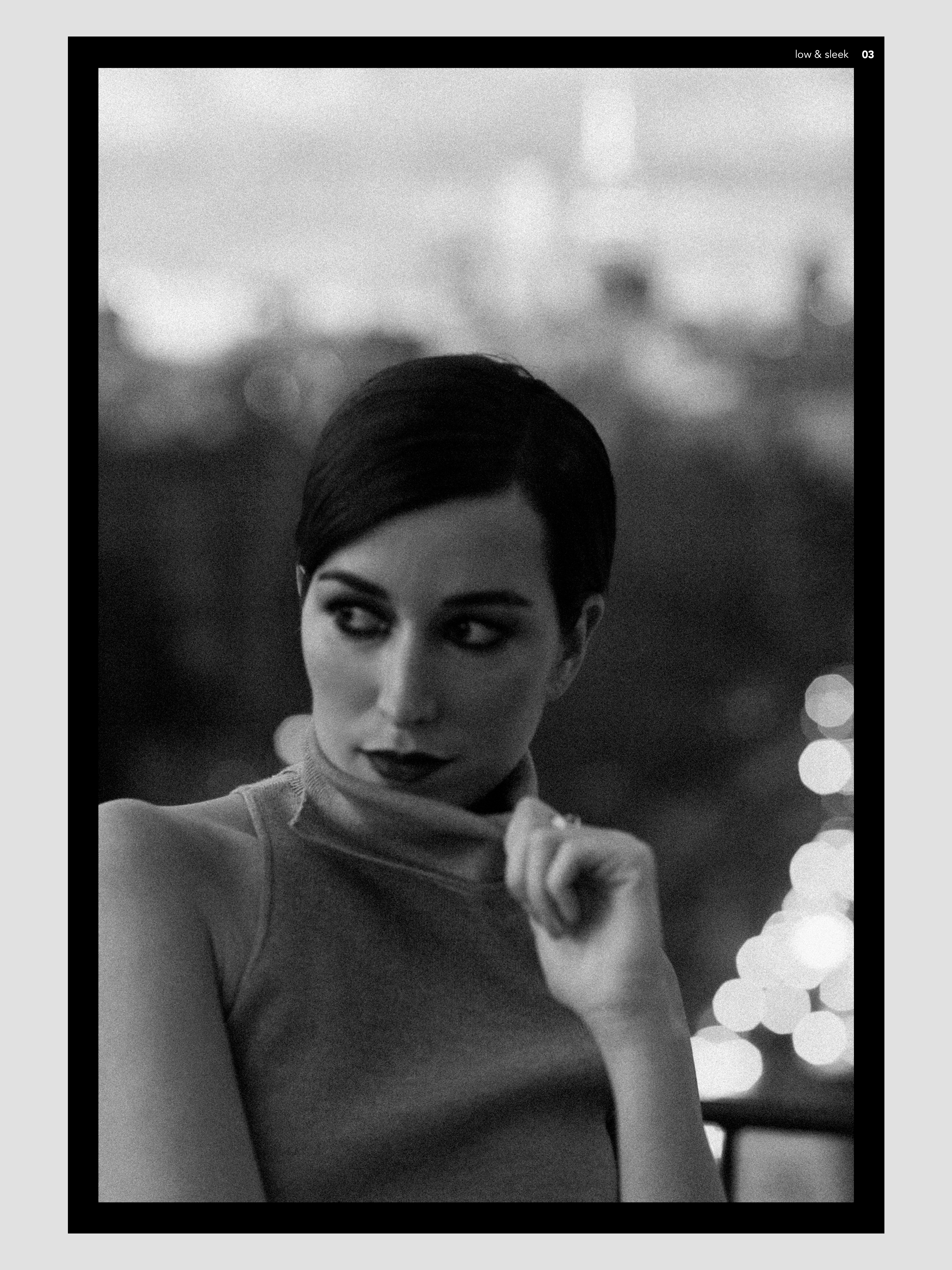 ---
When you first meet someone on instagram and then re-meet them IRL, it is hard to call them anything other than their handle. Carmen will always be @carmengracehamilton to me. Despite both forging careers in traditional publishing (her at VOGUE / me at InStyle) I didn't know who Carmen was until I started seeing her work on instagram, when we had both made the jump to start our own things. When she relaunched Chronicles of Her as a bonafide website, evolving from a personal blog, I knew she was taking it seriously, on the rise, and that I wanted to work with her, one day.
Fast forward to fashion week, I knew Carmen was meant to be the subject for our shoot. She is creative, considered, stylish – in that she does the minimal thing, but is never boring or predictable – and she is mega smart. She also has great hair. Zanita Whittington who lensed her for TOMBOY Beauty is all of these things too, sans the minimal. Justine Marjan on hair, is just a boss!
With her feet firmly on the ground on home soil (Australia), Carmen and I caught up:
---

Carmen Hamilton in conversation over the phone with TOMBOY Beauty
---
RN: 
Where are you right now? 
I'm at the office, in Surry hills. We moved to Marlboro house a few months ago.
What did your last 24 hours look like?
My last 24 hours? Umm my life has slowed down so much since I got back from New York and moved into my new apartment so I've been cooking, which I haven't done in months, which has been super relaxing settling into normal life.
GROWING UP: 
 What did you want to be when you grew up?
When I was really really little I wanted to be dolphin trainer even though I was the worst swimmer ever! I still am. I researched everything and it was all I would ever talk about. I also used to go birdwatching around the neighbourhood with my bird book and pretend I was looking at really exotic birds when they were really just crows. Then my next thing was rocks, I had a rock collection that my dad would supply me with. Then after that I decided I wanted to work in a fashion magazine as a journalist, that was more in the high school years.
STARTING OUT: 
How did you get started?
I was studying at uni and then when blogs started to become a thing I was reading a lot of blogs but felt really disconnected from the industry because I was on the Gold Coast so there wasn't really much opportunity to intern or anything at places that I thought were really 'relevant' or what I thought was relevant at the time. I read so many articles online about how to break into the industry and all of them said, start a blog, start writing your thoughts down, build an online portfolio of your work so that people can see your work and get to know you. So I started doing that, there was no real direction to it, I would just post pictures, handwrite things. Please don't go back to it. And then I was sent a box of cosmetics from M.A.C – quite a generous collection of lipsticks and stuff – I can't remember how old I was, but at that time it was more exciting than Christmas. From there, I started to work with brands a little bit more, and then I moved to Sydney and was lucky enough to get a job at VOGUE working online, and then they launched a blogging network and they asked me to be on that which was obviously great exposure and then it all kind of rolled on from there! Here I am.
WERK, WERK, WERK:
So if somebody said what do you do for work, what is your title?
I find this question so, so difficult to answer. It's very tough. I don't explain it well, I need to work on that because I'm like 'I have a website!' And people are like 'ok…what kind of website?' And I say 'fashion' and then they're like 'oh so you have a store' and I'm like 'no…not really.' So I guess it's kind of like a blog that's evolved into more of an online magazine. I guess that's how we describe it. I'm the founder and editor, and I have a small team where we work on all of the creative together.
What is the best part of your job?
The best part of my job is definitely having the freedom to create all day long and put together ideas. And having the resources to make that happen and then seeing that all come together.
 What is the hardest part of your job?
I'm a really creative person so my mind is always kicking over, and there's never enough hours in the day to execute those ideas.
How do you stay relevant?
Constantly thinking about and being aware of what you have to offer to the space that is unique to other people and what value you can add to their lives as well.
What scares you?
Failure. I go into these spirals in my head that sometimes hold me back from pursuing certain ideas because I think 'what if this doesn't work out?' and then I can't imagine what I would do with my life if I weren't doing this? And then I think 'if that happens…what about my mortgage?' And on and on from there, like a spiral. Those thoughts are so dangerous so I try my best not to have them.
Do you feel like that is then what drives you?
Definitely. People say to me that you motivate yourself by telling yourself that things aren't good enough! I'm always looking at how I can improve myself or my business and the content that we offer and while I know that can be a great source of motivation I think it's also really important to step back from it and appreciate the things that you are doing.
What is the best advice you've ever been given?
GOOGLE EVERYTHING. I studied journalism and marketing at uni which I suppose helps me on a daily basis but everything else that I do in the business, like photography, and editing, down to the website and everything that goes into that, all that stuff has kind of been through google. I just googled everything until I could do it, and google has the answers to mostly everything!
FASH / BEAUTY: 
How would you describe your personal style?
At the moment I feel like it's a bit…grandpa chic? I love blazers, and the more oversized the better. I've been wearing a lot of checks, my mom even sent me a text during fashion week after seeing a photo of me wearing a checked blazer (the same one from our shoot) and she said, 'I don't see why you're wearing this, you have your whole life to wear stuff like this, it looks like something your grandma would wear' and then sent another one of me in a mini skirt saying, 'This is much better'.
I hope you don't also describe your approach to beauty as grandpa chic? 
No, my approach to beauty is definitely minimal but defined. I also went through that really minimal phase in fashion and beauty where it was just pared back AF, but I'm definitely up for an adventure at the moment especially since I changed my hair darker and shorter I've been wearing a little bit of winged eyeliner which is really ramping it up for me. I'm interested in exploring a little bit more beauty-wise, I always have a defined brow and lip though. I always have a colour that is a tiny bit darker than my lips, because I hate looking like I don't have eyes or lips.
SHOOT: 
Favourite look from the shoot? 
Exaggerated texture. I loved it. If I could do that curly hair every day of my life I probably would right now. It was so fun and I actually know someone who had hair like mine and then got a perm and brushed it out and it looked amazing and I was like 'do I do that?!' Then I was like 'No, maybe not!'
BACK TO THE FUTURE: 
What's next for you?
We've got lots of exciting things happening with the site, we're tweaking a few things, and have a design collaboration launching online which will be a first for us with e-commerce selling through the site, so that's very exciting! So I'm super excited to see that come to life. Then we are just looking at ramping things up come 2018!
---
All TRESemmé hair products available HERE
Styling by Protagonist available HERE.
---
Creds:
Photography: Zanita Whittington
Hair: Justine Marjan, TRESemmé Global Hairstylist
Makeup: Jackie Cooper Jr
Creative Direction and Words: Chloe Brinklow