#GRWM feat. Alyce Tran, The Daily Edited


In the second episode of our #GRWM series in partnership with La Mer, co-founder and creative director of The Daily Edited, Alyce Tran, let's us into her office and 5 minute (or less!) routine. 
Beauty in the context of real life has always fascinated me. Much more than soulless advertising. I mean, there's a place for both, but I connect more with the former, I think that is true for most women. When the subject is a bad arse woman, (Oh haiiii, AT) who is one of the most successful women in the Australian fashion industry, even better! For all of her success in business, and creative – she's dreamed up and executed tde. campaigns featuring the likes of Hailey Baldwin and the Stallone sisters, NBD! – she's actually ridiculously humble, kind, and generous in the lift-each-other-up-kind-of-a-way.
Alyce is a true #tomboybeautygirl, in the sense that she invests in products that work, and look good in her bathroom. Much of her business' presence is on Instagram, so it's a fair point. When I spotted her La Mer heavy #shelfie at the Soho Grand Hotel when I was visiting her in New York, around the same time this project came up, I knew she had to be featured.
Read on, for information on the products that feature (in Alyce's words, with some editor's notes from yours truly):
---
SKIN:
Post cleanse, I apply La Mer The Treatment Lotion ($165)  with a cotton pad, which primes my skin to really receive the skincare that comes next. Ed Note: it's super hydrating and gives the same skin feels as eight tall glasses of water per day.
I've pretty much used La Mer skincare exclusively for as long as I can remember. I am all about the eye cream, especially when I am feeling tired, read: most days. This one is La Mer The Eye Concentrate ($285), I tap it into my under eye area, which makes me feel more awake and much less puffy and dark around my eyes. Next is serum and moisturiser. I don't like wearing anything too heavy during the day and think of my skincare as the REAL foundation. The serum I am currently using is La Mer The Revitalising Hydrating Serum ($340). My moisturiser of choice is La Mer The Moisturizing Soft Cream ($242), I've tried most of their moisturisers but the texture of this one is super light-weight which is great, because I don't like wearing anything too heavy, especially during the day.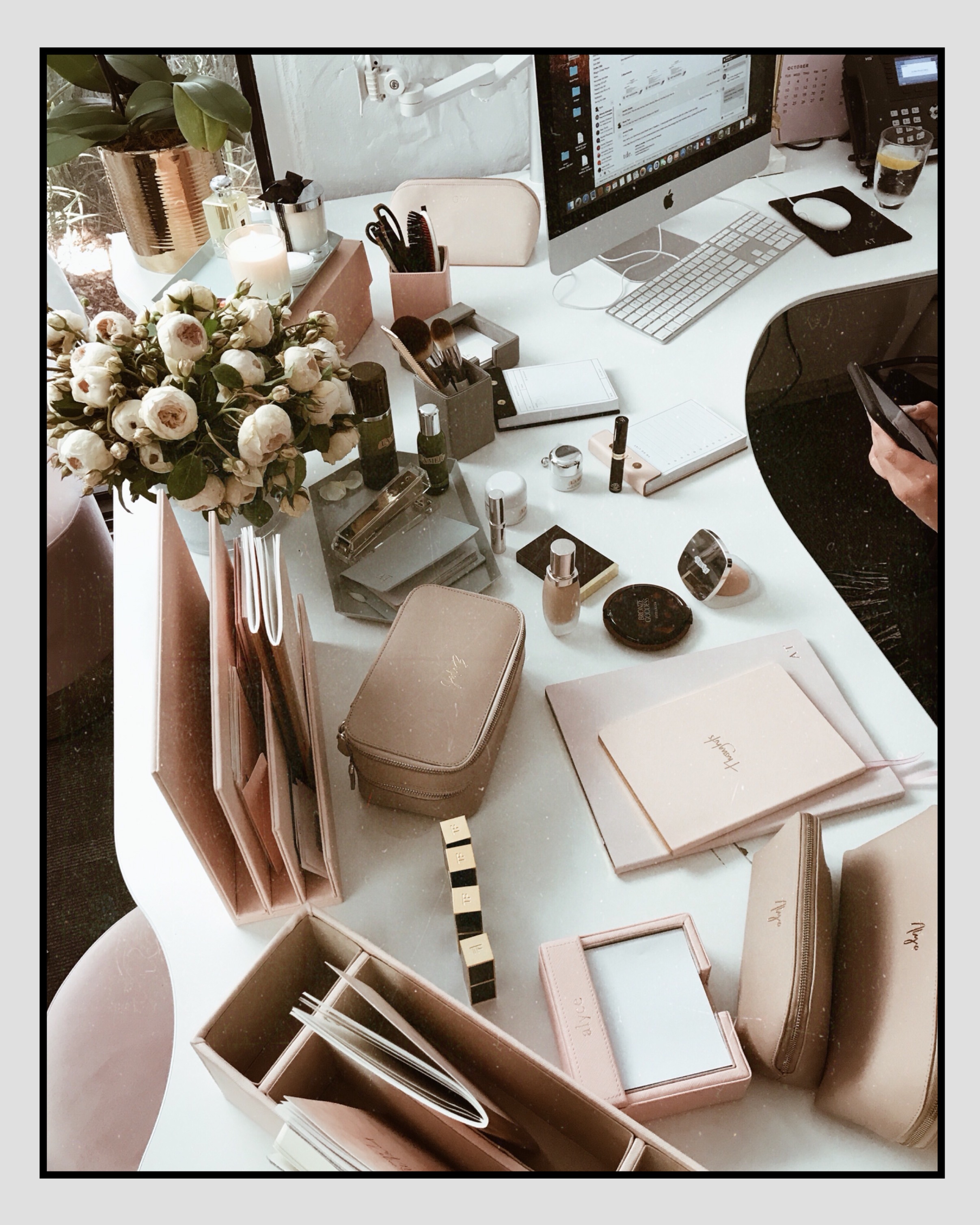 ---
BASE:
For me foundation is about evening out skin tone and just generally making me look and feel more together. I don't feel the need to apply or lot of La Mer The Soft Fluid Foundation SPF 20 in Honey ($200). I use this matching foundation brush ($120), it's no nonsense, and allows me to focus on where the product is needed, and really work it into the skin. Next is The Concealer ($150) I apply on my fingertips, not a brush, from the bullet, and cover any redness or spot situations. The warmth from my hand helps the product mesh with my skin.
La Mer The New Sheer Pressed Powder ($175)  is the newest addition to my makeup bag, which is pretty tightly edited. When I have a long day in the office, or back-to-back meetings I need my makeup to stay in place, but I don't want to look cake-y. It's the first powder I have tried that is undetectable – you actually can't see it on the skin – and it doesn't feel like its suffocating.
Ed Note: All of La Mer's makeup products feature the brand's trademark skincare active, Miracle Broth™, which is harvested from the sea and in essence is restorative, hydrating etc. It kind of dispels the belief that makeup is bad for your skin, in the same way that BBs and CCs have, because it is essentially skincare that doubles as makeup.
---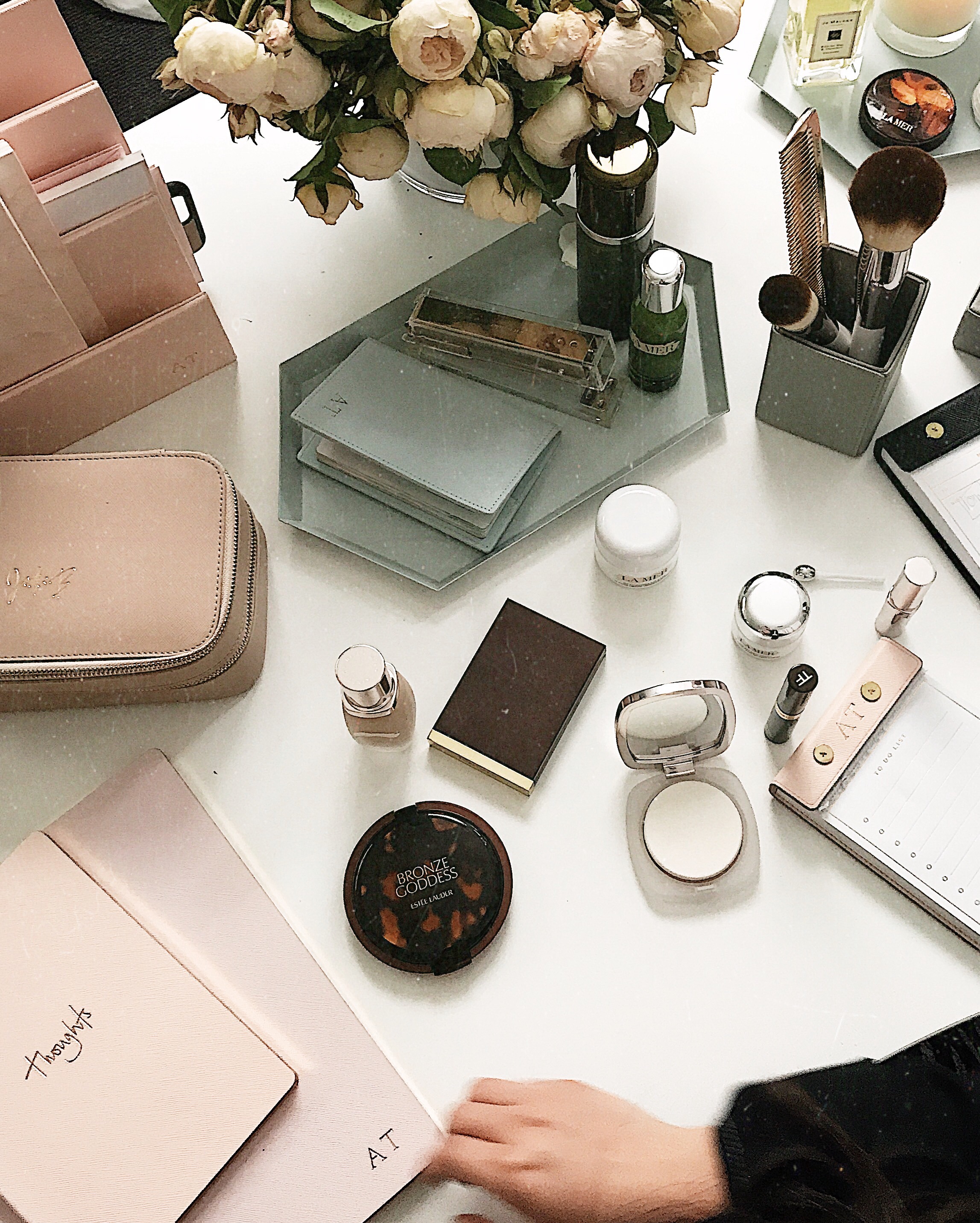 CHEEKS:
I prefer powder over cream highlight, and feel like this wakes me up. I am just applying Tom Ford's Skin Illuminating Duo ($123), with a combination of the lighter, white based shade, and the bronze shade, with an angled cheek brush from Bobbi Brown ($77) where the light would usually catch.
---
EYES:
I don't wear mascara, but I do like a coloured brow gel. I angle the brush upwards to transfer the product from the brush to my brows, and then sort of buff it out and fix it up with my fingers, I want everything to stay natural.
---
And that's my everyday makeup look. It's all about the matte skin, with highlight in the right places and a natural, brushed up, brow situation. The best thing, is that I can do it in 5 minutes or less.
Full disclosure: this post was created in partnership with La Mer
---
Videography: Ryan Barry-Cotter
Video Assistant: Ryan Lee
Words, photography, production, creative direction: Chloe Brinklow