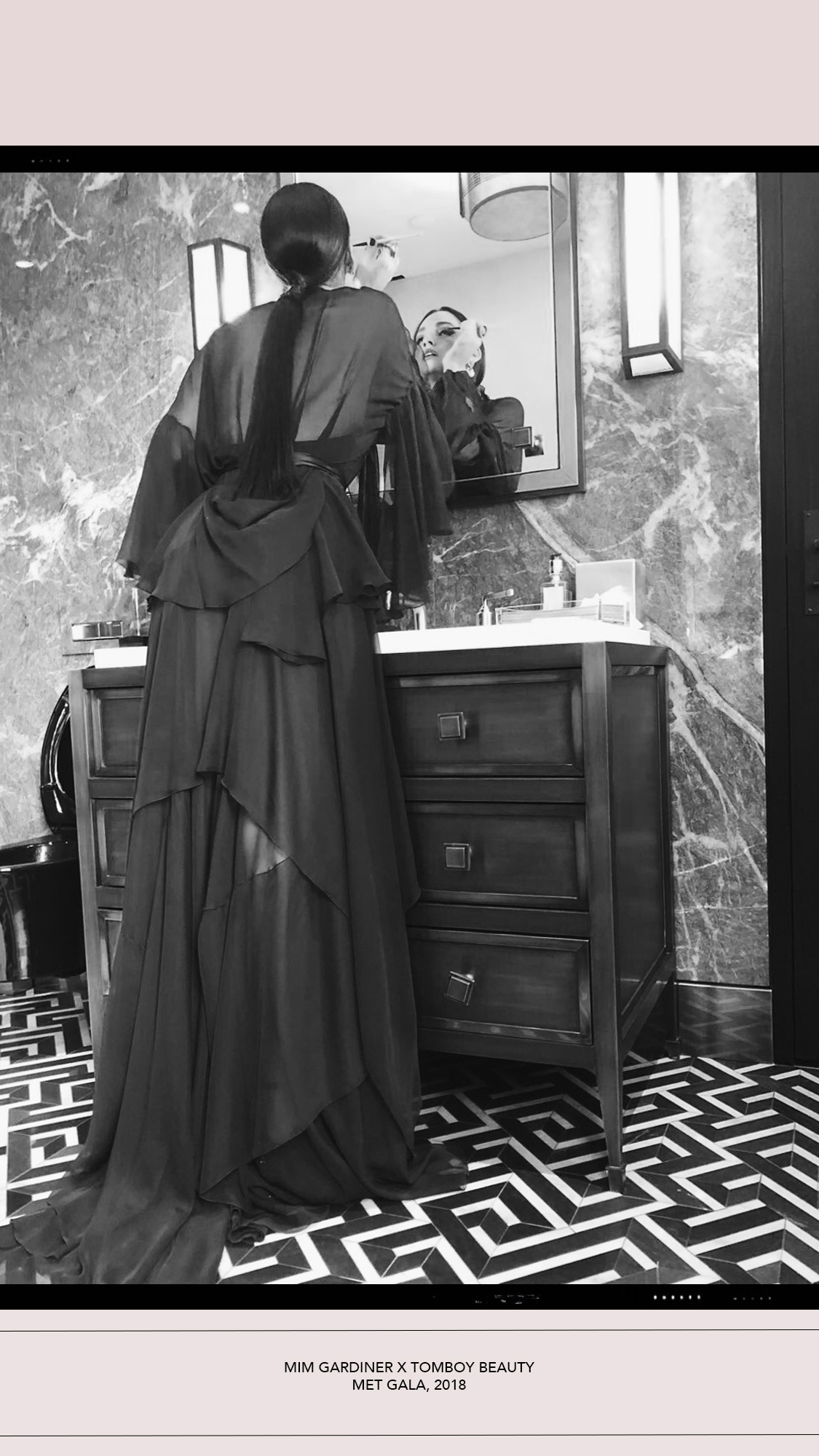 What does an Australian Global-PR-boss living in New York City do when she scores a coveted invite to the Met Gala 2018. Freak the fuck out, that's what! No stranger to a red carpet, Mim Gardiner's day job sees her attending these kind of events, around the globe on the reg'.
But still… MET GALA!
Mim talked TB through her MET PREP: diet, exercise (or lack thereof), her very low, very long pony, creating a dark plum smokey eye on her hooded lids, and let us in on her (hilarious) inner-dialogue, of all phases of  the biggest red carpet on the calendar…
---
On getting the invitation:
There are several moments of excited celebration. I think a really girly "woo hoo" kind-of-noise passed through my lips. Followed by several minutes (hours) of Met Gala Inspo googling, which catalysed several hours of panic that I was WAY out of my league, followed finally by several emergency calls to professionals.
And then all was well in the world again.
 On the Dress: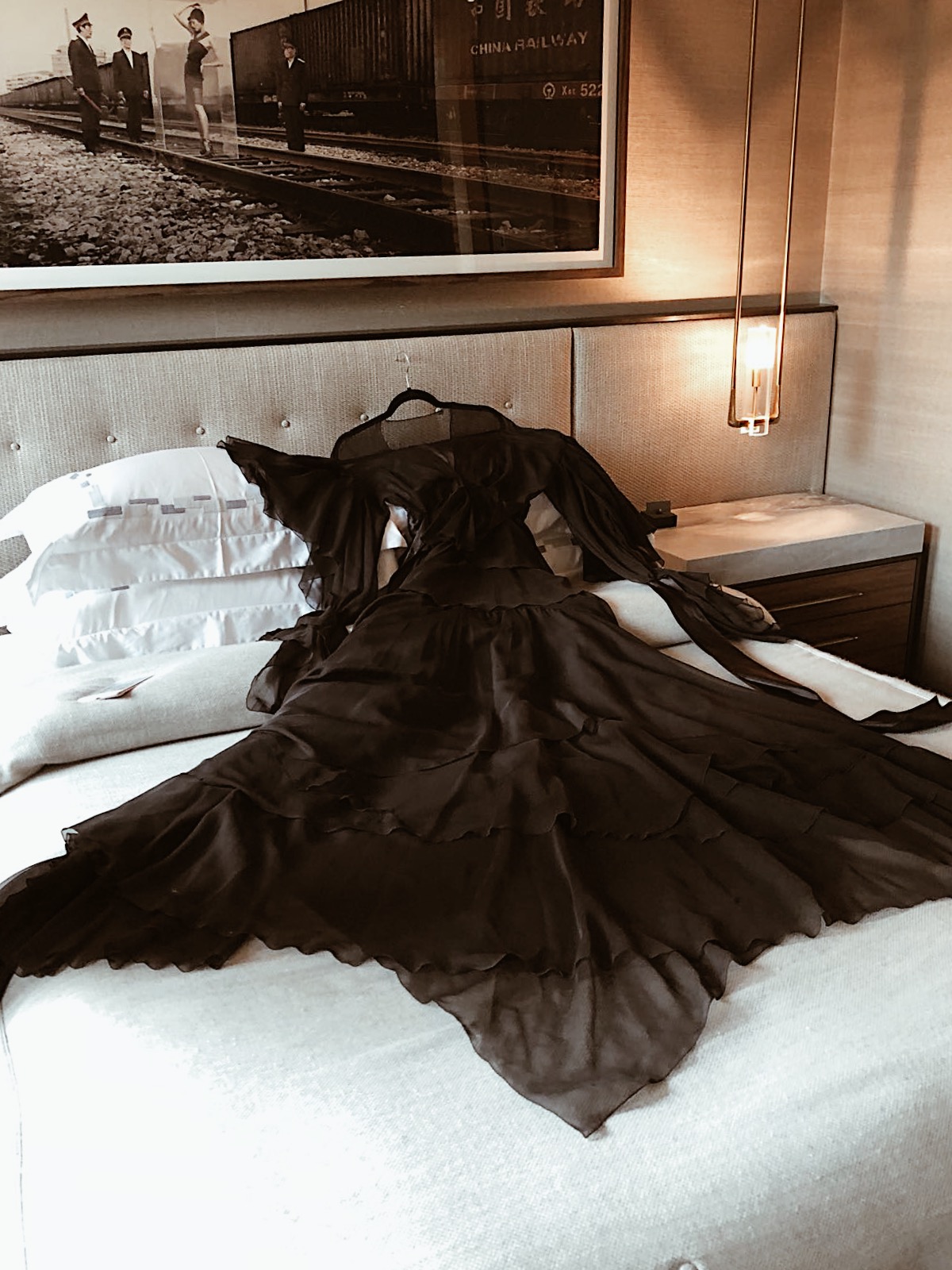 I've been working with Stylist Patricia Black from Albright Fashion Library in here in New York for some time now, just for special events. She is fabulous, formidable and I adore her. For Gala events, Patricia always comes up with something magical. For gowns, we've had great success with looks from Elie Saab, Balmain, Mugler, Givenchy, Dolce & Gabbana and Versace. Because I am tall and have a bust, typically something form-fitting, sexy, but elegant tends to suit me better. We always, always start with the dress, then build out the accessories.
For the Met Gala, I wore a dramatic, black, sheer Alexandre Vauthier gown. It was tiered with lots of billowing layers cascading down into a train, and it had a plunging neckline and cinched ribboned waist to give shape. It was a little bit Gothic, which was just perfect for this year's "Heavenly Bodies" theme. The jewellery was WOW. I had the great honour of wearing some custom pieces from Christophe Danhier. The necklace in particular was exquisite. Called "The Northern Star", it features a 10.6ct Australian Opal from Lightening Ridge, wearing an opal was really special for me as an Aussie, as well as 1724 white diamonds, 15.3ct in total. The earrings were Blue Chalcedony, Blue Sapphires, Green Garnets and diamonds, and the ring was Black Opal and Black Diamonds. I believe the set was insured for around $500,000. No pressure!
For the after party I de-jewelled and changed into a short, metallic Balmain little number, for dancing!
On Met Prep:
All I can say is LOL. I ramped up the exercise to 1 Pilates session… So in total, I went to pilates once! Jokes aside, I think because I knew my dress was not form fitting, I just didn't have the pressure of exposed arms or bodycon to force me into saying nay to my daily croissant and yes to Equinox.
I did get the facial of my LIFE the day before from Eileen at Tulura in Tribeca. I could not recommend more – best facial I've ever had, and I also learned a lot. Nails and spray tan day before, and a fresh color a few days prior, but I have to admit, I didn't do that much in the way of serious prep. Next year, I promise to have my shit together with diet and exercise!!
On Makeup:
I did my own makeup. Honestly, I always do because I've had terrible experiences getting my makeup done professionally (I'm all ears for great recommendations though!) I also have weird hooded eyelids, and I swear, unless you have them you don't know how tricky manoeuvring eye shadow is. I took cues from the slightly gothic dress and hair concept we went for, and played up the eyes using dark purply tones from the Tom Ford Eyeshadow Quad in Honeymoon, drawing the eye out in a wing look, loaded up the eye shadow, eyeliner (Bobbi Brown Gel Eyeliner) and lashes (Dior Show Mascara). To balance, I kept it light on the cheeks (Laura Mercier Baked Blush) and just a muted natural lip (lined and filled with a Laura Mercier natural pink tone), which is easy to maintain. I've learnt to steer clear of loud, tedious bold colours.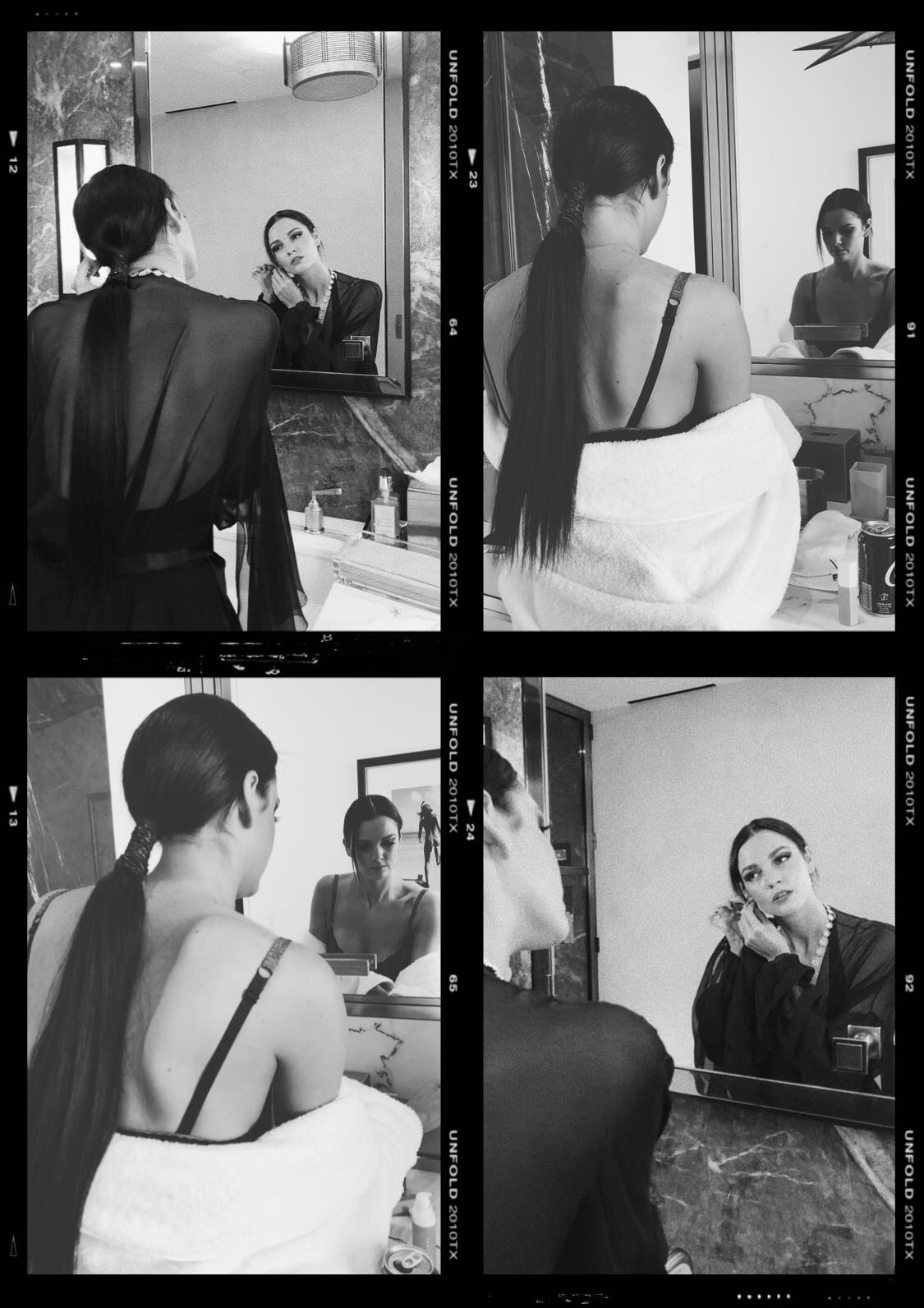 For nails I wore OPI Malaga Wine, and also used a little Laura Mercier Illuminating Tinted Moisturiser on my cheeks and décolletage, which always makes you GLOW. Highly recommend this on the legs too, if wearing a short dress.
I wore Le Labo fragrance in Bergamonte
On Hair: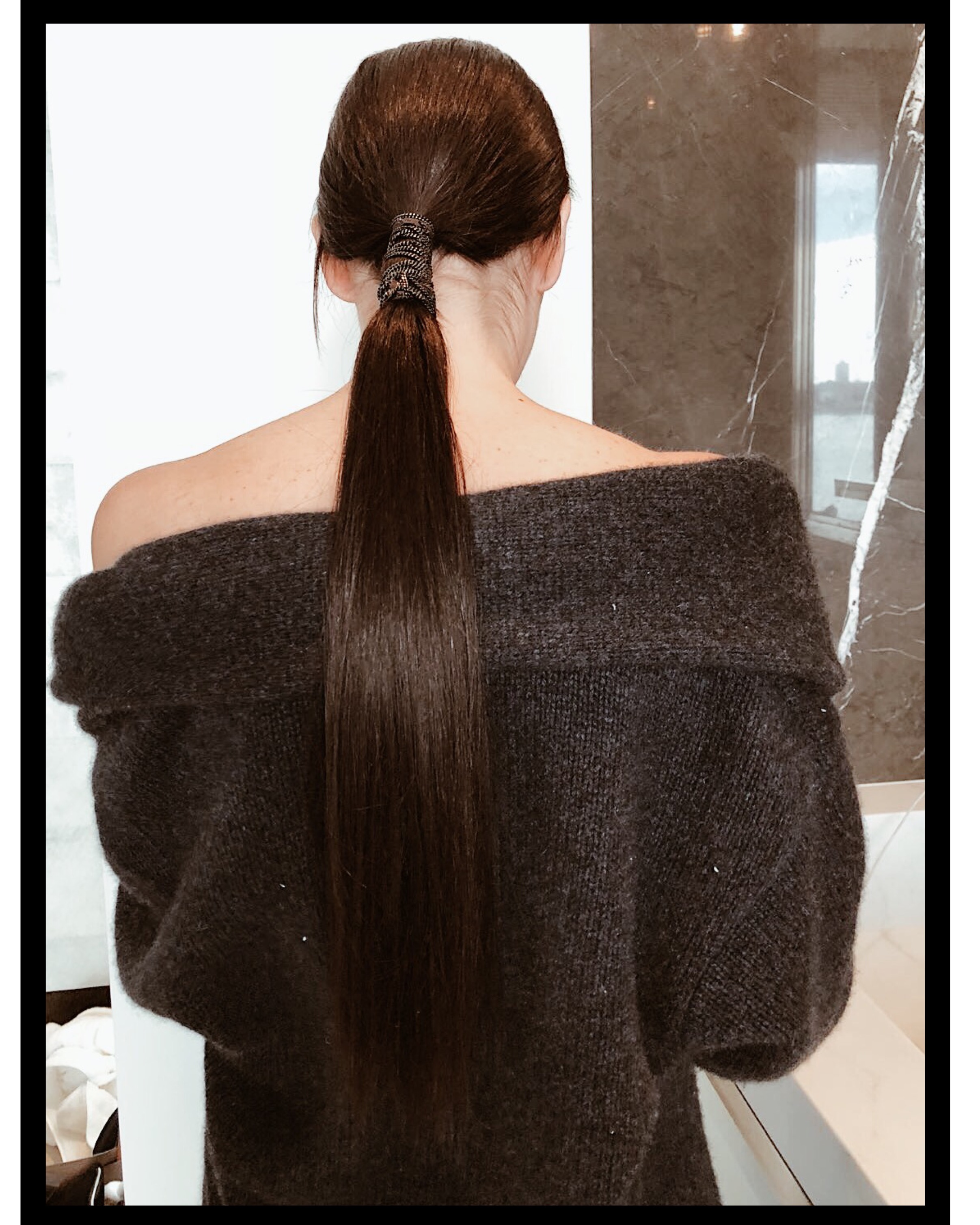 Hair Stylist Azzy Parsiani created my hair look. I work with Azzy a lot for events. She started with the dress, and then created the hair look. We did a sleek very low, very long pony, using extensions. She uses amazing quality European hair, and she sewed the clip in pieces herself, and also dyed the pieces to custom fit my hair and scalp. She then sewed in a chain detail which she wrapped around-and-around the base of the pony, which looked amazing. She left one piece out, in front of my face which drew attention to the eyes and was a fun 90's detail. She used Leonor Greyl Eclate to keep everything in place, and the Serum De Soie to keep it all smooth and give shine.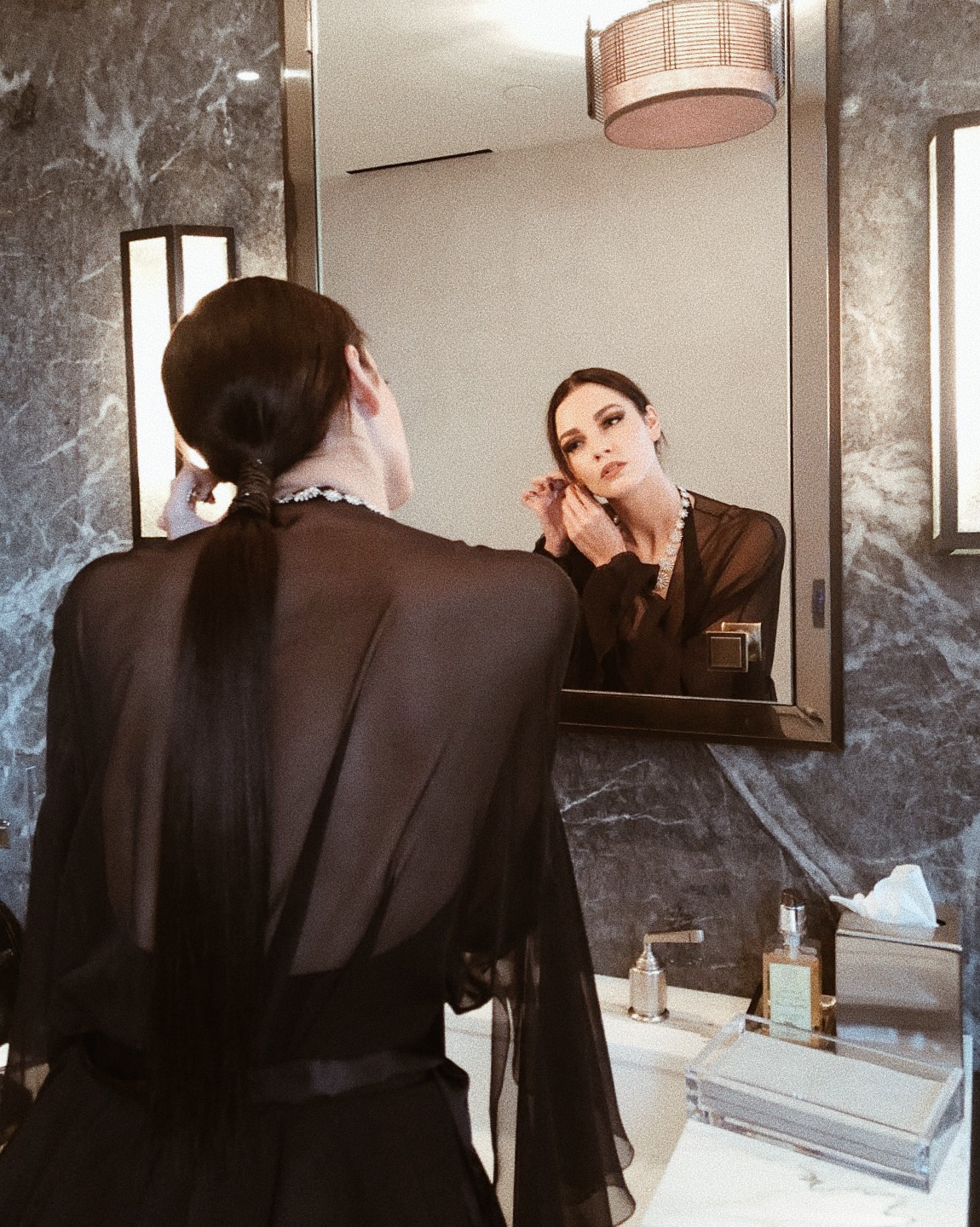 ON WHAT GOES THROUGH YOUR HEAD EN ROUTE:
Many things…
Serious regret, I didn't eat lunch. When will they feed us again? Will I get too drunk if I eat on an empty stomach? Am I going to faint? Can we stop at Shake Shack en route? Did I put deodorant on?  Shit, I didn't check my make up in the natural light, do I actually look like a troll doll? Don't trip, don't trip, do not TRIP… Side note: I did I trip. It wasn't J-Law bad, but it was up there.
Quite honestly I was a little nervous, which is a bit ridiculous because I'm not a celebrity who has to feel the pressure of getting the right shot in front of the massive press pit… far from it. But there is a lot going on, and for even the most confident person, these events can create a little social anxiety when you enter the room, slash hit the carpet.
ON THE HIGHLIGHT OF THE NIGHT:
Madonna's surprise performance of Hallelujah, originally by Leonard Cohen, and performed with the Sistine Chapel Choir who were all hooded, singing in formation and in perfect harmony. It was breathtaking, and incredibly moving. And it was all the more incredible as she happened to finish the performance standing on a piano, surrounded by the choir, directly in front of me. As a singer myself, this was a powerful moment I will never, ever forget. There were tears… Thank god for waterproof mascara!
---
---
Interview: Chloe Brinklow
Images: C/O Mim Gardiner X TOMBOY Beauty
---
---