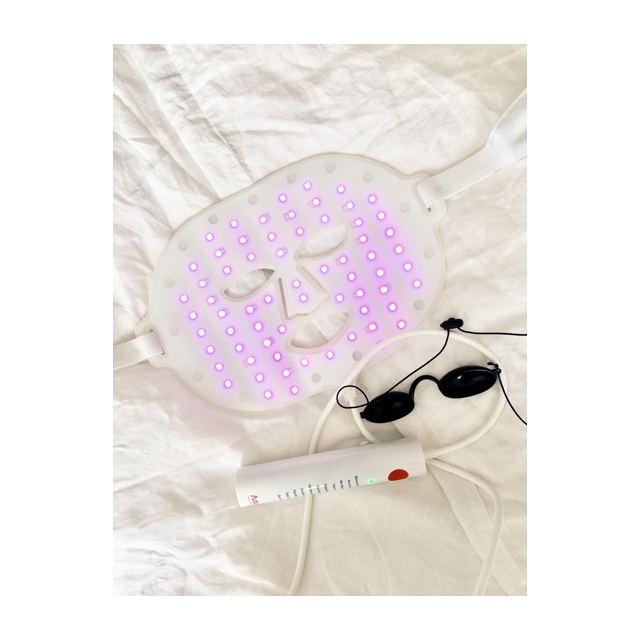 If you are unsure what LED Light therapy is beyond seeing it on treatment menus at beauty clinics, or the at-home-method as advertised on the back of the bus you take to work, here's a crash course: The acronym… Light Emitting Diode, which is essentially a computer chip encased in a glass-like resin, which emits therapeutic wavelengths of light energy. Science, hey!
Basically, when the light penetrates into the skin, photons energy is transferred to the cells. Cells convert this energy into ATP  or cellular fuel, which  boosts cellular activity. The boosted cells will work at an enhanced rate and stimulate the body's natural rejuvenation responses. In other words, it speeds the good shit up.
Repeated use of LED light therapy has been shown to increase the desired effect – healthy, glowy, youthful, plump etc – because collagen production is increased. It can help with acne, scarring, and skin conditions like eczema.
We're into it.
A $200 session works! Multiple sessions at the clinic can leave the skin almost too good. But what about the at-home options? After our Ed, Chloe worked on a campaign with hair and makeup lord, Max May who credited his FO skin to the ADURO Australia Personal LED Mask, so we turned it into a story, for your reading pleasure:
---
TB: What was your skincare routine while using the LED Mask?
MM: I use my usual skincare routine throughout the recommended usage period (FYI: 8 weeks). Dermalogica Skin Hydrating Booster and the Dermalogica Solar Defence Booster SPF 50+ through the day. La Mer The Genaissance de La Mer Serum and La Mer The Infused Lotion in the night along with  La Mer The Eye And Expression Cream. It all starts with cleansing with the Skinstitut Glycolic Scrub 14%. I also refrained from using actives for the treatment period, just to experience its full potential.
TB: Where are you at in the process?
MM: I have been using the light mask for a little over a month now, and I'm super impressed. My skin is glowing and holding hydration so much better since I started… and I drink a LOT of coffee
TB: What about the settings? What's your approach?
MM: I have personalised my treatment to include the Skin Booster, which is a red light that is great for anti-ageing. I mixed up my sessions between that, and the Skin Balancer (green light) while I was away in Bali recently, which is great for reducing pigmentation that I tend to get around the corners of my eyes and temples. Let me confess: I really did a number on myself in the sun while I was there… and the pigmentation didn't come up."
---
TB's Verdict: I gave the mask a red hot go for two weeks prior to penning this story, and can deduce the best thing about it, is let's those who want to go a bit OTT with their skincare (Oh haiii!), from the comfort of their own home, get it done. Come 8pm, all you need is good podcast and a comfortable place to park it for 20-ish minutes while the light works it's magic. Side note: Make sure you are out of sight from your significant other, or have pre-warned them, this device makes sheet masks look… cute! But is well worth it, with skin woes improved, every second night at-a-time.
---
Words and interview: Ella Jane