I find it difficult to write about friends, I don't want to come across to gushy, but I want the world to see what I see. ELLE Australia's Contributing Fashion Editor, and freelance stylist, Emma Kalfus is a long-time friend, she is the kind of epic I wish I could bottle-up.
She's natural in beauty, and nature. Talented kind and humble. For context, when asked if she was to be an item of clothing, she answered, "A bikini (she's happiest in the ocean), or a pair of jeans". 
We followed her around the day she styled Hansen & Gretel's Mercedes Benz Fashion Week show, so you get insight in to her low-key approach, and nice girl persona…
6:00AM: I wake up between 6:00AM and 7:00am. Quite often I go and get a coffee and go for a jog, followed by breakfast at Shuk. My order changes every day – it's anything from Shakshuka, or pancakes, or scrambled eggs. The best part about living in the east is seeing the ocean in the morning at the end of my street. Every other day I will go down and see the beach at Bondi, and do Bondi to Bronte, or Bondi to Clovelly.
7:00AM: Usually I wake up and have a shower and wash my face with a Dermalogica Daily Microfoliant and wash my hair, I am currently using Mr Smith Shampoo and Conditioner. I wash my hair two out of three days. And then I wack on some Dove Tinted Moisturiser in Honey, I have been using it since I was 15. On the show day for Hansen & Gretel, I actually didn't wake up too early, it was 7:00AM, we had a late bump in time. My morning changed a little bit, I went and got  coffee and breakfast and then I came back printed out model cards for the Anna Quann show the following day. Then, I checked my kit and supplies and got on the road.
8:30AM: I put mascara on in the car usually. I also put some Mr Smith Serum (it's like a leave-in conditioner) in my hair to get rid of fly-aways. I picked up my assistant, stopped off and got coffee at Shuk Bakery and then we went via Officeworks to get a few bits and pieces.
9:30AM: We arrived at Carriageworks. I didn't think about dressing myself until the day, so that was a hot mess. One thing about being a stylist is that you're too busy styling other people – I styled Sarah Ellen for the week, and a shoot came up last minute – so I didn't have a hot minute to pre-plan my outfits. I was wearing black and black… Safe! A turtle neck and black pants, that's kind of what I am most comfortable in. I am usually in jeans or black pants. I think I wore a black ballet flat.
10:30AM – 2:00PM: Briefing and prep. I take my job really seriously – I think because it was the first show of the week, I was probably a little more serious at the show, but we definitely had fun, and I think being 2pm in the afternoon, it allowed us to have more time in the morning to play around, we had the hard hats on, and everything was really organised and cruisy.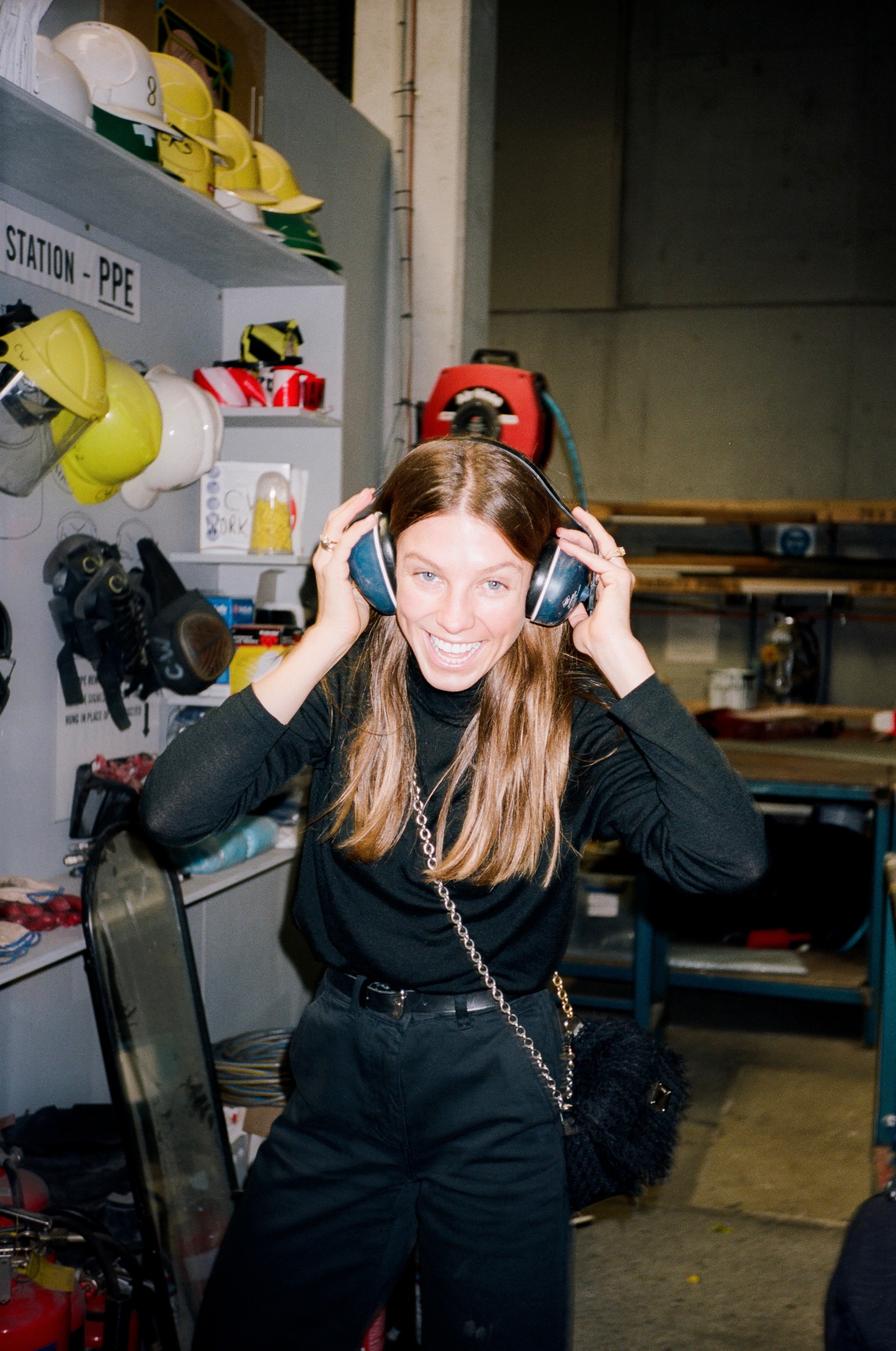 Being a stylist for the fashion week show, means I work really closely with designer, Ainsley Hansen. We kind of knew who our girl was, the Linda Evangelista, '90s, really tanned, you know the shots I am talking about…
And we kind of wanted to come up with a retro surf feel… So we went through old surf DVDs and influences from Latin America, for music. Weeks before we met with our producer Cat Rose, and Gary Sinclair on music. And then we did a casting. It changed a lot from start to finish, which is good, it's a process!
2:00PM: Show time. At this point I felt quite nervous, kind of excited, a little bit giggly. Ainsley and I stand front of the line making last minute adjustments checking everything is tucked neatly, styled correctly, that the shoes are tied, jewellery is in the correct places.
In my sexy black bum-bag I had hollywood tape, a phone cord for charging, pins, nappy pins, a mini lint roller, needle and thread, bulldog clips, that's about it. My phone too, when it's not in my pocket.
2:30PM: By the time the finale comes around – you're loving it – everyone is having heaps of fun. You're kind of just riling up the girls and making sure their energetic and having equal amounts of fun.
 4:00PM: After wrapping and taking a moment to celebrate after the show, I actually had to take my car in to get fixed because I had someone slam in to the back of me.
5:00PM I go to barre whenever I can fit it in, sometimes I make it a lunch time class, sometimes I make a 5 o'clock class, or if I am really early I will try and wake up and go to a 6:30am class.
6:00PM: On show day, I caught up with friends and broke Month off May…  whoops! On a normal afternoon or evening, my husband Yoni and I call each other of an afternoon and discuss what is for dinner, and quite often that will be inviting friends over or going over to friends, and then we will have a glass of wine, and have good food with good company.
9:00PM: Before bed, I plug my phone in in the kitchen to escape technology. Then wash my face with a cleanser and Dermalogica Microfoliant, and then put on La Mer Moisturiser and a La Mer Eye Cream. And then if I have a good book I will read a few pages before I pass out, I have just started reading, A Little Life. I am only just into it.
10:30PM: When I had a full time job I would go to bed at 9:30pm, now that I am freelance I go to bed at 10:30PM.
The words I live by? Never stop!
---
Photography: Ella Jane X TOMBOY Beauty
Words and creative: Chloe Brinklow
---