6:45 am: I am awake, I am freezing, and I am hitting snooze.
7:20 am: I am awake again, still freezing, now stressed. I am shooting Jess Pecoraro today for a TB fashion week diary and need to be in Bondi at 8:30 am. So I need to haul ass into the shower STAT. Unfortunately/fortunately fresh linens have got me in their grips so I stay in bed for 5 more minutes.
Once up, I wash my face with my trusty Avene Tri Xéra+ Cleanser, slap on some Bioderma WHAT? and La Mer NEW Cushion Foundation in Warm Porcelain which is HEAVEN, and work on today's outfit. I choose a vinyl Maje Jacket, a White Topshop T-shirt, Black Coated Topshop Jeans which look like they have been sprayed onto me. They are both uncomfortable, and excellent, I pair with a Naked Vice Belt. If asked to describe this look I'd call it slutty Spice Girl meets Matrix character. I don't know if I'm even feeling it, but need to leave. My hair furthers the '90s vibe – I am wearing a low-bun secured with a tortoise-shell butterfly clip – with my effed up bangs framing my face.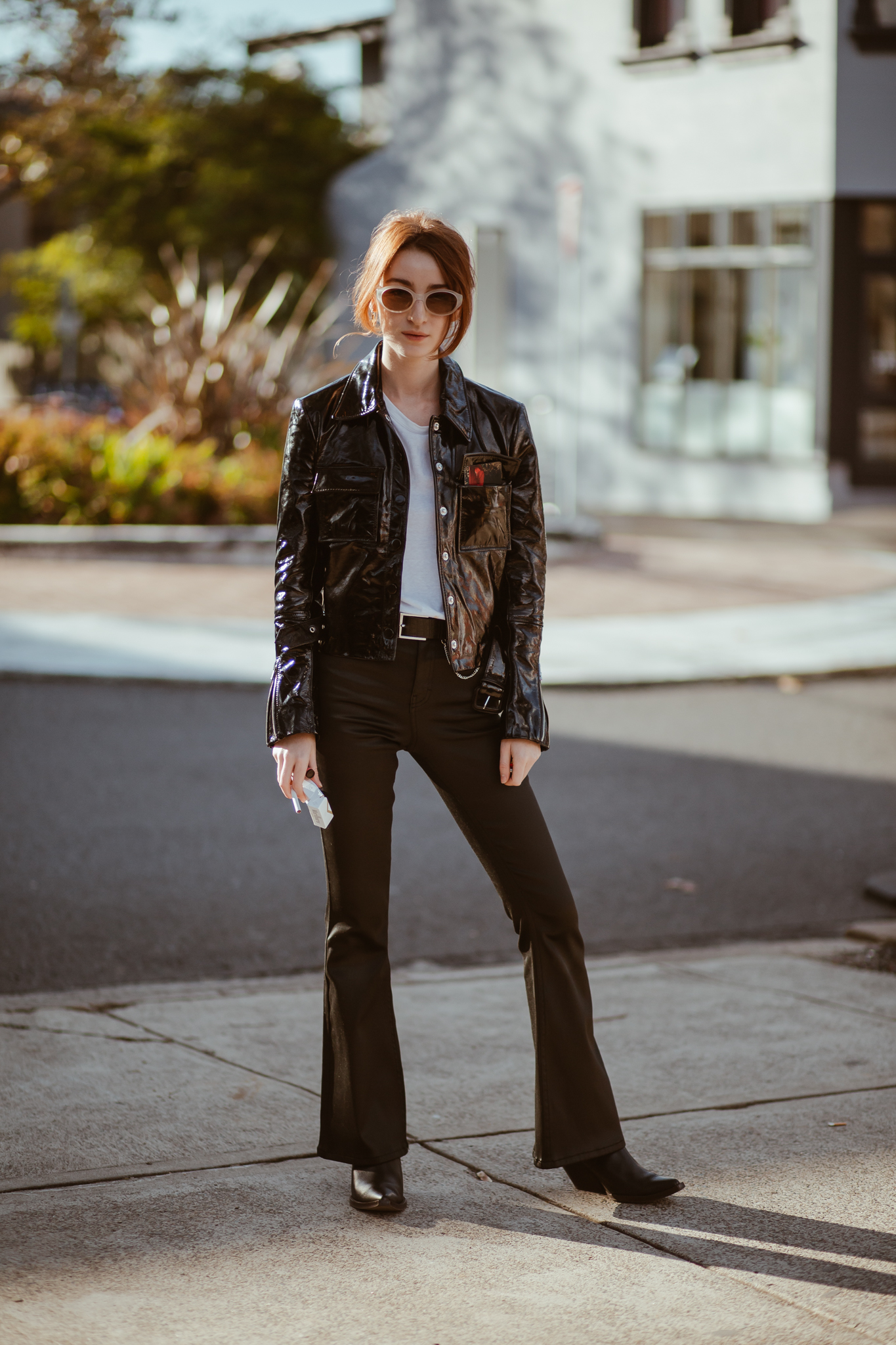 9:20 am: I've met Jess, we are at KODA in Bondi where she is getting her hair blown out and discussing her schedule for the day/week which sounds even busier than mine and I decide to stop complaining.
10:00 am: Trief to take the train to Carriageworks, took me 40 minutes, do not recommend.
12:00 pm: I am now backstage at Pereira Fitzgerald shooting  Jess, who is styling the show, and Kat Wu who is walking. The energy is high and everyone seems calm and pleased, we dart between the two, getting the shots we need before legging it to watch the show around the front. I haven't had a chance to eat yet today, so neck one of the San Pellegrino sodas at the show which instantly made my stomach ache.
3:30 pm: The show was beautiful, I'm obsessed with silks this season, and every season, so anything that includes silks, I'm thrilled about. I meet my favourite people (Photographer, Brooke James, Stylist, Sarah Birchley, and Model, Lola Van Vorst) outside the show and we try and clamber through the pap-pit and influencers in search for food. I have to be back at 4:30 pm and if I don't eat soon, emotions will be heightened.
4:30 pm: I've wolfed down half of a smoked salmon sandwich that had potato INSIDE it, and am walking back to the venue to shoot street style with the girls from Who What Wear Australia (also some of my favourite people).
5:00 pm: Done! I'm done for the day. Just kidding, I'm heading home to write this article and edit the images for other fash week stories, before heading back for the Romance Was born show tonight. I'm planning on doing edits from my bed with my favourite Dr Jart+ Ceramidin sheet mask on and magnesium spray on my legs, my feet at this point feel like they have been hanging out inside a Great Danes mouth for a few hours.
10:30 pm: Romance Was Born was heaven. Dinner and a show complete with sequins, drag queens, Judy Garland impersonators, bejewelled Yamulkas, wine, bread, the lot. Sign a bitch up.
11:00 pm: I am now back in bed, in a robe writing the very end of this story. I realise I've pocket-deleted my mail app and have been locked out upon re-downloading. Forehead slap. Will deal, in the morning.
Good night.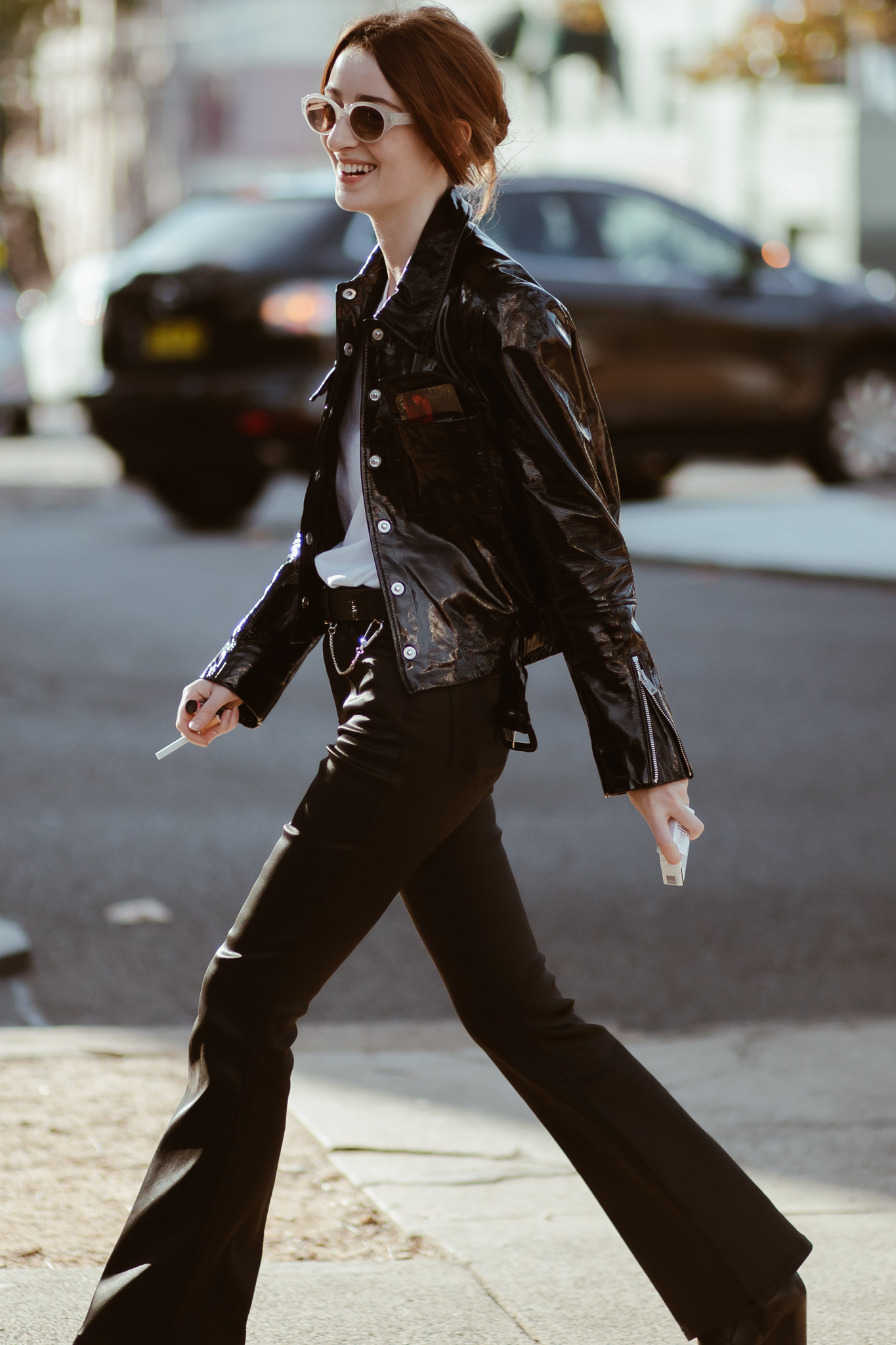 ---
Images: India Hartford-Davis
Words: Ella Jane