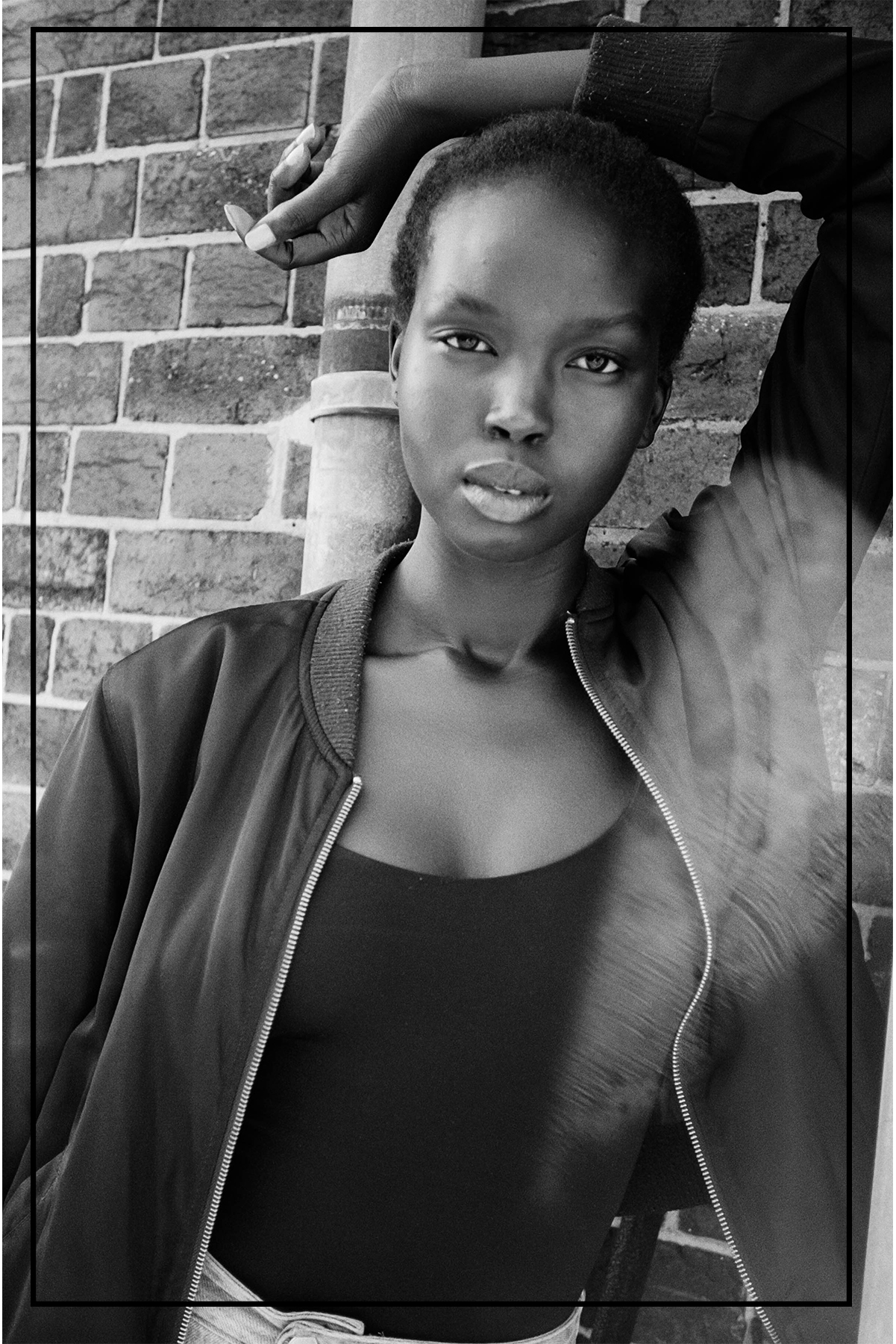 Ajok Madel is without doubt about to make waves. Fresh off the runway at #MBFWA where I hassled to shoot her all week, she gracefully coordinated her busy schedule to fit me in, I stole 15 minutes post show, pre-meeting.
On a two-week holiday to Sydney in January which was meant to be just – a holiday – Ajok's career kind of took off. A few months later she has already ticked off bucket-list worthy career goals including; walking a number of shows, shooting campaigns, and working on secret projects (which may or may not involve Chanel).
I was genuinely blown away by her warmth and honesty when opening up about topics girls tend to shy away from. She is considered, and knows exactly what she wants to see from the industry she is now a part of.
---
ASL:
18, female, Sydney
How you got your start:
I was working at McDonald's in Perth and customers would always come up to me and say, "You shouldn't be working here, you should be modelling!" So one day I just woke up and thought, "I'm going to actually do this!" And so I emailed my now agency some pictures and they contacted me requesting to see me the next morning and it's just gone from there.
Fav gig:
My first campaign, which was Kevin Murphy.
When I'm not modelling…
I'm always trying to do something that I'm enjoying but relaxing at the same time, like studying and acting.
You in three words:
I'm hard working, love smiling and I love learning new things.
What does beauty mean to you?
To be confident.
The best and hardest thing about being a woman in 2018?
The best is definitely and always should be, women knowing that they are worth more. The hardest is sitting on set waiting for a makeup artist who probably doesn't know how to do makeup on dark skinned girls. For example, I sat down at a makeup station and the makeup artist told me that she couldn't do my makeup because she didn't know how to work with my skin, so she told me to sit at a different station and wait for someone else to do it. I know that I look different from other models and it isn't a pleasant feeling when a makeup artist sees you and start panicking. It's 2018, and I expect every makeup artist who works in this industry to know how to work with all skin types.
Did you see any progression with the diversity of the casting in Australian shows this year or do you think that we have a long way to go? 
I can't really say much as this was my first Australian fashion week but from what I know and felt, I feel like we are slowly improving on diversity but we still have a long way to go. I'm expecting a lot more from Australia since it's such a multicultural country.
What would you like to see more of in the fashion/beauty industry?
For Australia to continue working on diversity.
Women you most admire?
My mother, and Naomi Campbell
Advice for this generation of women?
Live your life, and chase after your dreams.
All time fav beauty prod?
Mascara, I don't have a favorite but right now I'm using Tarte Lights, Camera, Lashes Mascara.
Beauty advice?
Just take good care of your skin!
What drives you?
The goals I have set for myself.
What startles you?
The idea of waking up one day and all of this being a dream.
What's next for you…
Overseas.
---
Words and photography: Ella Jane
Model: Ajok Madel @ Vivien's