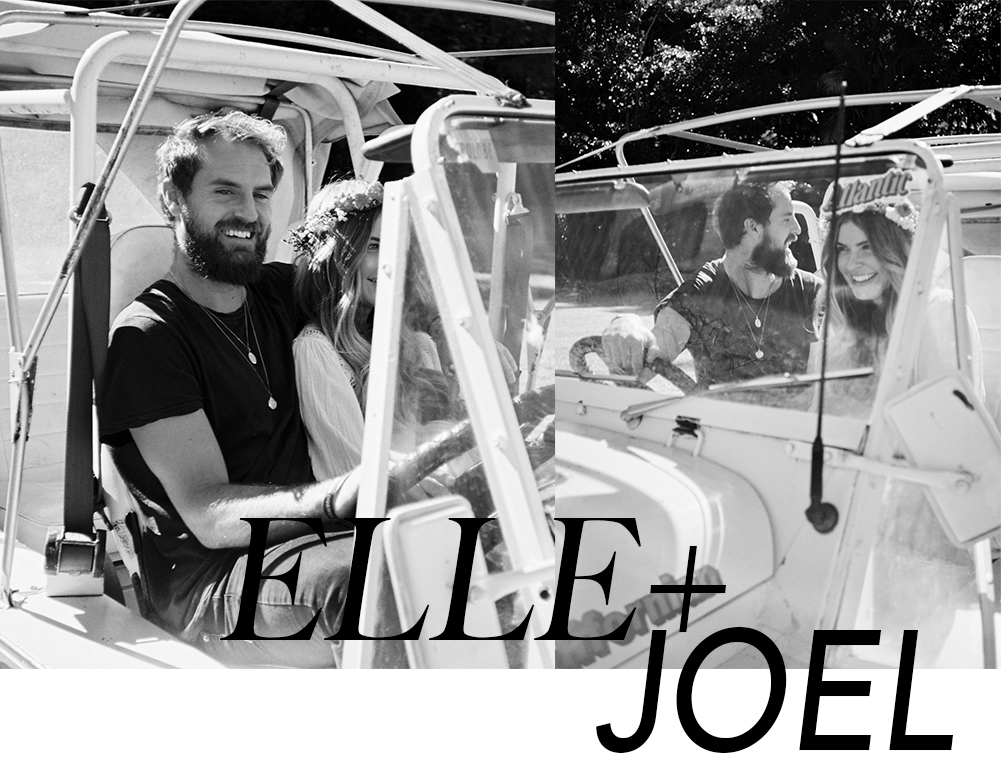 Elle Ferguson and Joel Patfull are the kind of couple that you stalk on Instagram but never expect to REALLY be that good IRL. FYI –  they are better. Their adoration for each other is obvious, their banter – equally important – is 10/10. While spending a weekend with the couple in Byron Bay for Splendour in the Grass (as guests of Kiehl's) the down to earth, super genuine duo opened up about love, travel and his and her beauty.
---
---
TB: Tell us how you met…
Elle: We like to say we met through friends… however the true story is something we keep close to our hearts and only a very few people know. I can say the universe brought us together and we are meant to be together.
Joel: What she said… haha! I like to think that we were meant to be together but just met through a different way. Let's just say through friends.
TB: Was it love at first sight?
Elle: It was definitely something… I'd never felt the way I did when I met Mr. Patfull and life has been pretty amazing since that day.
Joel: It just felt right. I knew from our first date that she was a pretty special person.
TB: How do you start your mornings? Together or apart?
Elle: My schedule is pretty crazy, but no matter what we always give each other a big hug. The best mornings are when Joel goes for a surf or a jog and I go to the gym and then we both are home together for breakfast.
Joel: We start most days together. I like to get up surf. If there's no surf I like to run. If we're lucky enough that we don't have anything on, breakfast at our favourite cafe is the perfect way to start.
TB: What do each of your beauty routines consist of?
Elle: I like to keep mine pretty simple… I think I've finally worked out what my skin needs (I'm knocking on wood)… I get a weekly spray tan, I always use Kiehls Crème De Corps as it keeps my skin super hydrated, I very rarely get my hair coloured or cut and I can't live with my curling wand and dry shampoo, Lucas Paw Paw ointment is a must.
Joel: My routine consists of face wash and face moisturiser. That's literally it. I spend a lot of time in the salt water and training but the Kiehls Facial Fuel works a treat.
TB: On the topic of skincare… we got to experience SITG17 as a guest of Kiehl's. What are each of your favourite Kiehls products?
Elle: So, I have to let you in on a secret. I've actually been using the Grooming Solutions Nourishing 2-in-1 Shampoo that they gave Joel and I'm ADDICTED. My hair has never been so full or volume and amazing… I kid you not the best ever. Also as I said Creme de Corps on my body and I love all the serums
Joel: My favourite is the Facial Fuel. I use it every single day. I also love the 2-in-1 shampoo and the Nourishing Beard Oil for when my beard gets a little out of control.
TB: One product you each won't leave the house without?
Elle: Lucas Paw Paw ointment.
Joel: A spray of my Le Labo aftershave.
TB: How would you describe each other?
Elle: The best human ever.
Joel: My dream girl.
TB: How would you describe each other's style?
Elle: Two words: Mr. Cool.
Joel: Elle has the ability to be effortlessly cool. Whether she's wearing a designer dress or jeans and a white tee, she rocks it.
TB: Best part about travelling together?
Elle: Being together and experiencing this amazing journey together. Also being able to climb in to bed together feels like home.
Joel: Experiencing so many amazing places for the first time together. Paris in the snow was incredible!
TB: Worst part about travelling together?
Elle: My luggage.
Joel: Elle's luggage.
TB: Joel…Elle's Favorite destination?
Joel: Definitely Hawaii – the north shore though.
TB: Elle, was Joel right?
Elle: If he says Byron or Hawaii he wins.
TB: What do you disagree on most?
Elle: We actually can never decide on what to eat.
Joel: I actually can't remember on the last thing we disagreed on…
TB: Favourite couple?
Elle: Kim and Kanye.
Joel: I'd have to say my parents. After over 30 years of marriage and 4 kids they still love and support each other.
TB: What do you do to unwind?
Elle: Swim. Walk. Shop. Just chill out.
Joel: Surf or just go down to the beach and chill. The beach is definitely my happy place.
TB: When did you move in together? And what's the best part about living together?
Elle: I actually don't remember but now I couldn't imagine Joel not being there. The best part is that we are together and Joel loves the Dyson vacuum cleaner
Joel: I think we've lived together for about a year now. The best part is just being able to spend time together. Nothing better than coming home after a long day and having her there. She also has a ridiculously cute dog.
TB: Evenings with you look like…
Elle: We are counting down to summer when evenings are sunset swims, walks on the beach and dinner by the ocean
Joel: If we're not walking by the beach and swimming we're at home eating takeaway, watching the Kardashians.
---
Words and Photography: Ella Jane
Disclaimer: TOMBOY Beauty experienced Splendour In The Grass 2017 as a guest of Kiehl's