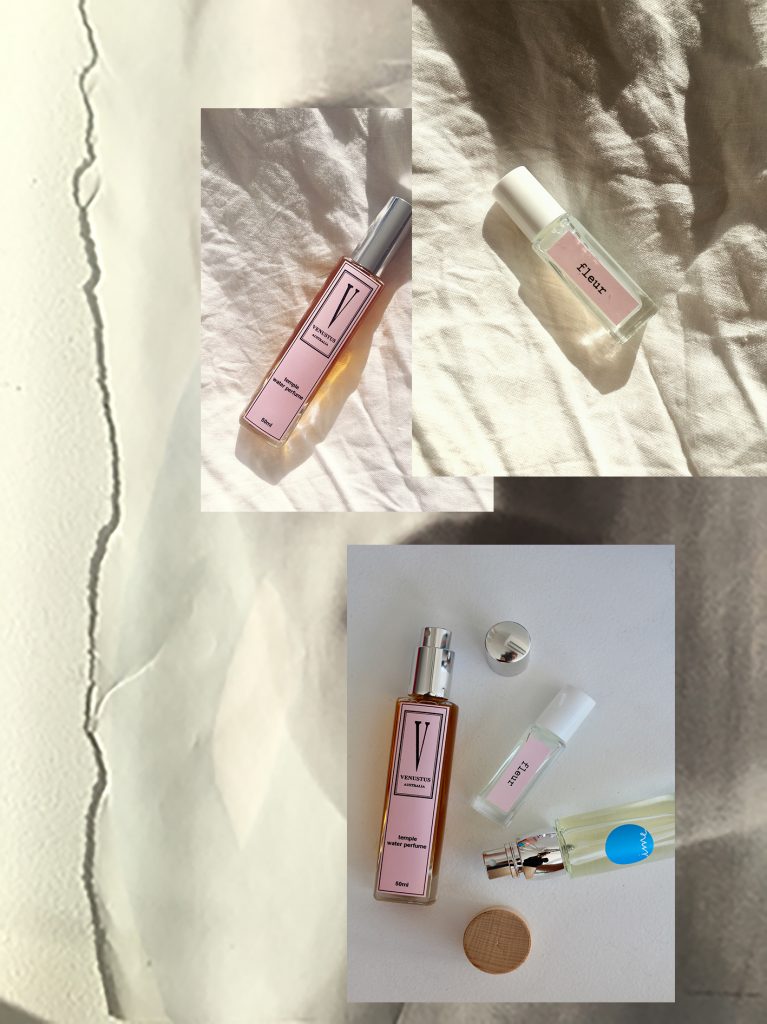 You may have heard that synthetic fragrances aren't the best for us, nothing really seems to be these days TBH. Still, it's refreshing when a natural alternative pops up, in order to give our skin, nose, organs, general nervous system a break. I'm not a scientist, doctor, or writer for WebMD, so I won't be going into the cons of synthetic perfumes. What I will do, is take you on an olfactory journey of natural fragrances, the pros, cons, and therapeutic benefits of essential oils, and where you can find nice ones to assist welcoming spring with open arms and wicker baskets, I have 8 and counting!
To prefece, I'm a cynic when it comes to "natural" fragrance. Or at least in a conundrum: At first, they're appealing – I imagine swanning down the streets smelling of fresh rose water and sage – like a bohemian queen. But that fantasy is hit with the stark reality of sandalwood, and/or patchouli in EVERYTHING.
Though, with the help of Jeannie Bourke, founder of Venustus Paddignton and aromatherapy skincare/fragrance qweeeen, I have discovered that not all natural fragrances are heavy with notes of 'dirty hippy'.
Hoorah!
TB: What are the benefits of using natural, essential oil based fragrance instead of synthetic fragrance?
Jeannie: Each essential oil has a therapeutic use, so if I were looking at a skin or a body, I would be able to find the problem and treat it with the properties of essential oil. But then, I can also just ask the client to smell, and say pick what you think you would like for yourself and they will intuitively pick the same thing. It's mind blowing. You can know everything, and take it apart from an analytical mind, or you can take it from an intuitive mind and you'll get to the same result.
TB: What is your process of creating fragrance that is not only therapeutic, but also that people will respond well to? I find it often hard to find natural fragrances that aren't too 'hippy'.
Jeannie: Usually I design scents around the collective need, so now I'm watching and feeling and listening to needs, and the scents come from that.I'm not designing a perfume to smell good for a huge demographic or for other people, I'm designing a perfume for you. I also do personalised scents for anyone who wants me to design a range for them.
TB: I have to ask, will a natural scent last on the skin as long as a synthetic one will?
Jeannie: Natural perfumes will not stay on the skin as long as synthetics, absolutely not. Don't even try, hell no! Because when you're making something man made instead of from the earth, that's going to last forever. When it's natural, things aren't meant to last, it's a cycle, and it's beautiful that way.
TB: Can you give our readers a break down of concerns and oils that might help? Take note, or bookmark, PEOPLE!
Jeannie:
Bergamot: Calming, Cleansing, and great for stress
Lavender: Also great for stress, to unwind and to aid sleep
Geranium: A very centering oil, it can really help regulate the nervous system hormones, anxiety, and fear.
Citrus oils: These fall under lemon, lemongrass, orange, etc. and are very uplifting for tiredness. Great for invigoration
German chamomile: Very comforting and calming. Its like a 'there, there' scent.
Sandalwood: Grounding and sedating, for relaxation and sleep.
By the end of our chat, I found a natural spring fragrance that really does smell like a clean bohemian queen, and I'm addicted to it.
Venustus fragrances can be found online here or in store in Paddington.
IME Fragrance (pictured right) can be found online here
---
 Words and photographs: Ella Jane